I'll never forget the picture. Aylan Kurdi's small body lay lifeless on a Turkish beach; perhaps one of the most heart wrenching images of the refugee crisis.
It fueled instant international outrage. As The Washington Post put it, "Were it not for the chilling image of Aylan's lifeless body, which captured global headlines and attention, their deaths would have been yet another statistic in the grim humanitarian disaster that is the Mediterranean's unfolding refugee crisis."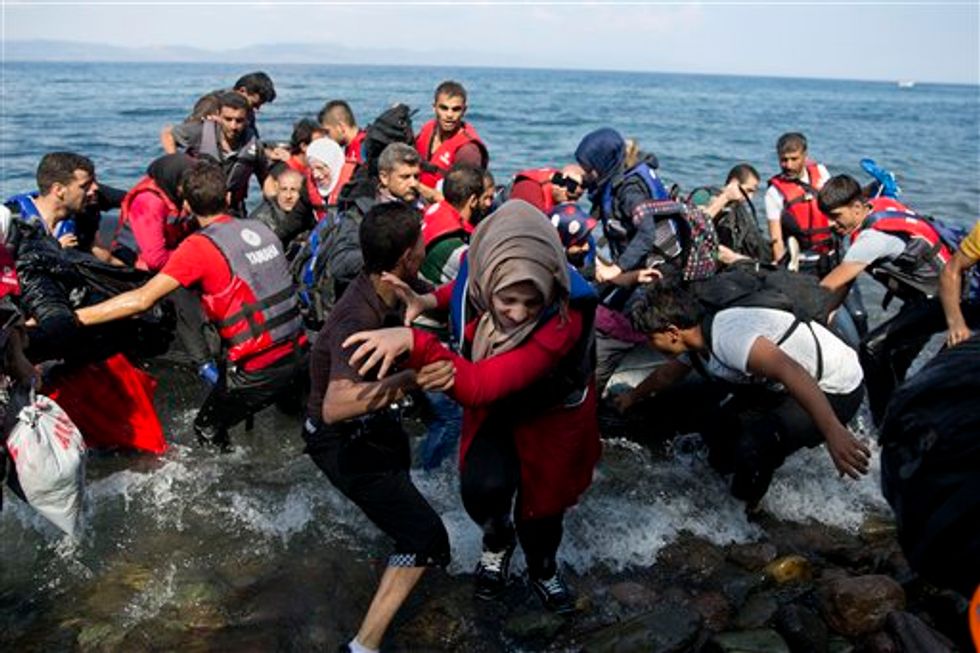 Migrants and refugees arrive on a dinghy after crossing from Turkey to Lesbos island, Greece, Tuesday, Sept. 8, 2015.The island of some 100,000 residents has been transformed by the sudden new population of some 20,000 refugees and migrants, mostly from Syria, Iraq and Afghanistan. (AP Photo/Petros Giannakouris) 
Young Aylan's death was tragic. And as a mother, I cannot fathom such a loss.
The problem, however, is that young Aylan's death had absolutely nothing to do with his being a Syrian refugee fleeing the Middle East.
You see, Aylan and his family had already been living in Turkey. What were they doing in a boat trying to reach Europe? Aylan's father Abdullah had the family en route to Sweden, so HE could get dental care. "
Nonetheless, that's not the story spread worldwide. And what WAS spread in its place galvanized the push for the West to accept—at all costs—the refugees.
And today, the world faces one of the largest migrant crises since World War II.
It's not hard to look at a picture of a dead child on a beach in Turkey, and believe we need to do something about the plight of others. RIGHT NOW.
And don't get me wrong—compassion is not a vice.
But there's a rhyme and a reason behind the now-growing opposition to the influx of Syrian, et al, refugees into the United States.
So is it Islamophobia? Is it racism? Is it fear of anyone who isn't an American? Why is it so hard for some people to get behind this idea of compassion and care for those less fortunate?
Or is it a reasonable fear of a threat that has perpetrated thousands of attacks since 9/11?
(And no, Mr. President, we're not afraid of 3-year-old orphans. Let's not be ridiculous, shall we?)
Back to the facts. Let's break it down.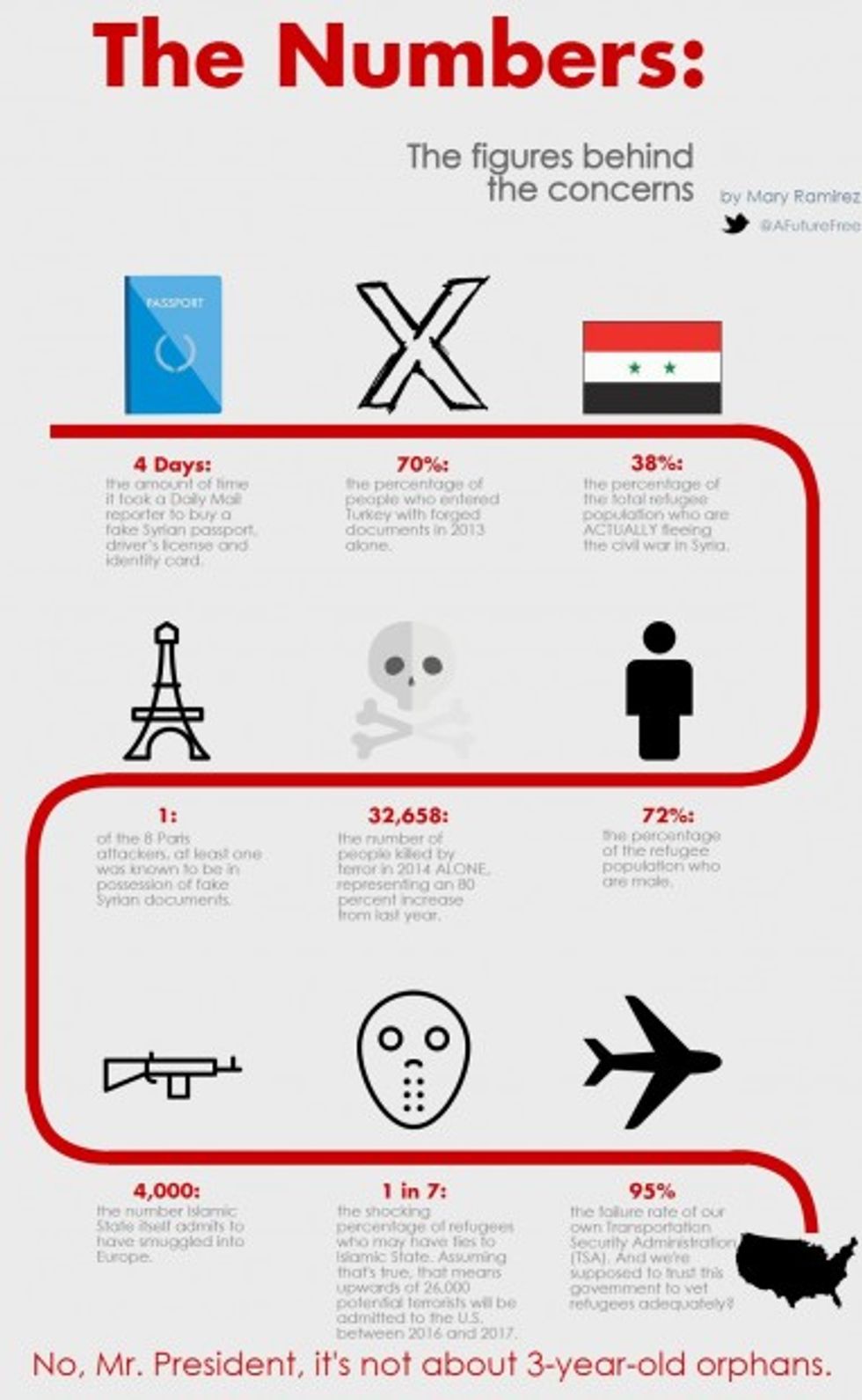 Mary Ramirez
1. Four days: the amount of time it took a Daily Mail reporter to buy a fake Syrian passport, driver's license and identity card for $2,000.
And, as the Daily Mail reports, "German forgery expert Joerg Aehnlich says he can't find enough evidence to prove the passports are false as they are often counterfeits made from genuine papers." This reporter's experiment wasn't the only one. Dutch journalist Harald Doornbos was purportedly able to purchase fake Syrian documents for—shockingly—the Dutch Prime Minister Mark Rutten.
2. 70%: the number of people who entered Turkey with forged documents in 2013.
And since the crisis has only gotten worse, and the black market for Syrian documents has become even more desirable, that figure has undoubtedly exploded.
3. 38%: the number of refugees ACTUALLY fleeing the civil war in Syria.
The rest are either taking advantage of the crisis to escape other dire situations, or—like Islamic State—are taking advantage of the crisis for other purposes. Forgery expert Joerg Aehnlich continued, "Everyone wants to be Syrian now – because now everyone welcomes Syrians." Indeed, this summer Europe "loosened its rules for Syrian refugees," meaning that "Syrian passports became a valuable commodity because its holders were automatically accorded protected status."
4. One of the 8 Paris attackers, at least one was known to be in possession of fake Syrian documents.
He, along with his seven fellow terrorists, killed 129 people and wounded 350 more. As The Atlantic writes, "Two men—a dead suicide bomber and a man in a Serbian migrant center—carried the same Syrian passport with the same details." The identity—Ahmad al-Mohammad—(used on the passports of the dead terrorist AND the passport of the man in the Serbian migrant center) was a Syrian soldier killed months ago, and is now being used on more than one occasion on forged documents. And that's just ONE instance. And in the case of Paris, how many more people would be alive today if not for that one man? Consider also that 9/11 was carried out by just 19 men, and the Boston Bombings by just two men (notably, refugees from a hotbed of Islamic radicalism).
The Global Terrorism Index was rolled out before the Paris and Mali attacks in the past week, and according to the index's authors at the Institute of Economics and Peace (IEP), the Paris attacks show that "ISIS could now launch 'sophisticated and deadly attacks' in Europe." Steve Killelea, IEP's executive chairman said that "terrorism is gaining momentum at an unprecedented pace."
6. 72%: the percentage of the refugee population who are male.
President Obama loudly criticized Republicans for being "scared of three-year-old orphans." They're hardly alone in their concerns; a significant portion of Democrats in the House voted with Republicans to pause the refugee entrance process, and a majority of Americans have expressed fear of what the refugee population could hold.
Here's the thing.
We're not looking at a mass of refugees brimming with women and young children. The United Nations High Commissioner for Refugees (UNHCR) found that 72 percent of these migrants are men, and just 13 and 15 percent are women and children.
It doesn't take rocket science to understand that history shows us the scales are tipped heavily towards the male population when it comes to carrying out terror.
7. 4,000: the number Islamic State itself admits to have smuggled into Europe.
The claim? "There are now more than 4,000 covert ISIS gunmen 'ready' across the European Union," says an Islamic State smuggler. Another report from a senior British official recounts that upwards of 20,000 Islamic State jihadists are believed to be amongst Syrian refugees in camps in Lebanon alone.
8. 1 of 7: the shocking percentage of refugees who may have ties to Islamic State.
Keep in mind that the White House has announced plans to accept nearly 200,000 refugees between 2016 and 2017 (considered by some to be a conservative estimate), and assuming the aforementioned figure is accurate—this means that upwards of 26,000 people entering the U.S. could have ties to Islamic State.
9. 95%: the failure rate of our own Transportation Security Administration.
And we're supposed to trust our federal government to perform "rigorous" and "robust" screening of the supposed refugees we're admitting?
----
So, Mr. President, is it really about being afraid of 3-year-old orphans? This is hardly as simple as helping innocent women and children, as much as I wish we could. It comes down to a simple choice: do we compromise the safety of OUR children in the name of compassion?
Not until we can guarantee their protection. Period.
Can we stop every single solitary radical from entering the United States? Probably not.
But it certainly behooves us to try.
Mary Ramirez is a full-time writer, creator of www.afuturefree.com (a political commentary blog), and contributor to The Chris Salcedo Show (TheBlaze Radio Network, Saturday, from noon to 3 p.m. ET). She can be reached at: afuturefree@aol.com; or on Twitter: @AFutureFree
–
TheBlaze contributor channel supports an open discourse on a range of views. The opinions expressed in this channel are solely those of each individual author.