I recently happened to catch The Daily Show's Trever Noah gleefully telling his audience about his experience with his first American political convention—the Republican National Convention in Cleveland:
"I'm still wrapping my head around all of the spectacle; I mean, they had all the biggest stars you could think of, who would agree to come to this event. I mean, there were actors you forgot about, models you sort of remember, people who call ducks for a living … congressmen you've never heard of, reality stars you don't remember married to congressmen you've never heard of—I loved it!"
Mr. Noah continued:
"And really, this is Donald Trump's style. What he does is he always makes sure he gives us so much fun, crazy to talk about, that we miss the dangerous crazy! Like for instance, last night's official theme was 'Make America Safe Again.' But to us, it felt like 'Make America Fear Again.' Because that's what all the speeches were about."
He threw in a jab at Rudy Giuliani's hand gestures before delving into a whole host of reasons why conversations about how unsafe a world (and a country) we live in is utter blarney.
And look, I'm not gonna lie. Cleveland's been a political convention for the books.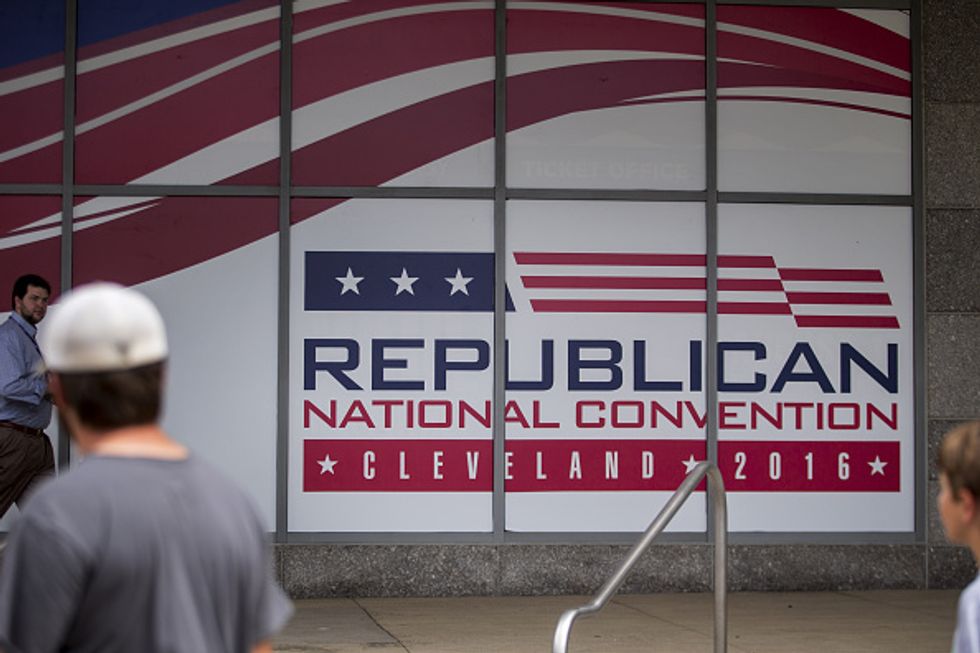 Pedestrians walk past a Republican National Convention (RNC) sign at the Quicken Loans Arena 'The Q' in Cleveland, Ohio, U.S., on Thursday, July 14, 2016. The RNC Rules Committee convened early Thursday to begin a cumbersome review of the party's 42 rules on structure and the selection of a presidential candidate. Photographer: Andrew Harrer/Bloomberg via Getty Images
Protests, feuding sides, booing sitting senators—it's been night after night of anything but ordinary.
But back to Mr. Noah's contention. We actually are unsafe—in about a thousand ways.
(For the record, Mr. Noah, the threat doesn't always come at the end of gun.)
We're wildly in debt, we're at tinderbox tension levels when it comes to race relations and policing, and our Constitutional rights to bear arms, worship God and speak freely are being jeopardized.
And yes, Mr. Noah, global terror is on the rise—and no, we're not scared of it because they're "non-white." It's a threat to our future.
But I digress.
So yes, it's been a raucous convention, but it's been one filled with people robustly feuding over principles; over what's the best way to keep the country on a Constitutional track. However you (or I) feel personally about the speakers and nominee, it's been one filled with un-sugarcoated speeches about the realities of our dangerous world—and the realities of a reckless approach to managing our country.
So, next week's the Democratic National Convention. And according to one writer, "it'll be a far cry from Donald Trump's Republican circus."
Let's take a gander, shall we?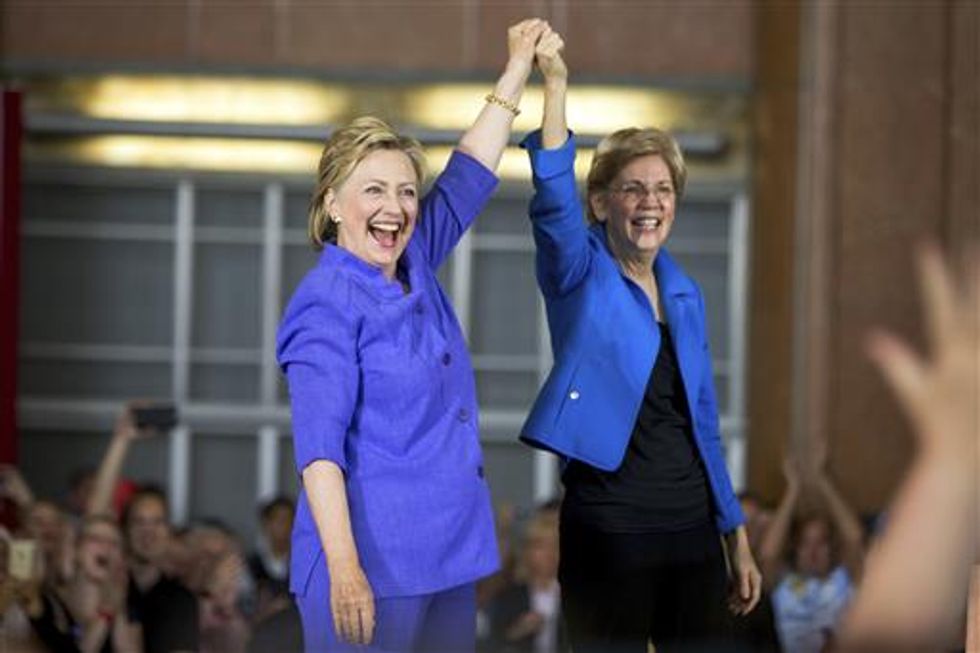 In this June 27, 2016, file photo, Democratic presidential candidate Hillary Clinton, accompanied by Sen. Elizabeth Warren, D-Mass., arrives to speak at the Cincinnati Museum Center at Union Terminal in Cincinnati. Warren is being considered as a vice presidential pick for Clinton. (AP Photo/Andrew Harnik, File)
Instead of those who simply stand up to voice their distrust of Donald Trump and the establishment in the party, DNC goers will be treated to a "fart-in;" a protest staged by Bernie Sanders supporters who plan to (I'm not kidding) "to eat beans and pass gas" in anger over the party's nomination. (For the record, this fart-in was mentioned in the same article written by the woman who claimed the DNC will be a far cry from the "Republican Circus." Mmhmm.)
Instead of heroes like Navy SEAL Marcus Luttrell and Benghazi survivors Mark Geist and John Tiegen, you'll hear from people like Michelle Obama who couldn't bring herself to be proud of her country until she thought her husband might have a chance at the presidency.
Instead of hardworking entrepreneurs like Duck Dynasty's Willie Robertson, you'll hear from people like socialist Bernie Sanders who don't believe Robertson deserves his money.
Instead of those like Mary Ann Mendoza, Sabine Durden, and Jamiel Shaw who all lost loved ones at the hands of illegal immigrants, you'll hear from people like Astrid Silva, an illegal immigrant who's made it her life's mission to campaign for status for illegal aliens.
Instead of those like Rick Perry, former governor of the wildly prosperous state of Texas, you'll hear from people like Governor Jerry Brown, and Mayors Karen Weaver and Mike Duggan—all propagators of wildly ruinous policies that have destroyed California, Flint and Detroit.
Amidst cries of misogyny, bigotry, and racism lobbed at the GOP, you'll hear from serial abuser and philanderer Bill Clinton; you'll hear from Sen. Al Franken—the guy who once wrote for Playboy; you'll hear from Sen. Sanders, who once wrote that women fanaticize about being gang-raped; you'll hear from the very white Sen. Elizabeth Warren who weirdly tried to take advantage of race by listing herself as a minority in a faculty directory because of her so-called Cherokee "heritage;" you'll hear from Vice President Joe Biden who once quipped that "you cannot go to a 7-Eleven or a Dunkin' Donuts unless you have a slight Indian accent."
While speaker after speaker at the RNC spoke of the greatness that America has within her principles and the incredible things her people are capable of achieving when they're simply free, you'll hear speaker after speaker at the DNC talk about what you're entitled to, what the state owes you, and who the government should be able to silence for you.
But here's the big one:
You'll hear from a woman who laughed about getting a suspected child rapist off the hook; you'll hear from a woman who enabled her husband's abuse and philandering; you'll hear from a woman who lied about the attack on Benghazi that killed Americans.
You'll hear from a woman who put the country's national security in jeopardy by sending and receiving classified emails on a private server; you'll hear from a woman who lied to the government and the American people about it.
Most importantly, you'll hear from a woman who got away with it all.
And at the DNC, she'll be accepting her party's nomination for president of the United States.
So you tell me: who exactly is putting on the circus?
Mary Ramirez is a full-time writer, creator of www.afuturefree.com(a political commentary blog), and contributor to The Chris Salcedo Show (TheBlaze Radio Network, Saturday, from noon to 3 p.m. ET). She can be reached at: afuturefree@aol.com; or on Twitter: @AFutureFree
–
TheBlaze contributor channel supports an open discourse on a range of views. The opinions expressed in this channel are solely those of each individual author.