In this day and age it can be easy to feel like society has grown more self-centered and crass.
But I've tried to make it my mission to find evidence to the contrary and fall victim to that popular way of thinking. Because I want to believe that we are still loving and decent at our core and that there are more good people than we realize.
Now, it's one thing to wish for that, it's quite another to experience it first-hand. Tommy Lukrich, 24, can attest to this more than most.
In the spring of 2014, Lukrich was just about to graduate from the University of Idaho. While most college seniors would be trying to secure entry-level jobs in their field of study, Lukrich had a different idea.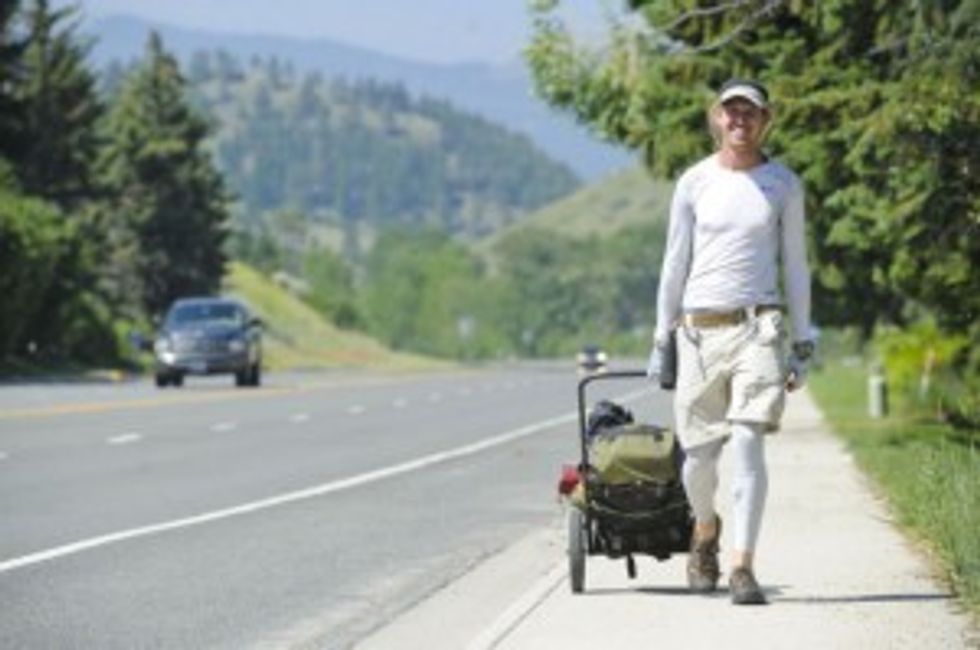 Tommy Lukrich, 24, walked across America in search of kindness. (Tommy Lukrich)
He told me that he only got through college because of the kindness and generosity of others.
"College was paid for through FAFSA and grants. That's your tax dollars, folks!" he said with a chuckle.
At the end of freshman year, Lukrich was going through what many experience during their college career: self-examination. It was during the break following freshman year that Lukrich, with less than $200 in his bank account, decided to walk across the state of Washington.
Lukrich did it, he confides, because he didn't have money to do much else and it would be a convenient time for reflection. What he didn't realize was how many wonderful people he would meet along the trek, who went out of their way to help him during his cross-state jaunt.
That experience, along with a few other contributing factors, helped him decide that the first thing he wanted to do after graduation would be to walk across the United States.
"I (wanted) to bring an awareness of how many great, kind, generous people there really are out there," he said.
Here's what's cool: Not only did he want to meet the do-gooders, but he also planned to reward those he came across with a $100 bill.
"It's enough of an amount to make a difference and impact someone's quality of life," he admitted.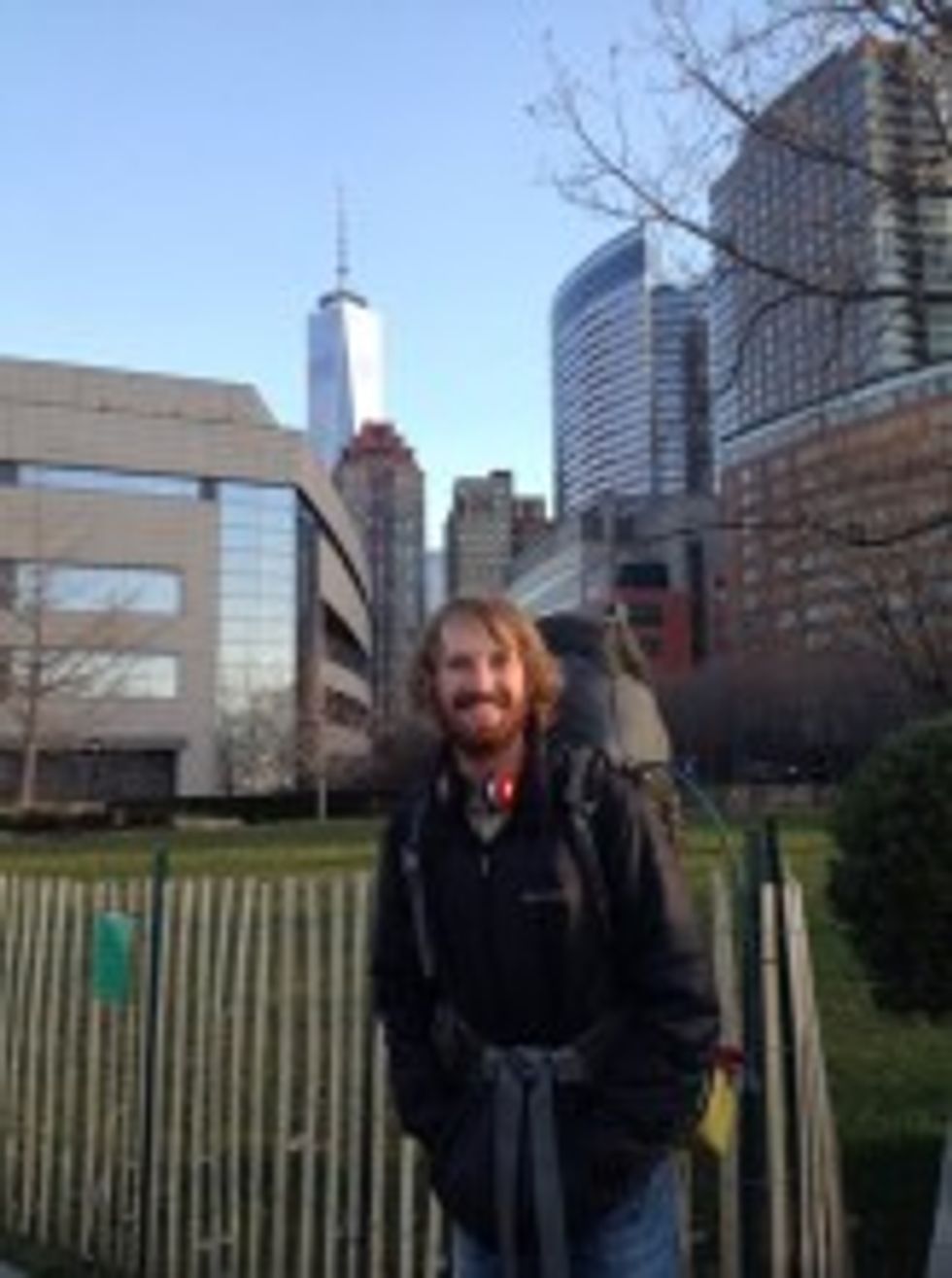 Tommy Lukrich, 24, started his kindness seeking cross country journey on the west coast and took his final steps in New York City. (Tommy Lukrich)
So how would this starving college student, being supplemented by your tax dollars, be able to afford such a handsome reward? Well, he's asked for help, of course.
Lukrich took his idea to the crowdfunding website GoFundMe.com, where a lot of good people stepped forward to show support for the idea.
Originally he set out to raise $10,000, but realized he could complete the task with $5,400. So he reset the total. But his supporters decided that wasn't enough, and further funded his mission to the tune of $6,400.
So that summer, Lukrich set out on a 196-day journey across America with whatever he could carry on his back. Starting in Seattle and zig-zagging through the country, he blew through several pairs of shoes, slept in doorways and alongside freeways, and encountered rattlesnakes, blisters and treacherous weather conditions.
At one point, Lukrich claimed, his wallet and phone were stolen as he attempted to charge them at a McDonald's in Ohio.
"That set me back a few days," he said with disappointment.
But every minor concern or unfortunate encounter was overshadowed by the incredible actions of good people that offered him money, food, shelter and a shower, Lukrich said.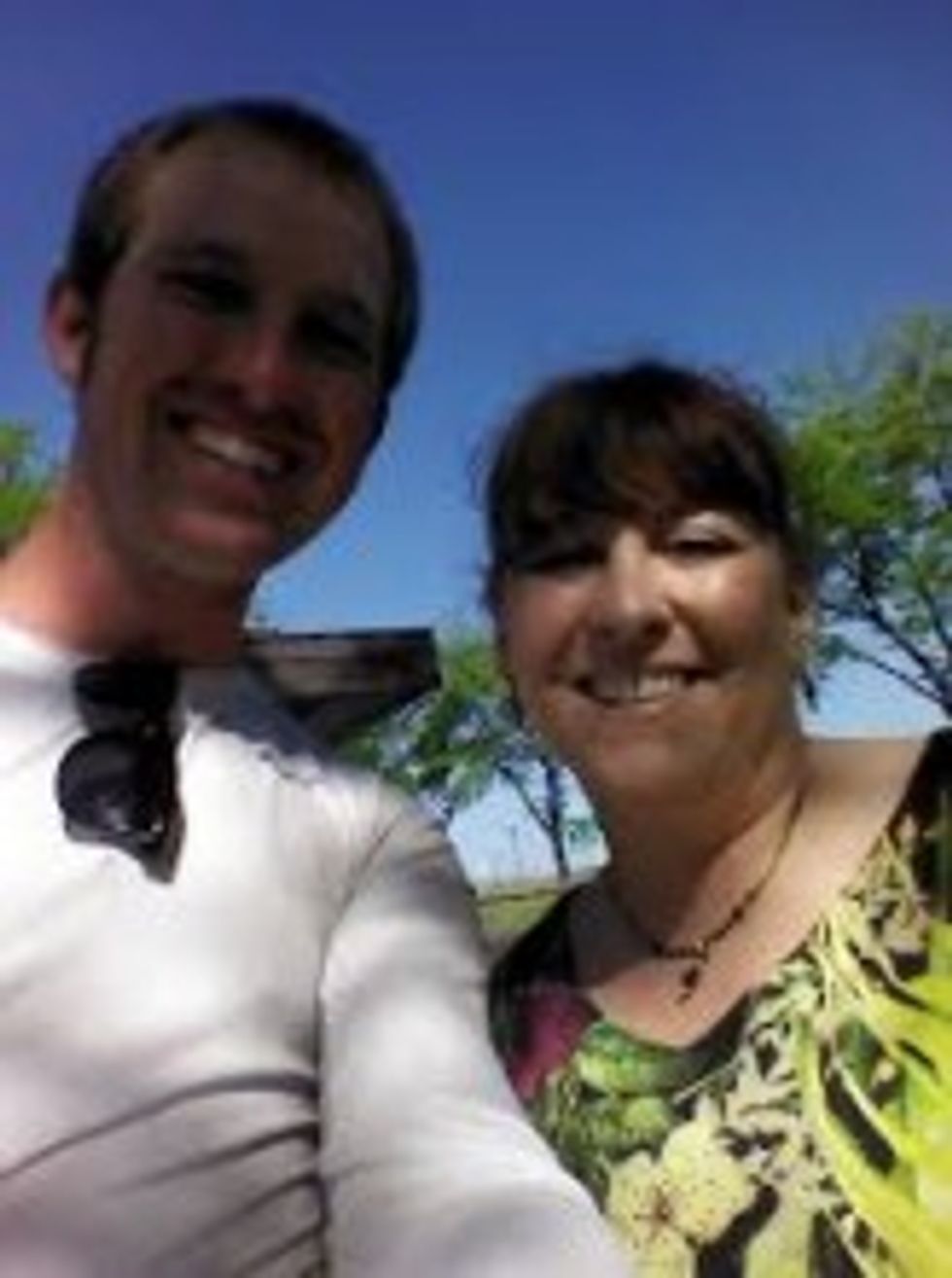 Good Samaritan "Stacy", gave Lukrich $10 and food despite having lost her job. He rewarded her kindness with a $100 bill. (Tommy Lukrich)
"What surprised me the most was how many of the people who did things for me didn't have much themselves," he confided.
One such example was when Lukrich was down south and met two men, Justin and Joey. The guys offered him food when they themselves were on food stamps.
Their reason for offering assistance to someone with only the clothes on his back?
"We know what it's like not to have much," they told him.
Just as Lukrich was set to depart, he surprised them with $100.
The experiences of good people doing good unto Lukrich were endless as he spent six months walking the 3,000 miles to the East Coast. During his journey, he saw the faces of average Americans willing to put a stranger and his wacky story first.
When he presented each of them with $100, some laughed. Some burst into tears. Other vowed to pay it forward.
And almost symbolically, with all of the faces he saw that make up the people of this nation, he took his final steps to end his journey in New York City, with the face of Lady Liberty staring back.
During our conversation, Lukrich said it took him a while to comprehend and absorb what he'd experienced as he reacclimated into normalcy.
"Just having plumbing was such a luxury!" he said. His experience is one that left him with absolute confidence and proof that there really are more good people than we realize.
–
TheBlaze contributor channel supports an open discourse on a range of views. The opinions expressed in this channel are solely those of each individual author.