German Chancellor Angela Merkel was selected as TIME's Person of the Year for 2015.
Interestingly, Merkel and the two runner-ups she edged out for the title—Islamic State leader Abu Bakr Al-Baghdadi and Republican presidential candidate Donald Trump—have all taken political positions influenced by one man who, either purposefully or naively, was not even considered.
While this particular nominee is deceased and TIME has never selected anyone who died as a Person of the Year, the publisher has indicated death does not disqualify one from such consideration.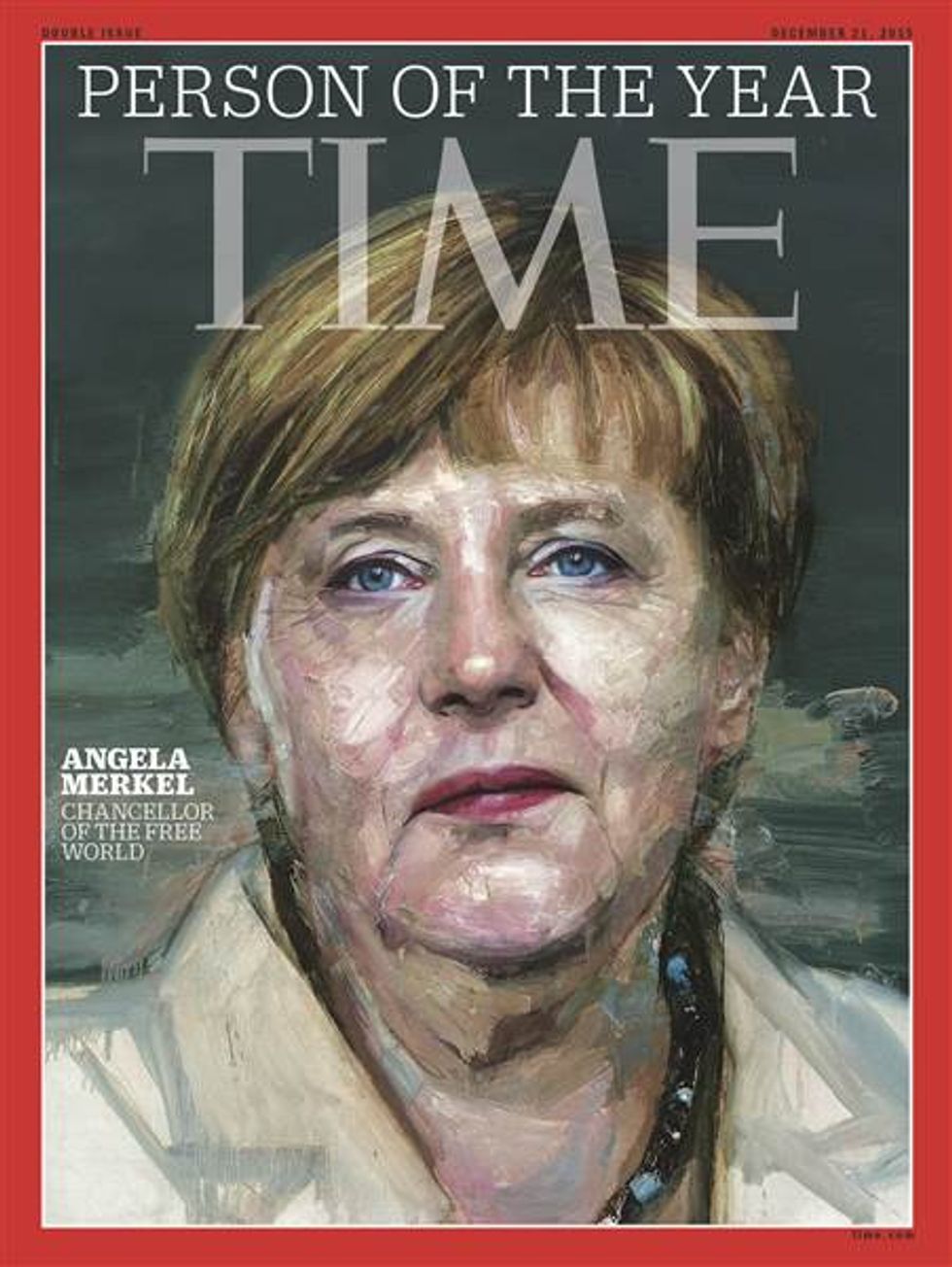 TIME 
This nominee's selection would clearly have met TIME's desire, "we want our Person of the Year to be both a snapshot of where the world is and a picture of where it is going. Someone…that feels like a force of history." It would also have met the publication's criterion for selection that the Person of the Year be "the person or persons who most affected the news and our lives, for good or ill, and embodied what was important about the year."
Yet the deceased person meeting this criterion, representing where the world has been, where it is now and where it is going, apparently never came up in TIME's Person of the Year staff discussions.
Putting this person's likeness on its cover, TIME would have made a powerful political statement, giving the world notice certain values are not to be compromised.
Unfortunately, it is probably fear of just such notice that took this nominee out of the running. If so, TIME has committed a tremendous disservice by selecting a Person of the Year representing an effect but not the cause of what has had the foremost impact on world order today.
As noted, TIME's 88 year Person of the Year history recognizes selection is not based on whether a person has been a force "for good or ill." The decision turns on that person's global impact.
This first was made apparent when TIME made a most controversial decision 11 years into its annual campaign. Adolf Hitler was selected as its 1938 Person of the Year.
TIME later justified Hitler's selection with the statement, "Hitler became in 1938 the greatest threatening force that the democratic, freedom-loving world faces today."
Thus, another consideration for Person of the Year selection is someone representing "the greatest threatening force that the democratic, freedom-loving world faces today."
The nominee truly representing just such a threat today to the Free World, whose influence is the greatest destabilizing force in the world today and will be for generations to come, and whose ideology permeates decisions now being made by TIME's top three 2015 Person of the Year contenders is Prophet Muhammad.
In announcing Merkel's selection as Person of the Year, TIME Managing Editor Nancy Gibbs put a positive spotlight on the German leader's accomplishment saying:
"Not once or twice but three times this year there has been reason to wonder whether Europe could continue to exist, not culturally or geographically but as a historic experiment in ambitious statecraft. Merkel had already emerged as the indispensable player in managing Europe's serial debt crises; she also led the West's response to Vladimir Putin's creeping theft of Ukraine. But now the prospect of Greek bankruptcy threatened the very existence of the euro zone. The migrant and refugee crisis challenged the principle of open borders. And finally, the carnage in Paris revived the reflex to slam doors, build walls and trust no one. Each time Merkel stepped in."
Left out of the spotlight is the negative impact of Merkel's Muslim immigration policy—a policy that is becoming not only "Merkel's Muslim Migration Mess" but, due to it, a mess for all of Europe. While TIME chose to shine a positive light on Merkel, it is clear she is quickly becoming unpopular in Germany and the rest of Europe.
In June 2014, the United Nations warned "the number of refugees, asylum-seekers and internally displaced people worldwide has, for the first time in post-World War II era, exceeded 50 million people." In 2013, approximately "51.2 million people were forcibly displaced"—up six million from 2012. This modern day human Muslim tsunami is driven by conflicts directly linked to Muhammad's teachings.
Germany recently registered its one millionth refugee of 2015. With the country's generous asylum laws and benefits, Merkel has been shining a welcoming beacon of light to Muslims—while failing to focus on the social storm ultimately to follow as Allah's legions grow in numbers, seeking to impose their will upon their hosts.
Both France and Germany now have the largest Muslim populations among the European Union states. This, coupled with low European fertility rates (Germany's is the lowest in the world) and much higher Muslim rates, will fundamentally change European culture and society as it is known today. When that happens, it will have Muhammad's fingerprints all over it.
Sadly, for 1,400 years since Prophet Muhammad first introduced Islam to uneducated Bedouins, the religion has continued to generate human suffering. But today, with 51 million Muslims without a home looking for one, with countries like Germany offering them a home and with such a massive resettlement effort meaning fundamental change for host nations, Prophet Muhammad's impact on the world stage has earned him the POY title.
Of course, had TIME selected him—and in light of Charlie Hebdo's deadly decision earlier this year to display Muhammad's image on its cover—it then would face the difficult decision of whether to display a similar image or to leave its cover blank.
The decision to do the former would have been a victory for freedom; the latter, a warning fundamental change is well on its way.
–
TheBlaze contributor channel supports an open discourse on a range of views. The opinions expressed in this channel are solely those of each individual author.