Republican presidential candidate Sen. Ted Cruz is piling up delegate wins, while his rival Donald Trump is piling up complaints.
The last week has brutalized The Donald's hopes of winning a contested convention, as his chief competitor continues to pile up large delegate totals from states where Trump expected to win a majority or sizeable plurality of the delegation.
And it's causing some Trump fans to #FeelTheBern.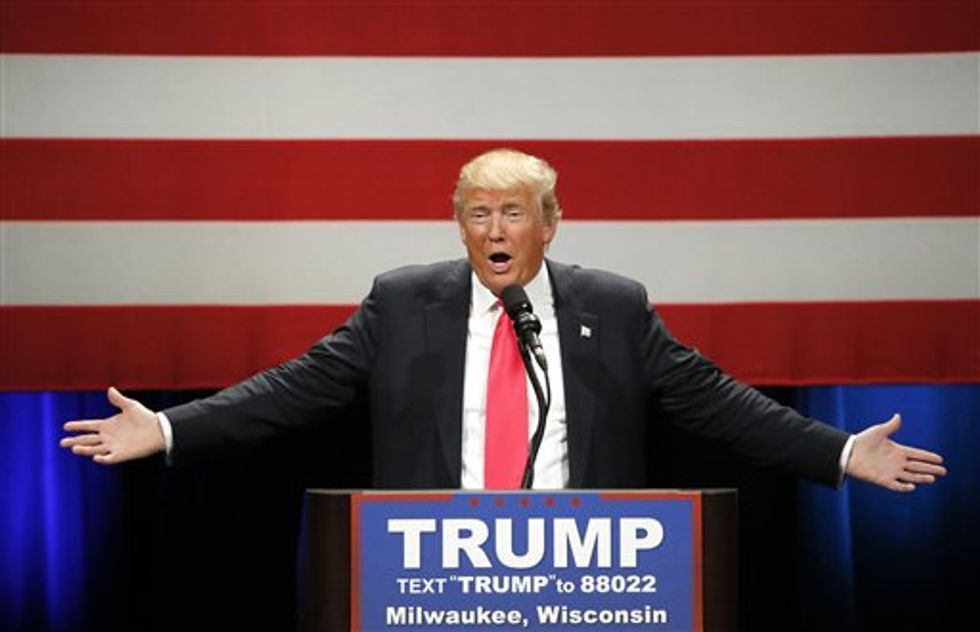 Republican presidential candidate Donald Trump addresses the crowd during a rally at the Milwaukee Theatre Monday, April 4, 2016, in Milwaukee. (AP Photo/Charles Rex Arbogast)
Don't worry, I'm not suggesting that Trump's frighteningly loyal devotees are finally tiring of their own liberal hero - I'm afraid the GOP just isn't that lucky.
Rather, many of the "fair share" arguments currently emanating from Team Trump could have easily been delivered by the Einstein-hairedsocialist crusader across the aisle.
Scarcely had Saturday's convention results been reported than cries of foul play began to emerge from Trumpkins across America:
"It's not fair!"
"We deserve delegates too!"
"Cruz cheated!"
As a veteran of the Ron Paul revolution, I spent much of the last four years hearing similar complaints from Republicans who don't understand or value the process of selecting a presidential nominee, and who prefer to join their liberal counterparts in screaming about injustice rather than learning the rules and investing the effort to win.
Enough is enough.
It's time to burn these arguments to the ground, because delegate wins don't just happen.
It was nearly midnight before I got to bed after enduring a grueling convention marathon of nearly 12 hours in my home state of Iowa.
But though I hit the sack with weariness, it was also with satisfaction.
Here in the first-in-the-nation caucus state, conservative activists came together to produce a near-sweep for Ted Cruz at conventions in each of Iowa's four congressional districts.
Thanks to the delegate-centric strategy I helped execute in 2012, I entered this cycle with a good understanding of the importance of the delegate collection process and the rules of the GOP with regard to their allocation.
After all, our convention prowess was the reason the Republican establishment - with help from moderately-liberal eventual nominee Gov. Mitt Romney - rushed to pass the infamous Rule 40 that is currently choking the life from their thinly-veiled hopes of a last-minute convention savior.
As I became involved with the Cruz team last year, I started raising one question early: What was the plan for delegates? As it turned out, those efforts were already underway.
Weeks before the caucuses, the campaign began hosting delegate trainings and encouraging our supporters statewide to take an active part in the GOP convention process.
Of course the campaign was interested in taking national delegates to Cleveland, but grassroots conservatives here were looking far beyond the presidency and discovering the oft-overlooked importance of investment in the mechanisms of the Republican Party.
When caucus night arrived, our people were prepared. After more apathetic voters cast their ballots and headed home to watch the results come in, Cruz activists stayed at their caucus sites and competed for delegate spots.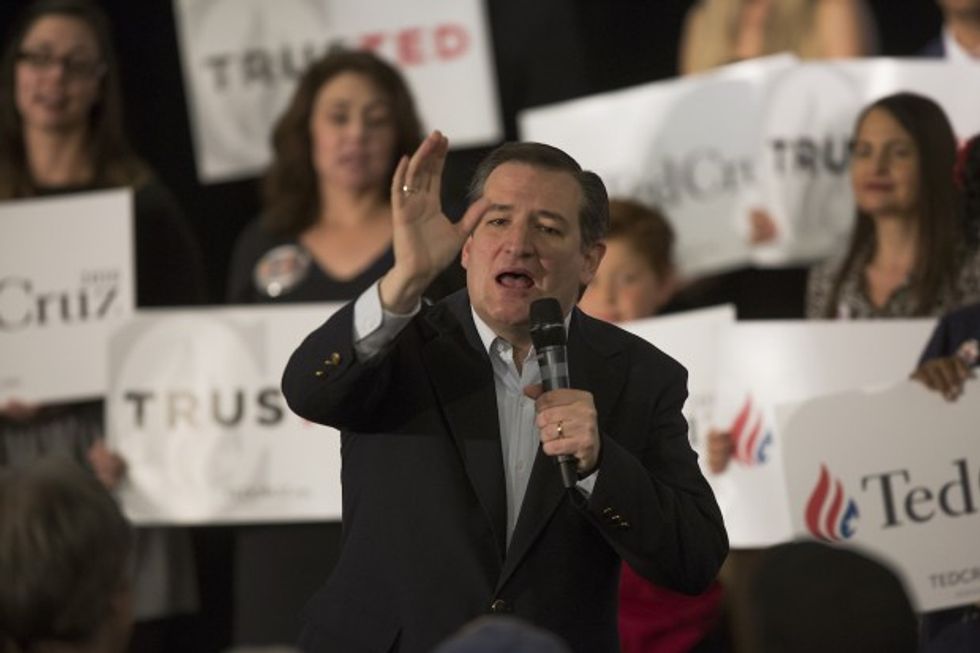 David McNew/Getty Images
Several Saturdays later, while Trump voters sat comfortably at home, these same activists voted for themselves and other Cruz supporters to move up from county conventions to district - a day-long process that involved not only intense preparation in all 99 of Iowa's counties, but also hours of fighting important battles on the party rules and platform, along with the election of delegates.
In the weeks between county conventions and district conventions, hundreds of grassroots activists with normal lives, normal jobs, and normal commitments, pushed those things aside to organize and campaign for national delegate spots, as well as lower committee positions important to securing a Cruz victory in the state.
Trump voters instead took this time to start their spring cleaning, watch basketball, and hit up the comment section of whatever Cruz-smear happened to be circulating on the Drudge Report.
Then, last Saturday, these same Cruz activists organized and voted their way to victory in dramatic fashion, leveraging technology and a level of coordination unanticipated by both the party establishment and the handful of Trump acolytes who bothered attending.
All of this leads us to a point that should be obvious to any conservative who knows what the term means: National delegates are earned, not given.
If we're going to have a discussion of fairness, then we need to use the conservative definition of the word, and not Sen. Bernie Sanders' bastardization of it.
Liberals believe "fair" means getting what everyone else gets.
Conservatives believe "fair" means getting what you've earned.
A quick look at the primary results assures us that Donald Trump has, to this point, earned the largest portion of the popular vote.
As a result, he justly received loads of media attention, critical momentum in the race, and locked-and-loaded first-ballot votes from every state in which he met the requirement threshold, per RNC rules.
That's fair.
Cruz, on the other hand, won delegates by organizing an army of grassroots volunteers and conservative activists, and fighting through the often-laborious process of electing delegates from the local level to the national level. His campaign invested heavily in these grassroots networks, and poured time and money into mobilzing them. His recent sweeping delegate victories are a return on that investment.
That's also fair.
What's not fair is suggesting that Cruz should surrender delegate spots to Trump, in spite of the tireless efforts of tens of thousands of his own supporters around the country.
The will of the people was expressed by popular vote in states across America, and the winnings for that competition will be delivered on the first ballot in Cleveland.
But the will of the people is no less expressed by the delegates chosen from among the people, to represent the people - which is the Republican basis for both the party and our constitutional form of government.
The convention process was never meant to be a mere presidential beauty pageant.
Critically-important rules and platform battles lie ahead, and conservatives across America are working their way to the Republican National Convention to fight them.
The idea that these activists should redistribute the delegates they worked hard for and won within the bounds of the existing rules of the GOP is ludicrous.
And, well, it just isn't fair.
The Trump campaign needs to stop whining for delegates, and start earning them.
–
TheBlaze contributor channel supports an open discourse on a range of views. The opinions expressed in this channel are solely those of each individual author.