Someone is getting really desperate.
Did you watch the anti-Donald Trump hysteria this weekend? I've never seen such desperation in my life. It borders on hysteria, mixed with massive doses of slander. The Washington, D.C. establishment and the media elite that protects them are clearly frightened that Donald Trump is about to end their gravy train.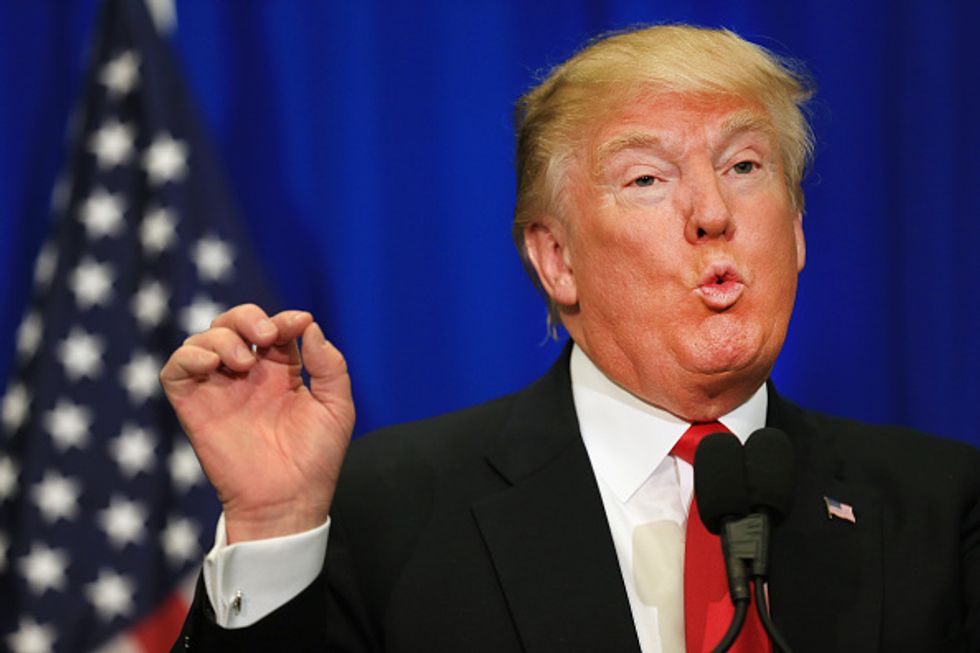 (Tom Pennington/Getty Images)
Instead of reporting that Trump attracted 25,000 enthusiastic fans into a 5,000-person football stadium in Alabama (four times the COMBINED attendence of competing rallies by Ted Cruz, Marco Rubio and Hillary Clinton), the national media headlines on Sunday night accused Trump of supporting the Ku Klux Klan.
This borders on insane.
This reminds me of the last time "Trump hysteria" reared its ugly head - when he first announced his run for president and he was quickly condemned and abandoned by Univision, NBC, the PGA, NASCAR, Macy's and Camping World. I'd never seen rats desert a ship so fast.
It was an hysterical over-reaction to a candidate who merely said that not everyone who comes from Mexico is a nice person, but rather, some are criminals. You know what you call that statement? The truth; a statement of fact.
By the way, even many of the "nice people" crossing the border are bankrupting America with welfare, food stamps, earned income tax credits, free education and free healthcare. Throw in court costs, police costs, prison costs, the murder and rape of American citizens, and massive quantities of drugs coming with them. It turns out even the "nice ones" are badly damaging our economy and country. Trump was right. That's why the voters are sticking with Trump - no matter what charges are hurled at him by the elitists in power.
But back when Trump announced for president, no one believed Trump could actually win the presidency (except me). So "Trump hysteria" quickly died down. Now that it appears all-but-certain Trump will be in the driver's seat for the GOP nomination after Super Tuesday, the hysteria is reaching fever pitch.
The weekend's news and talk shows were dominated by hysterical Trump opponents Ted Cruz and Marco Rubio insulting, condemning and slandering Donald Trump. I've never seen a barrage like this in my life.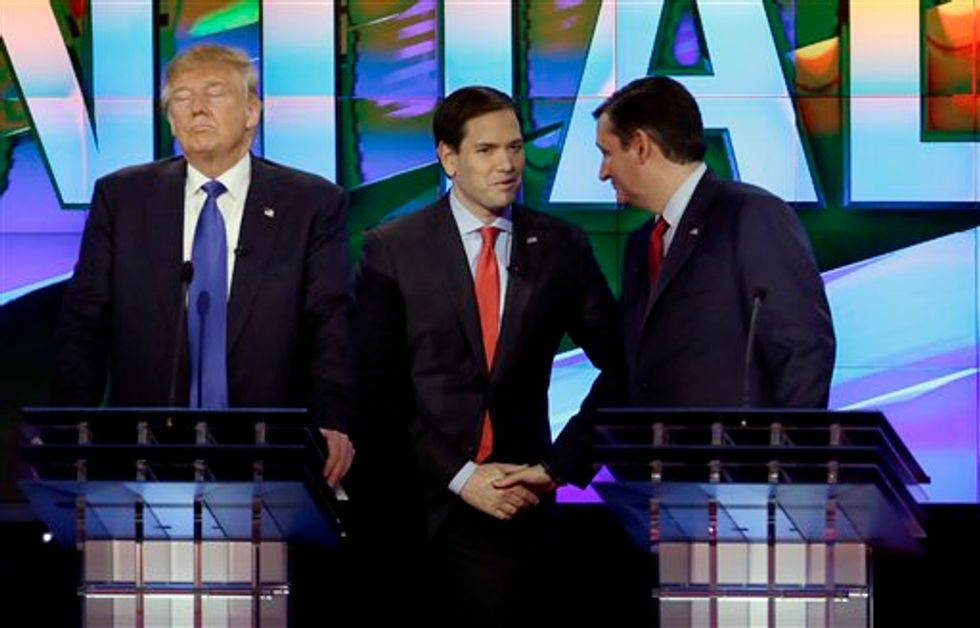 Donald Trump pauses as Marco Rubio and Ted Cruz shake hands during a break in the GOP debate Thursday. (AP/David J. Phillip)
First it was about his taxes. How hysterical is the establishment GOP? They trotted out the king of Republican moderate losers Mitt Romney to slander Trump and his taxes the exact same way Harry Reid slandered Romney four years ago. Romney is like an innocent child abused by his own father, who years later repeats the abuse on his own kids. I am ashamed of Mitt Romney. His attempt to slander Trump without a shred of fact is disgusting and pathetic.
If only Romney had reserved some of this vicious slander and dirty tricks for Barack Obama, he'd be running for his second term as president right now.
But the charges got even more bizarre and desperate. Soon Donald was a "con man" because of a business deal gone bad (Trump University); involved with the mafia because he built skyscrapers in New York; and supportive of the KKK because he said he wouldn't condemn a group that endorsed him, without finding out who they are first.
Folks this is insanity. Didn't Cruz, Rubio and Jeb Bush initially charge that Donald was outrageous, offensive and abusive? Wasn't that the reason the GOP establishment claimed we should all abandon Trump? Well how come it's now okay for GOP establishment candidates to be outrageous, offensive and abusive to Donald Trump? I thought Cruz and Rubio were "nice guys?" It turns out they play dirty gutter politics with the best of them.
You know why? Because they are desperate. Nothing is working. Trump just beat Cruz and Rubio in Nevada. Trump beat Cruz among evangelicals there. Trump beat Rubio among Hispanics there. Trump beat them badly in virtually every category.
But it gets worse for them.
Reuters rolling national poll shows Trump up by 24 over Cruz and 30 over Rubio nationwide. This is embarrassing. And just like Jeb Bush (aka "Jebra"), Cruz and Rubio have gone insane with anger, envy and jealousy. Their handlers obviously ordered them to go nuclear because the end is near. So Cruz and Rubio hurled obscene charges at Trump all weekend.
Suddenly it's okay that establishment GOP candidates make up lies, exaggerate, slander and insult - if the victim is Trump. Any lie or insult is okay - if it's aimed at stopping Trump.
Remember the famous saying "The flak gets thickest as you get closer to the target."
Mitt Romney is desperate. Marco Rubio is desperate. Ted Cruz is desperate. The GOP establishment is desperate. The liberal biased media is desperate. Corporate CEOs are desperate. Government bureaucrats are desperate. Lobbyists and lawyers are desperate. Obama is desperate to protect his legacy.
You know what all that means?
No. 1. Donald Trump is doing something right.
No. 2. The entrenched political class is realizing the jig is up and Trump will end the gravy train.
No. 3. Trump better triple his security detail. Because desperate corrupt people will go to any length to protect their rackets and cover-up their crimes against the American people.
–
TheBlaze contributor channel supports an open discourse on a range of views. The opinions expressed in this channel are solely those of each individual author.