Donald Trump's acceptance speech at the Republican National Convention was a home run and it followed his daughter Ivanka's strong showing. Trump's speech at the unconventional Republican convention demonstrates why he can win in November.
Donald Trump needed to do two things on Thursday night. The first was that he needed to present himself to voters as "presidential;" the second was that he needed to balance his primary theme of strength with inclusiveness. He achieved both goals.
A big question in the mind of many voters is whether or not Donald Trump is presidential. Appearing "presidential" is of course a very ambiguous idea. How does one look and act and sound presidential? Some people naturally seem to have it, like Ronald Reagan or the voice of Franklin Roosevelt over the radio. Others don't seem to have it, such as Michael Dukakis (looking uncomfortable in a tank) or the shrill Bernie Sanders. Being presidential, first and foremost, means demonstrating a strong conviction about the value of America and having a certain genuineness about one's resolve to serve the country.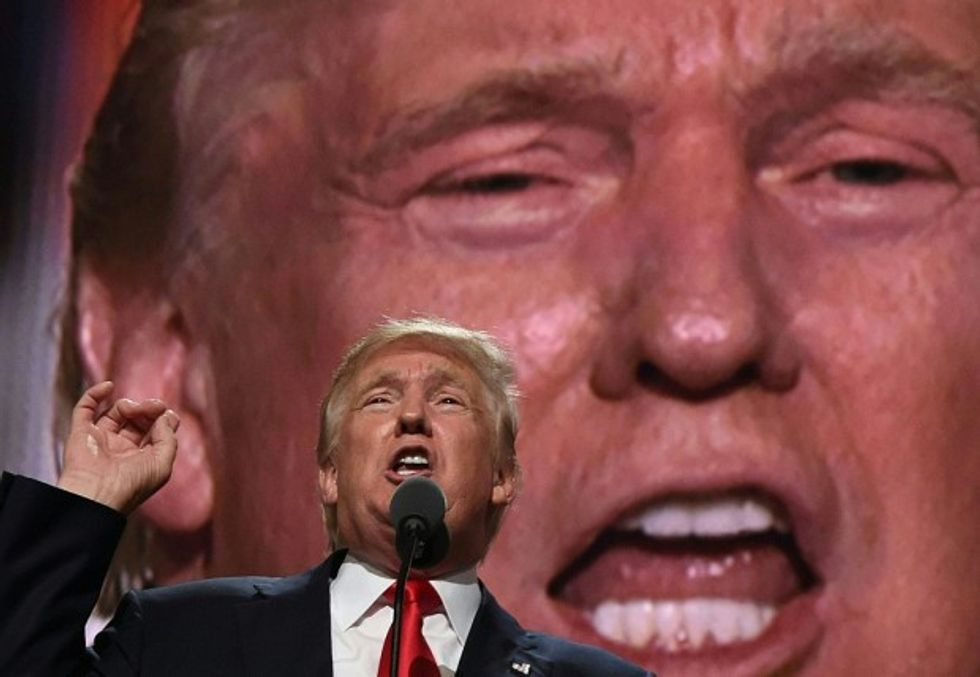 (Photo credit: TIMOTHY A. CLARY/AFP/Getty Images)
Everybody knows that Donald Trump loves his country and everybody knows that he is a fighter. He has enough money and a global brand so that he really does need to go to Washington to achieve fame and prominence. In the election process Donald Trump has demonstrated to many that he is a patriot, putting more money on the line for his campaign than any candidate. And he demonstrated through the speech, through his passion and message, that he can be a champion for the American people.
What about tone? Trump had to balance his primary message about strength with a message about inclusiveness. Everyone knows that Donald Trump is the alpha male: that he likes to win, that he is proud to win, and he is proud of winners. He's a proud American, he's proud of our past, he's proud of the legacy he has provided to his family, and he is proud of his children. He's proud of the buildings and golf courses and the things he's made. He's proud of the immigrant story of his family coming to the United States. He's proud of the way that his father moved from the lower middle class to being a millionaire.
This was a message of strength and pride and it resonates. When was the last time that we had a president so brashly proud of this great country? Certainly not Barack Obama.
Trump does exhibit a certain level of anger when he talks about the trajectory that our country is on, but it is an anger that is not hateful; it is righteous indignation. It is righteous indignation over the policies of the Clintons and the Obamas: weakening the military, poor foreign policy choices in places like Libya, bad national security decisions (such as Iran and the nuclear deal) and giving the cold shoulder to allies like Israel.
The nominee had to balance strength with a message of inclusiveness. On the one hand he did reach out to natural allies of the Republican Party, the ones that may have been skeptical of him in the past. He had a frank moment thanking evangelicals for their support even if "I do not deserve it." He did not have to insert support of Israel and yet he did. But most importantly he made two powerful arguments for an inclusive Republican Party. The first one is that he talked about minority groups and that the GOP was big enough to accommodate them, from LGBTQ community to racial minorities.
His inclusion theme was that all Americans, regardless of how they identify themselves, all Americans are victims when it comes to terrorism and lawlessness. This was a powerful point. Trump chided the Obama Administration for allowing the inner cities to become more violent and more lawless over the past seven years. Trump railed the "Obama Administration has failed you" speaking to minorities. He pointed out that many minority communities feel less safe today after seven years of Democratic administration than they did in Bush years.
This is an inclusiveness argument that the law should be color blind, that security and justice should be the same for a white child and a black child and a Hispanic child. The rules should apply to everyone equally, whether rich or poor. And it is very possible that this message will be seen in at least some minority communities as credible rather than the pandering that we'll hear from Hillary Clinton next week.
Finally, the secret weapon of the entire week was the Trump family. Regardless of the snafu of Melania's speech earlier in the week, the Trump family, night after night, has demonstrated a love of their father, a respect for their father, and at the same time are clearly sharp, accomplished, intelligent, and industrious members of the millennial generation. Ivanka Trump's speech introducing her father demonstrated how the conservative movement really is pro-women. It is not that women, or for that matter minorities, should have some kind of special treatment. It's that they get the same treatment, the same opportunities as everyone else; that is the point of what she had to say about labor laws and women. And her indictment was a subtle but an important one of the efforts made by the Democratic Party in recent years to target small interests groups rather than protect the nuclear family. Ivanka not only introduced her father, she introduced to a greying GOP ways to be relevant and yet authentically conservative to the millennial generation.
Candidate Trump and his team hit it out of the park.
Eric Patterson, Ph.D. is Dean of the Robertson School of Government at Regent University in Virginia Beach, Virginia.
–
TheBlaze contributor channel supports an open discourse on a range of views. The opinions expressed in this channel are solely those of each individual author.