The fast food workers at a Plymouth, Minnesota Arby's were getting nervous.
Derek Wolfsteller, who had just notified authorities himself that he was going through a "mental crisis," was clearly becoming a threat in the restaurant—and workers quickly called 911.
Police responded. Workers were in the process of trying to subdue Wolfstellar, who had already grown dangerous. The police's commands fell on deaf ears; the Taser didn't work—and the man grabbed the officer's gun.
She quickly regained control and was forced to shoot. Wolfstellar took a hit in the head, and died.
With few exceptions, there was virtually no outcry.
And rightfully so. The man was dangerous, he refused to obey the officer, could not be subdued by any other measure, and tried to grab the officer's gun.
Derek Wolfstellar made a choice, and he paid for it.
Fast forward a few months, and a few miles to the east in the same metro area—and it's a totally different story.
Never mind that Jamal Clark had added to an already extensive rap sheet by assaulting his girlfriend. Never mind that Clark returned to the scene after paramedics were called, and harassed and intimidated paramedics to the point where THEY felt compelled to call 911. Never mind that Clark refused to cooperate with police. Never mind that Clark engaged in a physical confrontation with the officers. Never mind that he eventually gained physical control of the handle of one of their guns.
Never mind all that, because we live in one of the most racially polarized periods in recent history.
You see, Derek Wolfstellar was white, and Jamal Clark was black. And somehow when race is made a part of the debate (whether it played a factor or not), personal responsibility suddenly only applies to the officers, and not to the perpetrator.
So how does it all break down? And what, if anything does this have to do with Thanksgiving? Bear with me—I'll get there.
Let's take a closer look at the components that don't always make the news and opinion reels: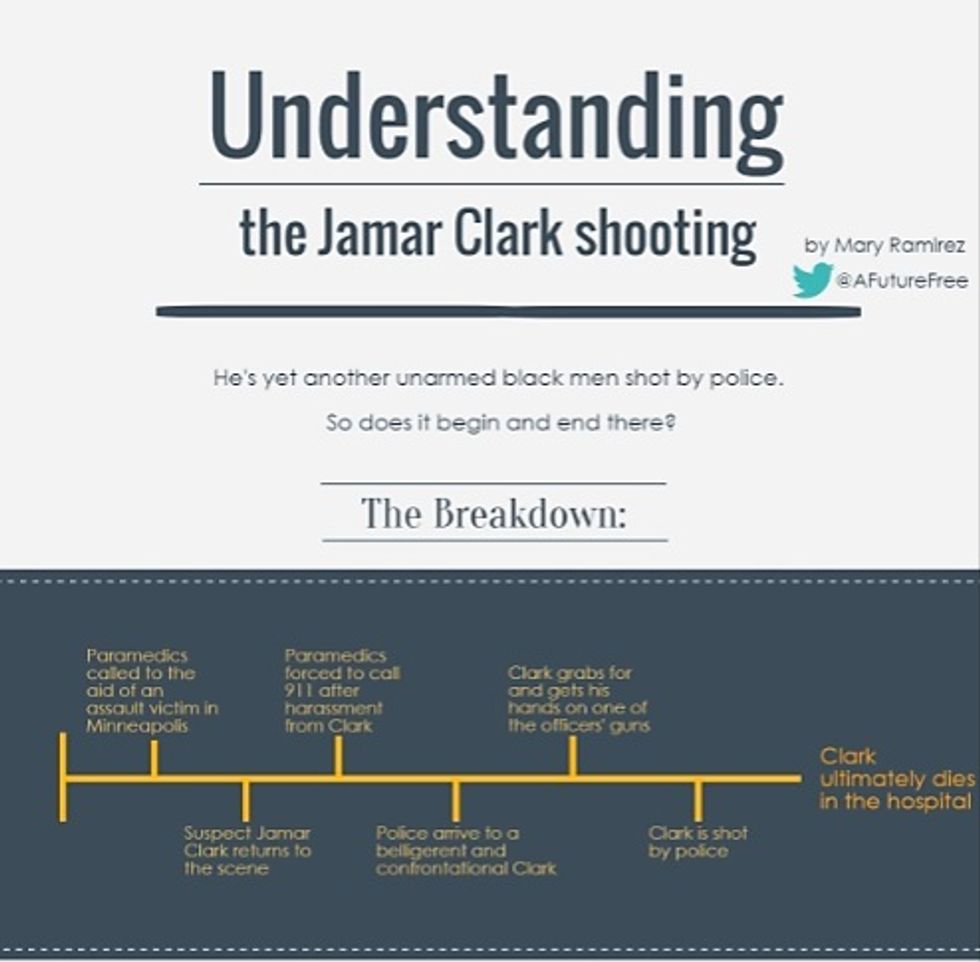 Mary Ramirez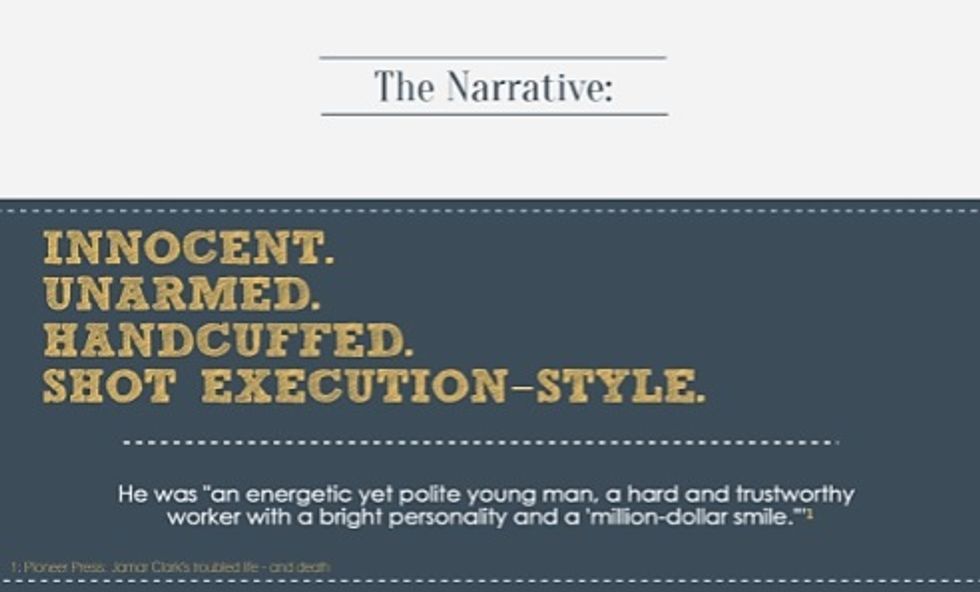 Mary Ramirez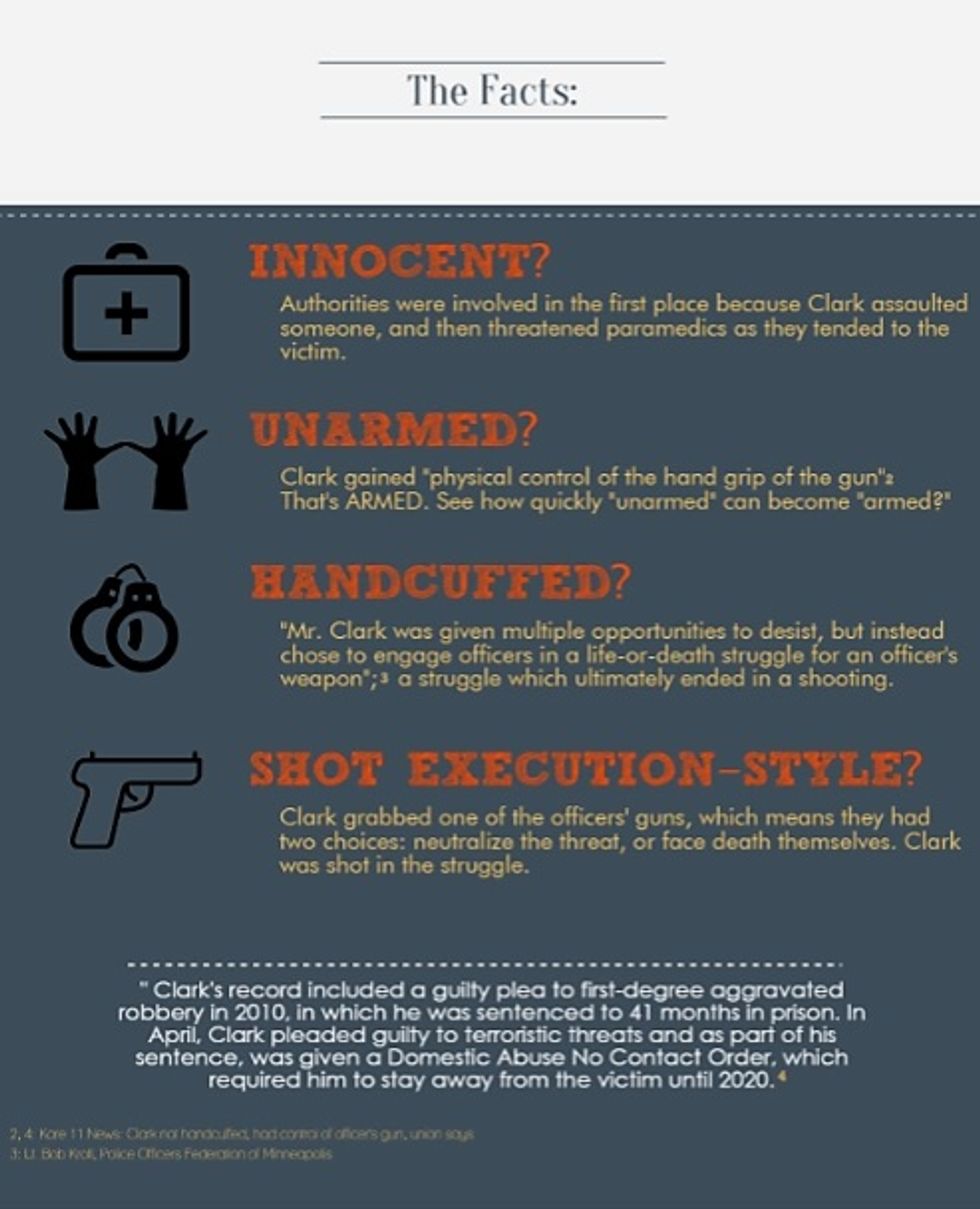 Mary Ramirez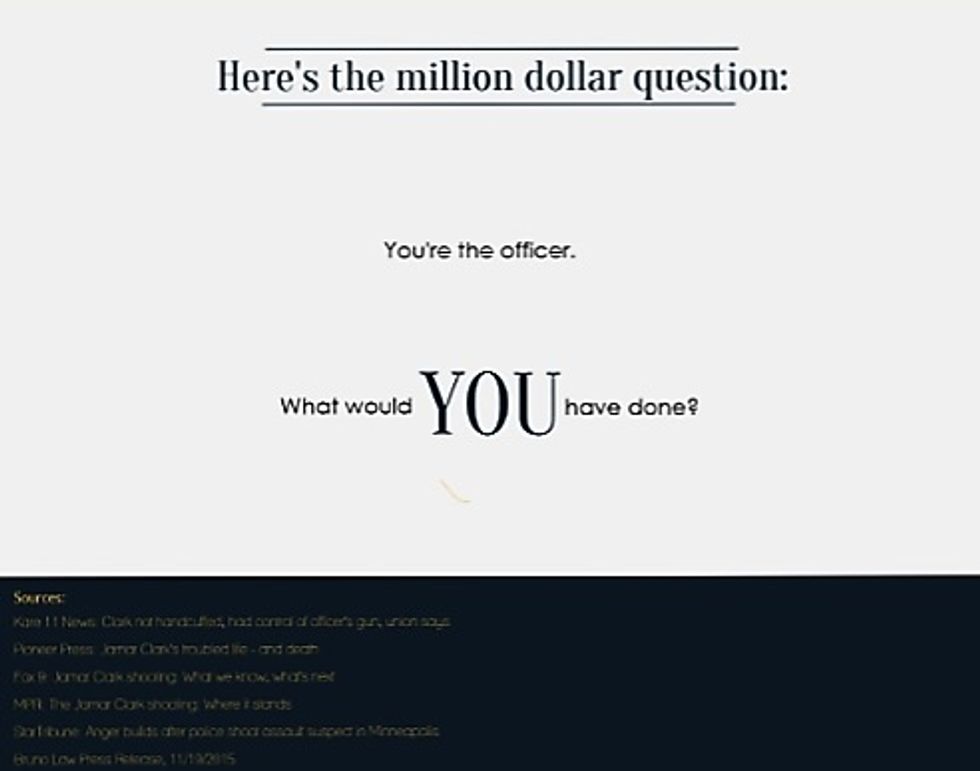 Mary Ramirez
In sum? The pasts of the officers, Clark, the girlfriend, and anyone else involved ASIDE—what are the facts? Clark beat someone up. Clark threatened paramedics and made it darn near impossible for them to aid the victim. Clark grabbed for the officer's gun. THAT'S what matters.
Yup, there's an alternative narrative. And witnesses to back it up, purportedly. But here's a nugget for you to chew on: in a world where practically everyone—from toddler to grandma—has a cell phone, no one has even a few seconds of video? It's just a thought.
And maybe, video will surface. (They're working on getting footage from a nearby building's camera.) But until such time, we're still supposed to look at the whole picture—something we're not always getting.
I haven't forgotten—I promised you I'd bring this back to Thanksgiving.
Several men decided to take matters into their own hands as they shot into the crowd of protestors at Minneapolis's 4th Precinct. They ended up wounding five people with their disgusting act.
Here's the thing: despite the vitriol, despite the anger, despite the difficulties posed by a community who believes that their work amounts to precious little more than institutionalized racism— police across the community worked to bring those people to justice: "officers and investigators worked nonstop throughout the night to develop suspects and leads," eventually making arrests.
They worked tirelessly to bring justice for the very people making their lives impossible right now.
So yes, I want you to look at the facts of the Jamal Clark case. And as we look at the video coming out of Chicago, I want us to look at the INDIVIDUAL (both the cop AND the perpetrator) in each case. I always want justice to be served.
But especially on this Thanksgiving weekend, I want us all to be thankful that we live in a country where the very same police who are being harassed, name-called and dragged through the mud for doing their job—are the same police willing to step up in the middle of it all and continue protecting us. What an immense blessing.
Think about that.
Mary Ramirez is a full-time writer, creator of www.afuturefree.com(a political commentary blog), and contributor to The Chris Salcedo Show (TheBlaze Radio Network, Saturday, from noon to 3 p.m. ET). She can be reached at: afuturefree@aol.com; or on Twitter: @AFutureFree
–
TheBlaze contributor channel supports an open discourse on a range of views. The opinions expressed in this channel are solely those of each individual author.