It's not often that we come across people who are willing to drop everything in order to help someone else. That takes a special type of person or group. When we come across those people, however, we need to give them credit where credit is due.
I discovered a group of veterans and non-veteran volunteers in Phoenix, Arizona who match that description and should be acknowledged.
The Facebook group called Veterans On Patrol was started by Michael Lewis Arthur Meyer, who prefers to go by the last name of Arthur, after he decided to bring awareness to the high suicide rates among veterans.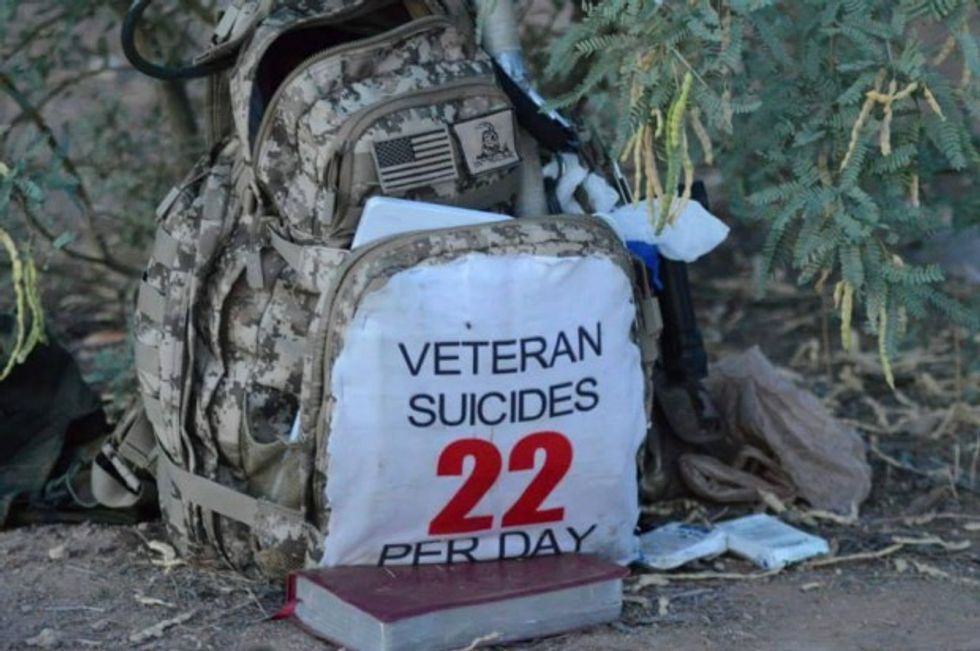 Via Facebook.
Arthur is no stranger to standing up for others. He runs an organization called "Walking for the Forgotten," a self-sacrificing group under the Good Samaritan law, according to Arthur, that brings awareness to the plight of veterans who commit suicide at a rate of 22 per day.
Arthur was arrested earlier in the year when he climbed an 80-foot light pole and stood for three hours waving an upside-down flag to bring awareness of the veteran suicide rate. Prior to his arrest, he was given a mental examination which proved that he was not suffering from mental health issues. He describes his public display as an act of "civil disobedience."
In August, Arthur was ready to take his advocacy back to the streets of Arizona to once again inform the public of veterans' suicide issues. He committed to leaving his home in Tucson and walking the streets of Phoenix until his message was heard.
Day after day, Arthur walked up and down the sidewalks carrying an American flag and holding a sign which read "Veteran Lives Matter," stopping long enough to pose with strangers and even a member of the Arizona State Senate Kelli Ward (R-Ariz.).
He later posted the pictures on his Facebook page to attempt to get the public involved in the problems facing many veterans returning from duty who suffer from posttraumatic stress disorder or PTSD.
However, Arthur's own campaign to raise suicide awareness would come to an abrupt end one night in late August.
Arthur reports that during his time on the streets, he had become embedded with a group of homeless veterans and non-veterans. On one occasion, he recalls, the camp came under attack while he and the homeless people with him were trying to sleep.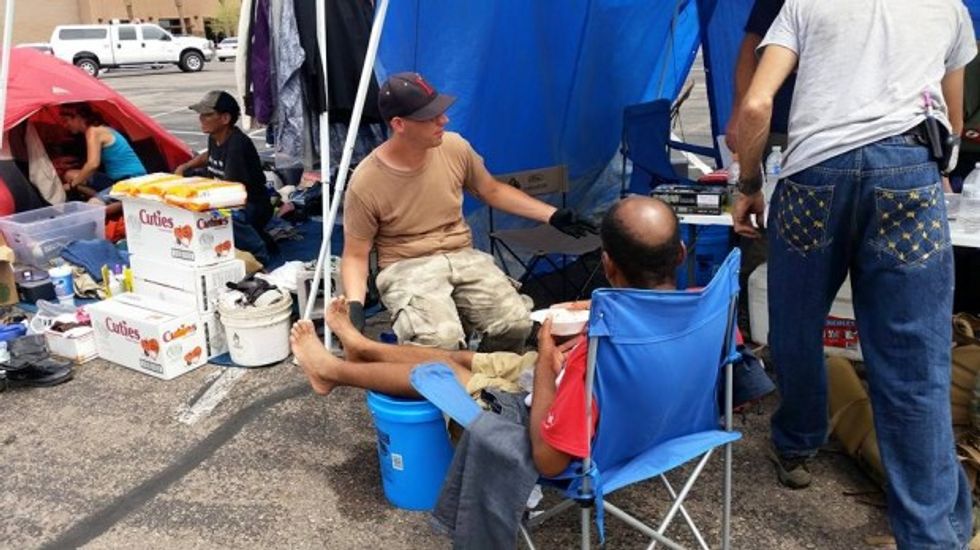 Via Facebook
Arthur claims that a group of attackers hit one of the homeless men in the head. He reported that as the men were being chased away, they yelled to Arthur that anyone seen carrying the American flag, like Arthur was carrying, would be killed.
It was at that moment Arthur realized that the homeless veterans and non-veterans alike were being targeted by gangs, especially around the time veterans' disability checks were being delivered. He knew then that something had to be done.
Instead of calling it quits and returning to the safety of his own home, he sounded the alarm and called on all veterans and other volunteers to bring their American flags and lend their support in protecting those who called the street their home.
Veterans on Patrol was born.
Arthur and others saw a need that wasn't being fulfilled by the city. Instead of waiting for the city to act, Veterans on Patrol decided to step up and take the lead.
Arthur recalls how "between 64 to 74 patriots" came together that first night to begin patrolling the streets of Arizona.
In addition, "Between 20 to 30 armed veterans came each night to patrol the streets and keep the homeless safe," according to Arthur. He said that so far "over 180 people have stepped up to help their group" and the list keeps growing.
Arthur said that a temporary camp was quickly set up to begin serving the homeless. He said that corporate sponsors have also been generous in supplying needed food and other items for the needy.
"Free medical care, food and a place to safely sleep was provided to all homeless veterans and non-veterans in the area," Arthur said.
He points out that all donations given to the group are used to help those they serve and that there is no paid staff. Everyone associated with the group is a volunteer, according to Arthur.
Arthur is proud of what the group has accomplished in such a short period of time.
"We've stopped four crimes, including a carjacking and have helped a total of 26 people get off the streets, which includes helping 10 veterans get housing assistance and 16 non-veterans to receive detox and other services."
When asked what has made the group so successful, Arthur says "All glory goes to God."
Arthur recently returned to his family in Tucson but says he didn't abandon Veterans on Patrol. Rather, he started a Veterans on Patrol group in Tucson while the Phoenix location of Veterans on Patrol will be run by other volunteers.
Imagine what could be done, if like Veterans on Patrol, we all decided not to wait for the government to act!
Perhaps you will be the next person to start a service group in your community?
I created a short documentary video to commemorate the people and the good work of Veterans On Patrol.
–
TheBlaze contributor channel supports an open discourse on a range of views. The opinions expressed in this channel are solely those of each individual author.