As President Barack Obama and North Carolina battle over bathroom bills in court, Democrats will soon find out that their greatest battle may be not in the court of law but rather in the court of public opinion this fall.
On talk radio airwaves and social media platforms across the nation, moms and dads are coming out in droves to declare that their number one issue this fall is sending a message to the White House that their kids are "off limits."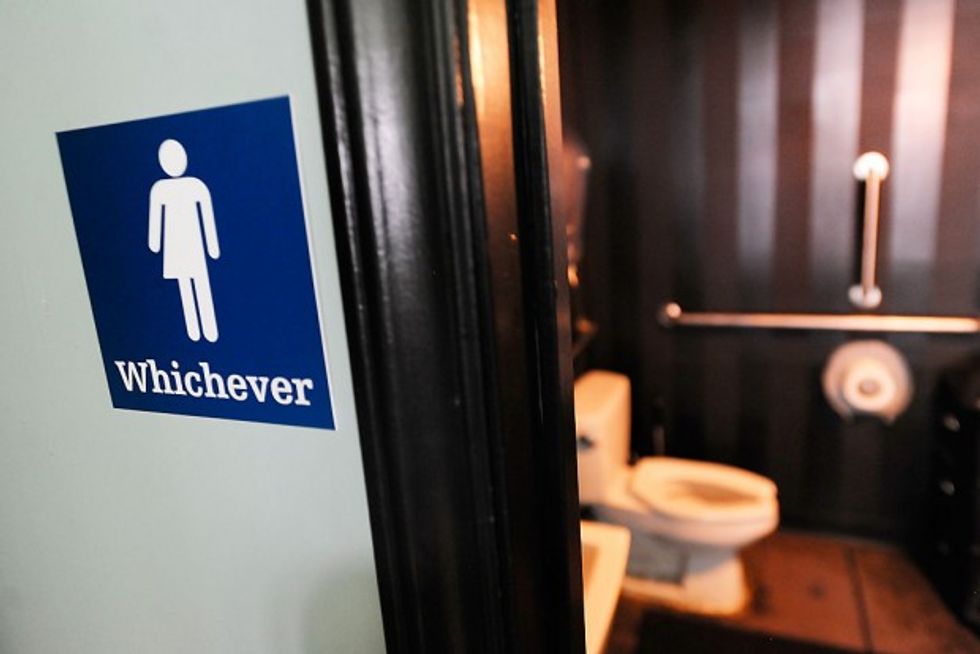 Sara D. Davis/Getty Images
In the same manner that "hockey moms" and "security moms" became an overwhelming voting bloc in post-9/11 elections, American parents who feel that their children's rights to privacy and safety are at risk in 2016 will also turn out in record numbers.
As a result, Democrats will pay a hefty price at the ballot box for the overreach.
How so?
When most Americans think about the branches of government, they think of them just how we learned them in school: legislative, executive and judicial.
But they often forget about one person that provides checks and balances - the American voter - and he or she tends to settle the score at the ballot box whenever they have the opportunity.
History proves that we are a nation of checks and balances in which voters take every opportunity to swing the pendulum back their direction if they believe things are out of control. Here are just a few recent examples:
In 1980, voters fed up with President Jimmy Carter and his gas shortage, his "put on a sweater" environmental policies, an automobile manufacturer bailout (sound familiar?) and an international hostage crisis, voters handed Ronald Reagan a whopping 44-state victory and a double-digit margin of victory over the incumbent party's President. Government overreach tends to offend across party lines; Reagan won that election with 27 percent of Democratic voters who became known as "Reagan Democrats."
In 1994, overwhelmed after just two years of President Bill and Hillary Clinton's overreach on social issues and "HillaryCare," Republicans introduced a "Contract with America" authored by Newt Gingrich and Dick Armey. American voters returned the House of Representatives back to Republicans - for the first time in 40 years.
In 2008 after four "activist judges" threw out the votes of ten million voters, San Francisco's mayor Gavin Newsom began issuing marriage licenses for gay couples against California law. As a response, voters in the deep-blue state of California pushed back against gay marriage and supported the Prop. 8 ballot initiative to uphold the definition of marriage as being between a man and a woman. And it wasn't just the GOP who passed that ballot initiative - Republicans, Democrats, Independents, African-Americans, Latinos and other concerned parents supported the vote - surprising pollsters who had for weeks vastly underrepresented the support for the conservative measure.
In the 2010 midterm elections, fatigued by two years of the Obama administration's overreach - especially regarding "ObamaCare" - the Tea Party movement began and voters once again took to the polls and elected the largest majority of Republicans in American history to the House of Representatives, knocking Rep. Nancy Pelosi, D-California, from her post as speaker of the House.
In 2013 in the battleground state of Colorado, state legislators aided by then-New York City mayor and billionaire Michael Bloomberg passed the strictest gun control in the nation in the wake of Sandy Hook and the Aurora theatre shooting. Citizens fought back, orchestrating a recall of two of the highest-ranking Democrats in the battleground state and eventually forcing a third Democrat to resign or face a similar recall election. Even though "gun rights" are seen as a right-wing issue, in that race more Democrats and independents signed the petition for recall than even Republicans.
In the 2014 midterm elections - the last national election for which we have a barometer - voters who were fatigued with Benghazi, failures of Obamacare and the highest number of executive orders issued by any president in American history, swept in another class of Republicans. Except this time, voters increased the Republican majority in the House, gave the GOP control in the U.S. Senate as well and also elected Republican governors in 31 states across the country - the highest number of GOP governors in U.S. history.
This year will be no different.
The November 2016 backlash against Obama's transgender bathroom directive will be one of epic proportions.
Voters will have the opportunity to flush the White House's order and maybe - just maybe - send political correctness down the drain once and for all.
–
TheBlaze contributor channel supports an open discourse on a range of views. The opinions expressed in this channel are solely those of each individual author.