Islamic State has claimed its first ever responsibility for a high profile attack on U.S. soil, an attack in Garland, Texas where two gunmen opened fire on a contest offering $10,000 for the best Muhammad cartoon. (The winning cartoon shows Muhammad angrily declaring, "You can't draw me" while the artist in process retorts, "That's why I draw you.")
Days after Elton Simpson and Nadir Soofi were shot and killed in the course of their attack on cartoonists, Islamic State-operated al-Bayan radio in Syria hailed them as "two soldiers from the soldiers of the caliphate."
The SITE Intelligence Group, which monitors communications by militant Islamists, translated the broadcast wherein Islamic State went on to warn of worse attacks to come.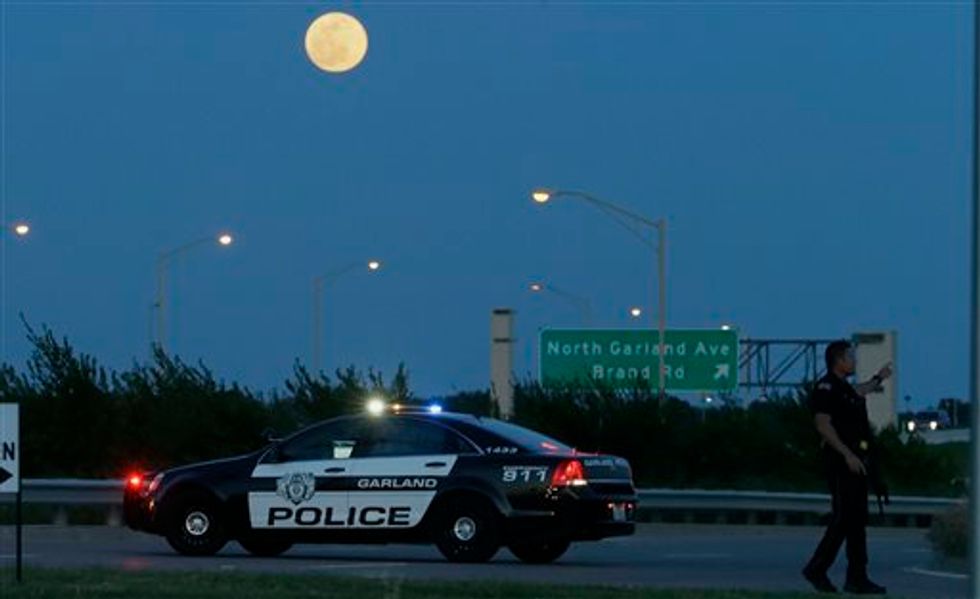 An armed police officer stands guard on a road near the Curtis Culwell Center where a provocative contest for cartoon depictions of the Prophet Muhammad was held Sunday, May 3, 2015, in Garland, Texas. The contest was put on lockdown Sunday night and attendees were being evacuated after authorities reported a shooting outside the building. (AP Photo/LM Otero)
Responsible media outlets immediately reported the lack of credible evidence that Islamic State had directed the attacks. As a CNN headline touted, "ISIS claims responsibility for Texas shooting but offers no proof."
Despite Islamic State claims to terror cells in 15 U.S. states, the FBI, the White House, and a U.S. official "speaking on condition of anonymity," all doubted that Islamic State had directly ordered the Texas attacks. More likely the attack was of the "lone wolf" variety, perhaps incited by an Islamic State propagandist on Twitter.
The inference is that lack of direct involvement by Islamic State is somehow better.
Back up for a minute to look at it through a different lens.
In the famous Jewish counsel against gossip, a rabbi talks with a man who is known to spread a tale or two. In one version of the story, the rabbi directs the man to take a feather pillow to the top of a high mountain, cut it open, and watch the feathers fly in all directions. When the man returns to the rabbi to report the task as finished, the rabbi instructs him to go back and gather up all the feathers.
"But," the man protests, "that's impossible. There are too many of them blown over too big an area."
That, the rabbi soberly informs him, is the problem with gossip; once the words are out, whether true or not, they can never be recovered.
What does this have to do with Islamic State?
It would seem we hope that Islamic State is lying, that they did not in fact direct the two gunmen to open fire on the Dallas area contest.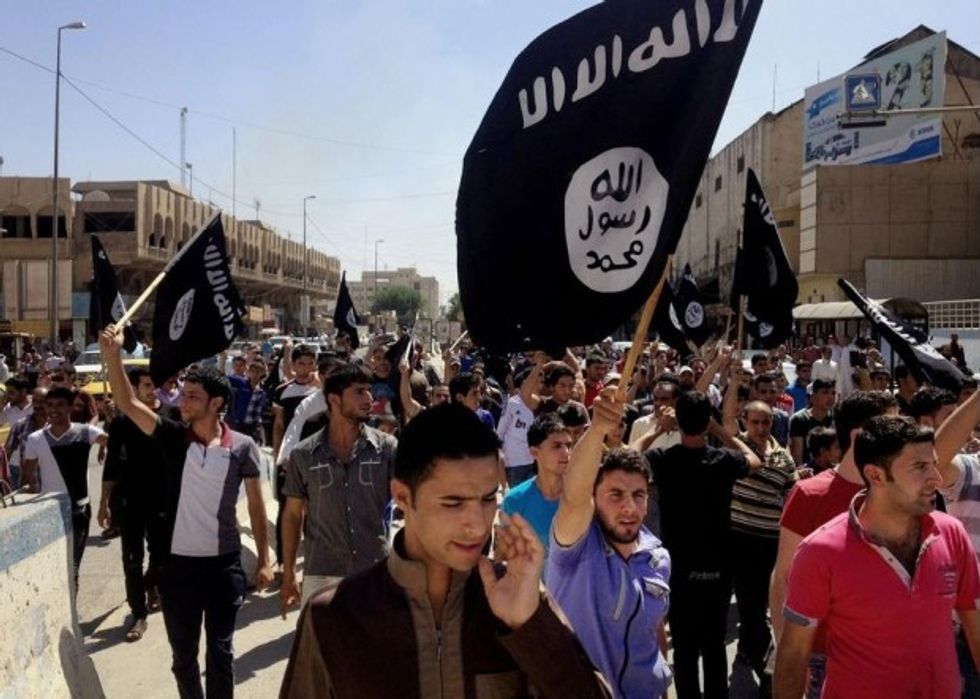 In this Monday, June 16, 2014 file photo, demonstrators chant pro-Islamic State group slogans as they wave the group's flags in front of the provincial government headquarters in Mosul, 225 miles northwest of Baghdad, Iraq. (AP Photo, File)
The implication is that if they are merely acting opportunistically in claiming credit for the violence that we are somehow safer.
Not according to the wisdom of the feather pillow.
If Sullivan and Soofi did indeed have formal ties to Islamic State, and Islamic State did indeed plan and direct the attack, we have a pillow problem. Think of the gunmen as the pillow—a bounded entity with a beginning and an end—that can be manipulated according to the desires of its owners, in this case the caliphate.
In a relative sense, that's the problem we want.
The problem we don't want is that Islamic State knew nothing of the two roommates before the attack; that Sullivan's tweet moments beforehand ("May Allah accept us as mujahideen. #texasattack) was really a job application.
In that case, we have a feathers problem; the gunmen are just two instances of a much larger and more geographically dispersed problem, all of which are outside any form of direct control.
Radicalized Islamist feathers blow about on winds of propaganda, swirling in currents of their own making. They cannot rightly be termed an entity because there is no organization to their parts. Since only some kind of organization would respond to outside direction, they are more accurately described as chaos.
When we look to thwart future attacks, looking for a needle in a haystack would be easy. In the case of feathers dispersed whithersoever, there isn't even a haystack.
Because they have no beginning, they have no end. The only thing that ties them together—and loosely at that—is participation in a mosque. And even the mosques can't tell the good from the bad.
Usama Shami, president of the Islamic Community Center of Phoenix, knew both men from their worship at his center. He knew Simpson best, going back 10 years, and even knew about his 2011 arrest for lying to the FBI but still said he never saw it coming.
"Overall he's a nice person," Shami said. "I don't know what happened to him. It's a shock to the community that he would be involved in such an act."
Feathers. Random, barely perceptible, disconnected bits of radicalism.
I'd honestly rather have the pillow.
–
TheBlaze contributor channel supports an open discourse on a range of views. The opinions expressed in this channel are solely those of each individual author.