In Islamic State's official justification for the attack, it claims that the killing of civilians is justified because they are infidels. How do they justify this and what is to be done?
The justification for the Belgian attacks should truly be chilling for everyone in the West and prove that Islamic State is different than our other adversaries.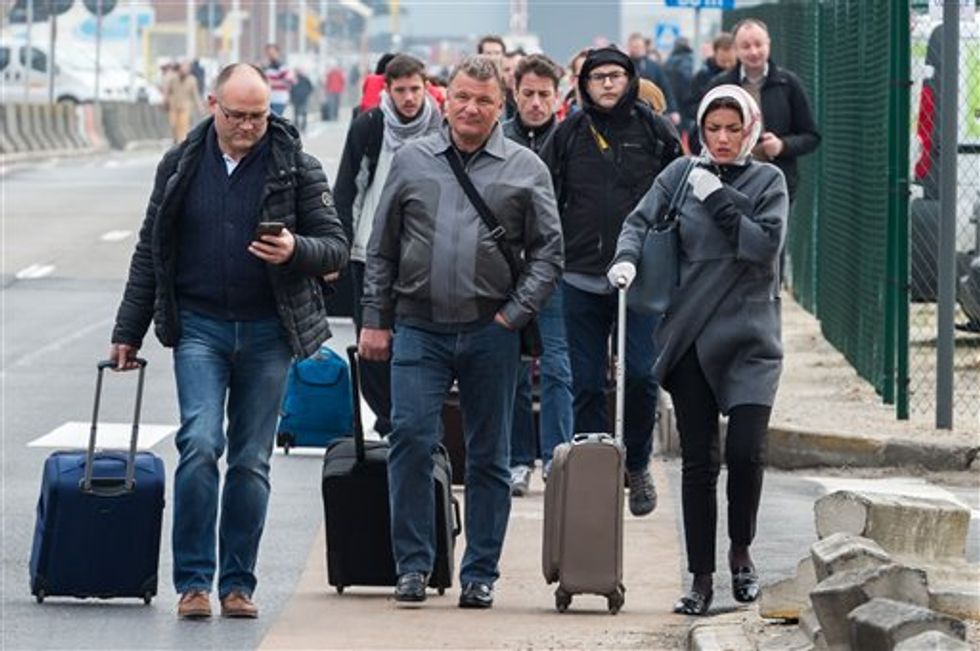 People walk away from Brussels airport after explosions rocked the facility in Brussels, Belgium Tuesday March 22, 2016. Explosions rocked the Brussels airport and the subway system Tuesday, just days after the main suspect in the November Paris attacks was arrested in the city, police said. (AP Photo/Geert Vanden Wijngaert)
The Afghan Taliban (unlike the Pakistani Taliban) never threatened to attack the American homeland: it saw itself primarily as a local, Pashtun (Sunni) movement and not as the vanguard of a religio-ideological movement. So, although we are disgusted by the brutality and primitive behavior of the Taliban in Afghanistan, we do not worry that it will direct an attack against Paris or Los Angeles. Indeed, the Taliban's fighting instructions and code of conduct (layeha) over the years gave very specific orders about behavior ranging from croplands to dealing with civilian aid workers.
Al Qaeda, in contrast, modeled themselves as a classic revolutionary network with a cell structure, a revolutionary ideology, and clever efforts to tie localized armed struggles from the Philippines to Nigeria into a single network of jihad. Al Qaeda was logical about its abilities and did not see itself as taking over a country or countries in the short-term. Its rationale for the fight was a spurious "self-defense:" the West is imperialistic, Zionistic, and Crusading and local Arab leaders, like the Saudi royal family and Pharaoh Mubarak, were cronies of the decadent U.S. and its allies.
Osama bin Laden and the other "Afghan Arabs" learned to be patient on the battlefields of Afghanistan in the 1980s, where they wore down a superpower and ultimately sent the Soviet Union packing with its tail between its legs. Bin Laden and his ilk tried to apply this same lesson against the U.S. in Afghanistan and Iraq after Sept. 11, 2001. In other words, Al Qaeda's strategy, at least as it developed, was to draw in the West to another quagmire, like Vietnam, and then send us home defeated because they did not reckon George W. Bush and his allies had the stomach to fight it out.
Islamic State's strategy is quite different. On the one hand they are attempting to establish a Sunni state on the remains of the old Arab caliphate based in Baghdad. Unlike Al Qaeda, they are trying to conquer and defend a geographical entity, a real life caliphate, in the modern world. Only time will tell if they can successfully found and keep their state.
But, a part of their strategy is also to inspire the fight internationally and take that fight to Western populations. According to Heavy and Breitbart, Islamic State's Amaq news agency first sent out a short claim of responsibility for the Brussels attack and then a second, longer justification for the killing. The official justification for the attacks begins, like many jihadist fatwas, that "the Koran, sunnah (or reports of early Islam), and …scholars of the salaf (historical jurists)" provide a basis for killing.
"First we want to make it clear to all that what makes the kafir's blood permissible to spill is not him fighting the Muslims, rather it is his "KUFR" that necessitates his killing. So if one asks, can you kill a kafir (who does not fight Islam and Muslims)? the answer is a big YES."
This is not a self-defense argument. Islamic State pointedly says that the attacks are not because Belgium is part of the coalition dropping bombs in Iraq and Syria. Rather, the Belgian people are "kafir:" those who refuse to believer or infidels. They quote the Koran and numerous Islamic sources claiming that it is permissible to kill infidels.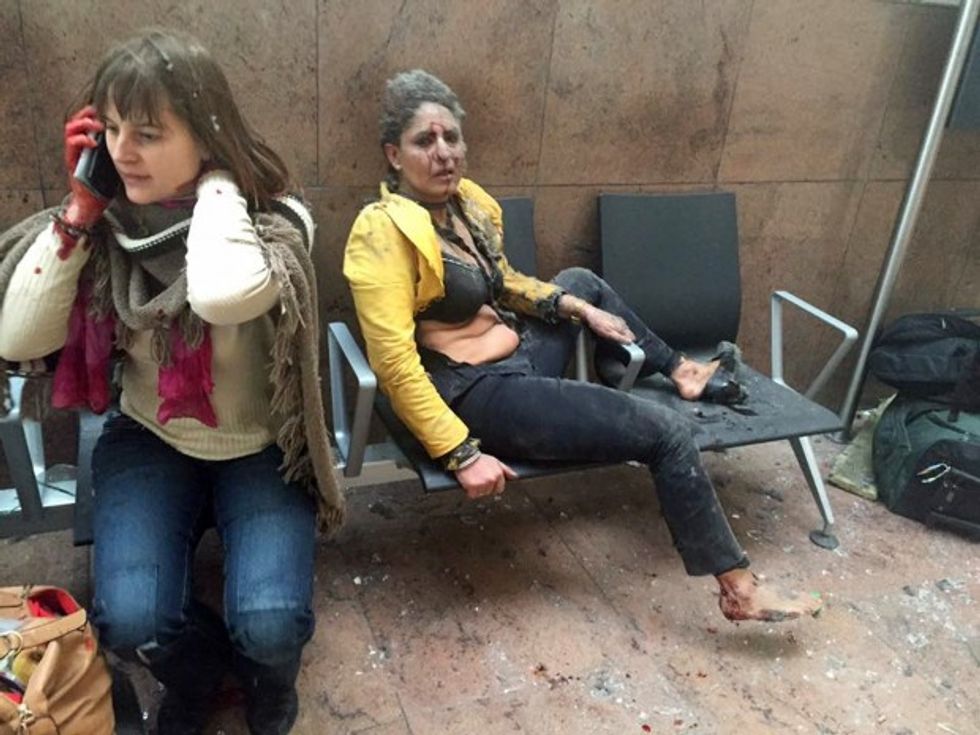 In this photo provided by Georgian Public Broadcaster and photographed by Ketevan Kardava two women wounded in Brussels Airport in Brussels, Belgium, after explosions were heard Tuesday, March 22, 2016. A developing situation left at least one person and possibly more dead in explosions that ripped through the departure hall at Brussels airport Tuesday, police said. All flights were canceled, arriving planes were being diverted and Belgium's terror alert level was raised to maximum, officials said. (Ketevan Kardava/ Georgian Public Broadcaster via AP)
Later in the same diatribe Islamic State asks if it is permissible to kill "women, children, [and] the old?" The answer is yes, because they are infidels and because they are part of an anti-Islamic civilization. Islamic State claims to be settling "old scores" in Paris and Brussels to get back at Western colonial powers, and it justifies this from the Koran: "Allah also says: 'And if you punish [an enemy, O believers], punish with an equivalent of that with which you were harmed' [An-Nahl 126]."
Islamic State has declared war on the West. This document justifies the attacks in Paris and Brussels and is meant to inspire a wave of similar attacks by sympathizers around the world. Unfortunately, it is clear that law enforcement and national security agencies cannot stop every attack.
What is to be done? There is no perfect solution. Sen. Ted Cruz has called for patrolling some Muslim neighborhoods: this is overkill, but it does suggest an important point. There should never be a no-go zone for law enforcement officials, such as the Molenbeek area where the Brussels bombers had sanctuary or the various shariah-law neighborhoods of the U.K. The U.S. and its allies simply cannot allow for unrestrained immigration by people that it does not know and that refuse its value system. An example of this, cited by Peter Spiegel of the Financial Times on Washington's Diane Rheim show on March 24, was that of the more than 100 imams in Brussels today, only eight speak the local language—the rest only speak Arabic or their mother tongue. This is a total lack of assimilation and demonstrates the failure of multicultural policies that "live and let live" to the detriment of a shared national identity.
Moreover, whereas in 2012-2014 one could hope to have boxed in Islamic State—which the U.S. refused to do—today we face a new reality. Islamic State's track record of successes on the ground in Iraq and Syria, though marred in recent weeks by a series of setbacks, have emboldened its sympathizers from Belgium to Bangladesh. If this continues, Islamic State must be crushed on the ground in the Middle East to "prove" to its adherents that it is not divinely-ordained to succeed.
Eric Patterson is Dean of the Robertson School of Government at Regent University and author or editor of Debating the War of Ideas and Ending Wars Well.
–
TheBlaze contributor channel supports an open discourse on a range of views. The opinions expressed in this channel are solely those of each individual author.