I believe that President Barack Obama was born of an American citizen on American soil and that he is an American citizen.
I do not believe that he is an Islamist sympathizer. I do not believe that he wants to help the Islamist State establish a new caliphate and eliminate the Jews.
But I cannot, for the life of me, imagine what he would have done differently in the last seven and a half years if he decided to do just that.
A picture taken on June 04, 2009 shows US President Barack Obama delivering his much-anticipated message to the Muslim world from the auditorium in the Cairo University campus in Cairo during a one-day visit to Egypt. Three years after he promised a rapt audience in Cairo a shift in his country's unpopular Middle East policy, US President Barack Obama goes to the election trailed by disappointment in a region swept by change. Credit: AFP/Getty Images
In Cairo in June of 2009 the president apologized for our past "dismissive, even derisive," behavior and assured the Muslim world that the United States wants to play nice.
His prostration before Islamists confused our Arab friends even as it offended us.
That same month hundreds of thousands of protestors took to the streets in Iran to protest rigged elections. They begged the United States to stand with them. The president decided not to.
The president faced another decision in the Arab Spring. Would America side with leaders who kept terrorism at bay and Israel at peace?
No, we sided with the Muslim Brotherhood whose specialty is enslaving women and fomenting terror.
Iran provides Syria with $6 billion a year. They also pay Afghan fighters $500 to $1,000 a month to fight for their client, Bashar al Assad.
Two years ago we concluded that Assad was using chemical weapons against his own citizens.
The president threatened to bomb Syria, but to confront the Syrian regime would have confronted Iran. When it came time to act, the president decided to do nothing.
That decision is coming to fruition on the beaches of Europe with dead children washing ashore.
Iran has been working to get nuclear weapons for 30 years. We have worked diligently to get world-wide financial and commercial sanctions in place against Iran.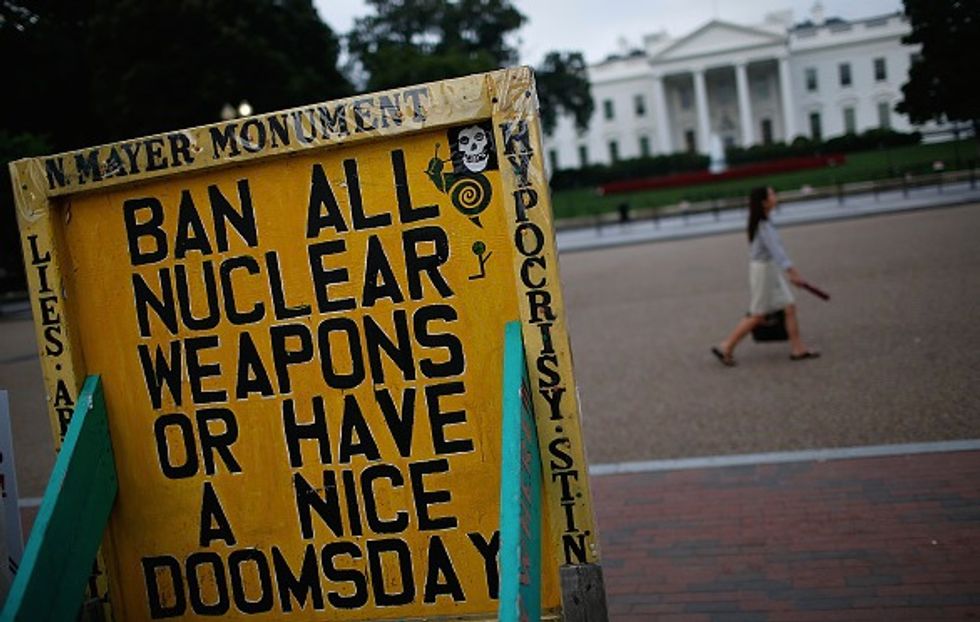 The White House is shown as U.S. President Barack Obama announces a nuclear deal between six nations and Iran July 14, 2015 in Washington, DC. The deal would limit Iran's nuclear ambitions for a period of at least ten years in exchange for lifting economic sanctions. (Win McNamee/Getty Images)
The sanctions have put a strain Iran's economy and limited their economic support for global terrorism.
At the same time that Iran's leaders were promising to destroy Israel and bring the war to America they approached the Obama administration to negotiate release of $150 billion of their money that has been frozen in bank accounts in the Western world.
The position of the United States has been clear for decades. We will relax the sanctions when Iran proves to us that they will no longer pursue nuclear weapons.
Over the past two years both our diplomats and our political leadership have agreed that Iran has cheated on every agreement to date and cannot be trusted so a regimen of strict verification by the International Atomic Energy Agency was mandatory.
President Obama said that Iran must end its nuclear program.
We demanded a complete inventory of activity to date in order to get a base line of what they have enriched in the past to compare with the future.
IAEA inspectors must be allowed to inspect anytime and anywhere.
The president released $12 billion in the last two years on the strength of Iran's commitment to negotiate in good faith.
Iran decided that they would not stop enriching uranium, but would continue only for peaceful purposes.
The president agreed.
US President Barack Obama speaks during a campaign event at the Franklin Institute in Philadelphia, Pennsylvania, on June 12, 2012. Obama is seeking to steady his reelection bid after a wobbly week by redrawing the economic choice facing US voters and stuffing millions of dollars into his campaign war chest. Obama was last week swamped by a torrent of bad economic news, mocked after he said the private sector was doing 'fine' and forced to deny his White House was leaking intelligence on drone strikes and Iran to make him look tough. Credit: AFP/Getty Images
Iran insisted that inspections in certain military sites would be negotiable over 24 days.
The president agreed.
Iran then negotiated two "secret" side agreements with the IAEA that Iran would inspect itself in those military areas rather than be inspected by the IAEA. The secret agreements will not be made available to Congress for its review.
The president agreed.
Toward the end of the negotiations American citizens demanded that Americans hostages being by Iran be released as a part of the deal.
The president said that including the hostages in the negotiations would reduce our leverage with Iran.
The Iranians were not so timid. They demanded that the sanctions against General Soleimani, leader of the Al Quds forces responsible for the deaths of 1,100 Americans, be lifted as a condition of their agreement.
The president agreed.
Iran decided that President Obama needed this deal more than they did so they demanded the lifting of the conventional weapons and ballistic missile sanctions so that if they ever did get a nuclear bomb (wink, wink) they would have a way to deliver it.
The president agreed.
The president has admitted that some of the $150 billion Iran gets in the agreement will be used to continue to fund global terrorism.
Apparently that was not a deal-breaker either.
I return to my original question. If the president did support global terrorism and the Islamic caliphate, what would he have done differently?
–
TheBlaze contributor channel supports an open discourse on a range of views. The opinions expressed in this channel are solely those of each individual author.