Why is everyone so upset about the weather forecast for New York?
They got it right for most of the Northeast. If you think rocket science is difficult try meteorology. There are more variables than the hairs on your head.
The next time you leave home, try doing so without consulting the weather forecast. Then you can't complain when the 50 percent chance of rain didn't materialize. Better yet, go ahead and climb on board that airplane that didn't check the weather before departure. You might end up at the bottom of the ocean.
Weather forecasting is an art, not a science. As a member of the Coast Guard Auxiliary, I took a college level course on meteorology, and let me tell you, it was extremely complicated. I take my hat off to anyone willing to make a prediction about the weather.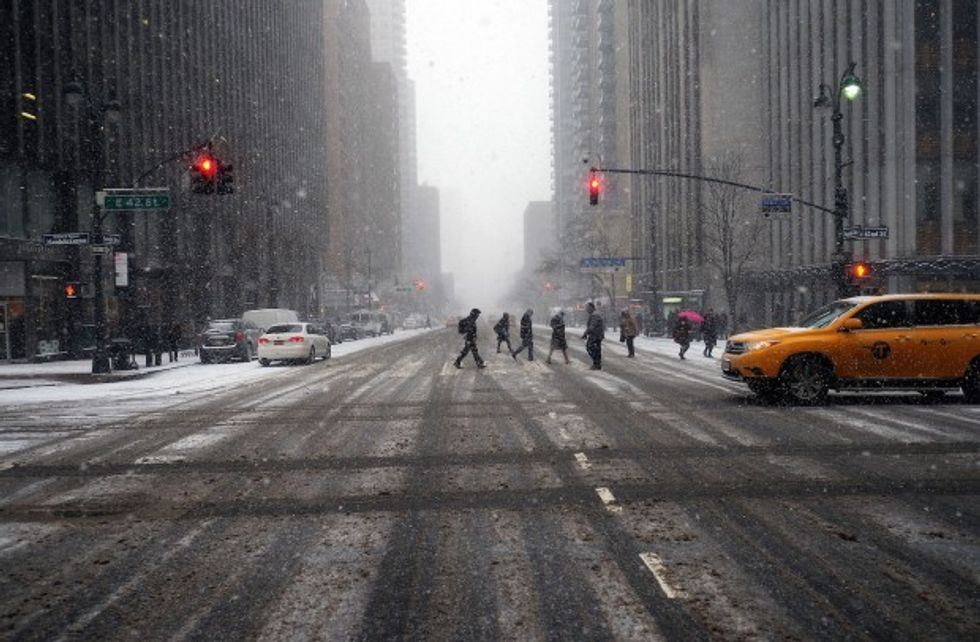 People cross a street during a snow storm in New York on January 26, 2015. Thousands of flights were canceled as millions of Americans in the Northeast braced for a winter storm that New York's mayor warned could be one of the biggest blizzards in history. Snow, which was already falling across the region, is expected to accumulate steadily throughout the day before turning into a major storm expected to paralyze parts of New York and New England. AFP PHOTO/JEWEL SAMAD 
Mark Twain mused that everyone talks about the weather, but nobody does anything about it. Weather forecasters try to do something about it. They warn us when something wicked this way comes. Warnings are just that – warnings.
"Semper Paratus," the Coast Guard motto, means "always ready." Isn't it preferable to be fore-warned about an impending storm, hurricane or tornado? Would New York have been better off if the predictions came true?
Our culture is so quick to criticize those trying to do the best they can with the information they have. Let the critics spend a month without opening their smart phone apps or listening to the local forecast. Maybe the weather will rain on their plans. A good soaking might teach them to appreciate how good they really have it.
I'll bet if you take a look at most Coast Guard rescues, you will find that the boater didn't check out the weather forecast or ignored it before leaving shore.
Density, temperature, pressure, and due point are the basic factors that you glean from the weather forecast. But how many of us understand diurnal variation, semi-permanent pressure belts, rossby waves, synoptic scale lows, wave propagation, upper air pressure gradient, orographic lift, occluded fronts, to name only a few of the hundreds of variables that go into weather forecasting?
Can you tell the difference between a cumulonimbus and an altocumulus cloud? How about the difference between sublimation and deposition? Get my point?
Predicting the weather is highly complex. We should start an annual award ceremony for the weatherperson who gets it right the most times per year. They do a lot more for all of us every day of our lives than an actor who gets an Oscar for memorizing a bunch of lines for a movie.
Maybe I am just old fashioned, but perhaps we worship the wrong celebrities. We should be thankful that someone is willing to go through six years of college so they can try to save a few lives by warning them of an impending hurricane. The next time you are so quick to complain about the weather forecast, I dare you to try and do something about it.
John Lawrence Allen, a nationally recognized legal expert, represents investors nationwide in securities arbitration. Mr. Allen's second book, "Make Wall Street Pay You Back," was just released. For more information visit www.MakeWallStreetPayYouBack.com.
–
TheBlaze contributor channel supports an open discourse on a range of views. The opinions expressed in this channel are solely those of each individual author.