In the wake of President Barack Obama's latest attempt to circumvent Congress and implement stricter gun controls through "executive action," a broader discussion over the continued necessity of the Second Amendment is sure to follow.
As a Midwest transplant, one of the first things I noticed after moving to my leafy New Jersey suburb was how few of my neighbors had ever even seen a real gun let alone held or fired one. Where I grew up, which at the time was a semi-rural outlier of Chicago, shooting guns was just part of who we were.
I shot my dad's M1 Carbine; several of my friends had small bore shotguns and even a few pistols. We all could aim straight and true. Never once was anyone even close to being injured. When you grow up with responsible gun ownership pounded into you by unforgiving teachers like my 1st U.S. Marine Division Korean War veteran father, you very quickly come to appreciate their deadly seriousness and treat them with proper respect.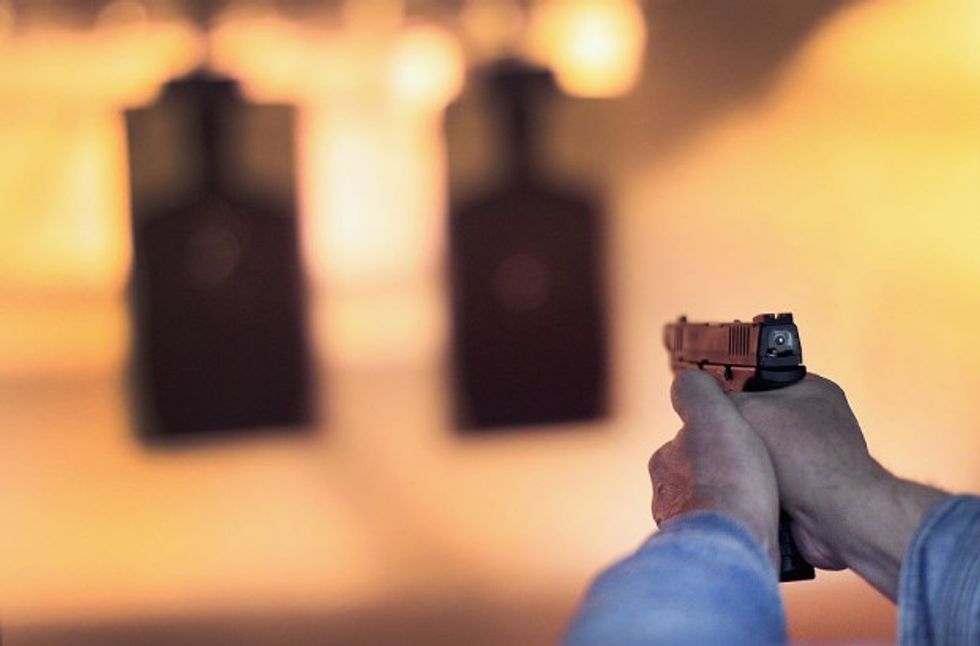 A marksman sights in on a target, February 14, 2015. (Getty Images/Scott Olson)
Several years ago I found myself pondering the meaning of the Second Amendment beyond the traditional argument that armed civilians are a check against the tyrannical inclinations of government. Rather, I considered its broader meaning through the prism of a regional catastrophe.
From Oct. 29-31, 2012, Hurricane Sandy laid waste to much of New Jersey's coastal region, flooding and washing away homes, ripping down power lines, paralyzing cable, internet, and telecom services, shuttering businesses, and halting food and gasoline shipments to some of most densely populated areas of the most densely populated state.
Watching the chaos unfold in the storm's wake, I was privy to a disconcerting fact of life: we in advanced societies have grown utterly dependent upon modern transportation and technology, but that doesn't make us any more civilized than our medieval ancestors. All it takes to regress to our more lawless days is to turn out the lights, shut off the heat, close the supermarkets and make gasoline scarce; then you will see the baser elements of our human nature unleashed in no time.
After Sandy, the hum of generators and chainsaws and sirens was the ambient sound of my neighborhood. But there was also an undercurrent of subtle fear—much more so as you ventured into the less affluent parts of the surrounding area.
Fear that winter was coming and the power may not be restored for a long time. Fear that there would not be enough gasoline to fuel the chugging portable generators that were all that stood between limited vestiges of civilization and a cold, dark reality. One could sense the anxiety as people waited in the cold for hours in literally half-mile long lines, praying that the sign "Sorry No Gas" would not appear before their little red canisters had their fill.
As I said before, many conservatives view the right to bear arms as a check against an overbearing central government and indeed that was certainly a primary concern of the Framers when grafting this and other guarantees onto the body of their new Constitution. But honestly, the federal government has become too powerful for so a quaint an idea; there is little an oppressed populace armed with shotguns, hunting rifles, pistols and even more advanced firearms can do against predator drones, M1-A1 tanks, Apache helicopters, F-22s and the like. Someone very high up in the military would have to be on its side for any popular uprising to succeed.
But what if the threat comes not from government, but each other?
In 1775, Thomas Paine understood this: "The supposed quietude of a good man allures the ruffian; while on the other hand, arms, like law, discourage and keep the invader and the plunderer in awe, and preserve order in the world as well as property … for while avarice and ambition have a place in the heart of man, the weak will become a prey to the strong."
Like Paine, the Framers realized that, in the end, an armed citizenry is the final line of defense not just against a tyrannical state but also human nature itself. After all, in times of crisis, what is one supposed to do if marauders come to his or her home and the squad cars are either too busy or too far away and out of gas to intervene?
(CAUTION: Strong language)
Where then is Big Government? I sometimes need to remind the idealistic that government is not a thing unto itself. It is, in the end, just a vast collection of fallible, sometimes dull-witted and unmotivated people. The Framers had little faith in such a collective body either to protect us from itself or, during times like Sandy, from one another.
After Sandy, New Jersey recovered and life got back on track. The fears were admittedly unfounded. But this was only a category one hurricane. What about a category three or more? What happens if the next disaster is measured not by wind gusts and tidal swells but perhaps radiation levels? What happens when it is not a matter of when we get power back and when the gas trucks will arrive, but rather IF? What will the advocates of disarming the citizenry to achieve a sham peace have to say then?
Such thoughts are not the rumination of a right-wing zealot; anyone who thinks otherwise has yet to stand in a gas line and watch someone try to cut in.
Like the Framers, I simply do not have enough faith in government or humanity to dismiss the Second Amendment as a primitive leftover from a less civilized age.
Sandy's aftermath exposed just how vulnerable today's technological nirvana is to a takedown, either by an indifferent natural event or more sinister forces who I am sure watched and jotted down copious notes during those anxious weeks. Should such a disaster come, it will be my right to bear arms that will protect my family and neighbors.
I have a suspicion that should it ever come to pass, those desperately pounding on the doors of the homes of law-abiding gun-owners seeking shelter from the lawless mobs will be among the very lot who, once upon a time, in a more civilized age, self-righteously advocated that their saviors be disarmed in the first place.
Feature Image: Shutterstock
–
TheBlaze contributor channel supports an open discourse on a range of views. The opinions expressed in this channel are solely those of each individual author.