George Washington once said, "Few men have virtue to withstand the highest bidder."
I once believed that Texas Sen. Ted Cruz was one of the few. That he was unwavering in his principles and would always stand for what was right.
I admired his honest and respectful presidential bid and believed in his ability to pull off the upset over billionaire businessman Donald Trump. When Cruz conceded defeat it was a tough pill to swallow because it was a sign that a candidate who embodied every bad stereotype the Republican party had been fighting to disprove would become their poster child.
When Cruz took the stage at the GOP convention it was like he had climbed to the top of a mountain only to stand in front of wolves and boldly declare righteousness and reason when encouraging all Americans to vote their conscience rather than endorsing Trump.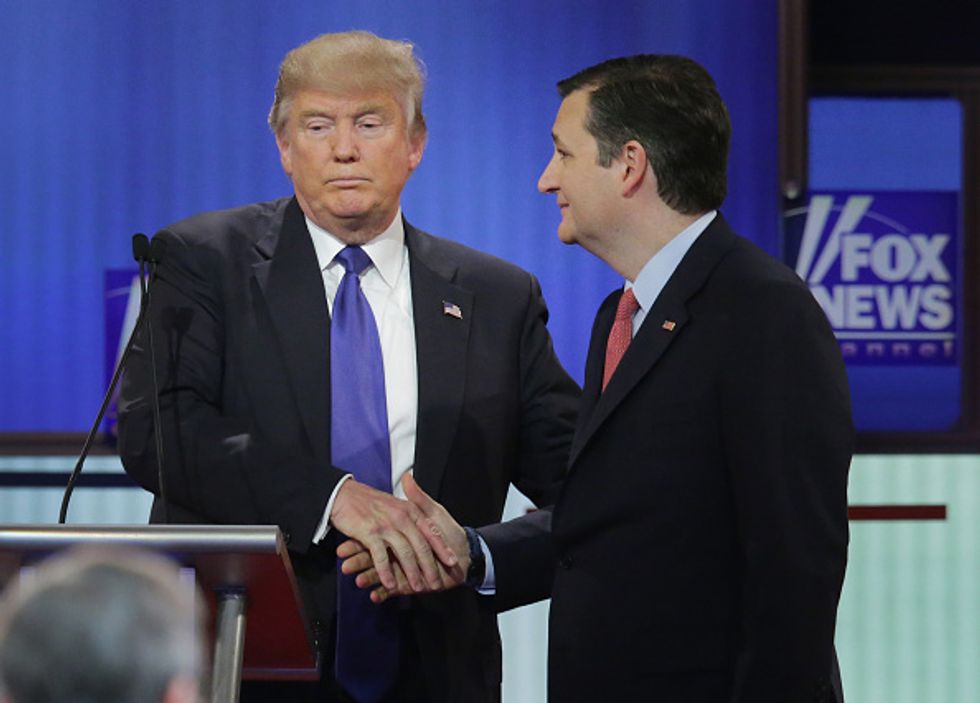 Republican presidential candidates (Lto R) Donald Trump and Sen. Ted Cruz (R-TX) greet each following a debate sponsored by Fox News at the Fox theatre on March 3, 2016 in Detroit, Michigan. Voters in Michigan will go to the polls March 8 for the State's primary. (Photo by Chip Somodevilla/Getty Images)
He was a shining example for what was once a shining city on a hill. Ted Cruz was a role model that night, proving that one man could still make a difference even when all hope in a better tomorrow felt lost. Which is why it was downright painful and humiliating when Cruz released a statement that all but erased his last stand on the convention stage and he endorsed Trump for president.
A man that had nicknamed Cruz "Lyin' Ted," mocked his wife's looks, suggested his father had been involved in the assassination of John F. Kennedy and Cruz himself had called a "pathological liar" without morals, was suddenly worth supporting.
Yes, I read Cruz's multi-point statement on why he would endorse Trump, but he could have released a 100-point statement and it still wouldn't have mattered because Cruz, a man who swears by his principles, made it clear to his base that he had no intentions of doing such a thing.
Here's what is really unfortunate about Cruz caving on the Trump matter. Had he weathered this storm and election and refused to give in to green lighting The Donald, I'm convinced he would have emerged on the other side of this (regardless of who won the White House) as an anti-establishment, anti-party leader for millennials.
Despite what you may have heard about my millennial brethren (we're blamed for every horrible thing that happens), our support for Ted Cruz and Bernie Sanders was huge. For Trump and Clinton, it was and remains weak.
The reason is because Cruz and Sanders, both polar opposites when it comes to politics, appealed to the integrity, desire for justice and righteousness that drives the millennial generation. The heart, if you will.
Millennials are smarter than society thinks we are. We see the corruption, we see the lies and we see the disgusting examples we now have representing our country on a national stage competing for the most powerful office in the free world.
We're also more conservative than people think, too. I contend we're even more libertarian than we get credit for.
When Sanders gave in and endorsed Hillary Clinton, left-leaning millennials were devastated. He was different, invigorating and decent because he rode in on a wave of support due to his principles. It wasn't Sanders the man they loved, it was the sincerity and honesty.
While I certainly didn't agree with the politics of Sanders, I respected him because he came from a place of principles. When he endorsed Clinton I lost that respect for him.
So when Cruz refused to endorse Trump at the convention, I physically stood up and applauded. What he did on that stage in Cleveland provided those of us that felt like there were no adults left in the room a belief that rational, honorable leadership still existed and would be circling nearby regardless of who would become president.
Not only had he run a campaign rooted in principle, he doubled down in front of the country to ensure that they knew exactly where he stood and that he wasn't about to support someone so vehemently against so much of what he believed in.
Don't think for a second that millennials hadn't noticed this. I had dozens of friends, many even hard left friends and readers reach out to me to share how impressed they were that someone would take such a bold stance when the tide was against them to call out all that was wrong with the system and the party's candidate.
It's because what Cruz had done superseded politics and stirred the hearts of millennials. Something the right has never been able to pull off well.
I'm convinced that had Cruz stayed the course of practicing bold liberty, strong principle and relentless honor into the next administration, he could have absolutely risen to the top of the millennial counter movement as a celebrated rebel leader.
The beauty of it all would have been that the counter movement would have risen on the platform of Cruz's signature constitutional conservatism the likes of which we haven't seen since the Reagan revolution.
He was the last holdout on the national stage that mattered. And regardless of what the GOP leadership may have threatened his future with, Cruz would have had a far greater power than any party on his side at the other end of the coming presidential term.
He would have had the largest, loyal and most passionate voting bloc in existence standing by his side ready to clean things up.
Ted Cruz, millennials would have had your back.
Sadly, he decided to go a different route and prove that he isn't the man everyone thought he was. Instead, he showed that he is first a politician and gave my generation the pen in which to write him off with.
Once again, George Washington was right.
Wade Heath is Host of The Millennial Report Radio & Digital TV Show. Contact him: WadeTheBlaze@Gmail.com
–
TheBlaze contributor channel supports an open discourse on a range of views. The opinions expressed in this channel are solely those of each individual author.