A terrifying scene unfolded at the Cincinnati Zoo this past weekend.
A 4-year-old boy tumbled into an animal exhibit occupied by a giant 400 pound gorilla named Harambe. As horrified zoo patrons - including the child's mother - looked on, the gorilla violently dragged the boy from one end of the enclosure to the other. Finally, after about 10 minutes, zoo officials and law enforcement officers determined that they had to shoot and kill the gorilla in order to save the kid's life. The animal died quickly. The boy was rushed to a hospital where he was treated for non-life threatening injuries. A happy ending to what could have been a terrible, tragic story.
[mattwalsh-social-instory]
I call it a happy ending because the young boy lived, which is a result that would have seemed very much in question to anyone who happened to witness the situation in real time. Of course I'm not happy the ape died - I didn't wake up on Saturday morning hoping that a gorilla in Cincinnati would meet his untimely demise - but when a human's life is threatened by an animal, the only thing I care about is saving the human. The moment the gorilla grabs the boy, my first, second, third, fourth, fifth, sixth, seventh, one hundredth, one millionth, etc., priorities are to save the boy. If the boy is saved, then I am happy. That's all.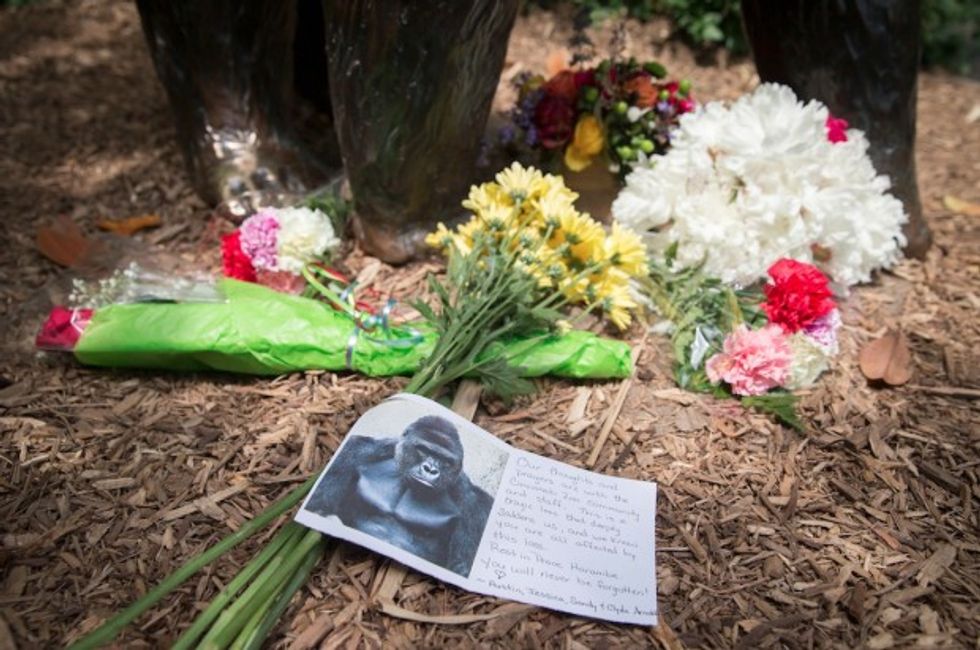 A sympathy card rests at the feet of a gorilla statue outside the Gorilla World exhibit at the Cincinnati Zoo & Botanical Garden, Sunday, May 29, 2016, in Cincinnati. On Saturday, a special zoo response team shot and killed Harambe, a 17-year-old gorilla, that grabbed and dragged a 4-year-old boy who fell into the gorilla exhibit moat. Authorities said the boy is expected to recover. He was taken to Cincinnati Children's Hospital Medical Center. (AP Photo/John Minchillo)
But, predictably, my priorities -- and more importantly, the priorities of the zoo workers and police officers on the scene -- are not shared by everyone. We are living in the days of neo-paganism, where legions of depraved souls seem only capable of mustering compassion for wild beasts. As for human beings, they feel only contempt and indifference.
Over the last couple of days, we've been treated to another round of our trademark National Outrage. People have been creating petitions and venting their seething rage on social media. A Facebook memorial page was immediately created, with a picture of Harambe accompanied by the caption, "I was someone, and my life mattered." Heartbroken citizens planned a candlelight vigil. Others left flowers at a statue of the beast, borrowing a page from the pagan animal worshipers of ancient times. Some protested outside the zoo, claiming the gorilla should not have been shot. Scores of others have echoed this sentiment, insisting that Harambe was only very gently dragging dragging a child around his cage like a rag doll.
Many people have, calling upon their extensive zoological training and education, come to the conclusion the animal should have been tranquilized. Officials at the zoo explained that a tranquilizer would take several minutes to work, and during that time the animal would be even more agitated, further endangering the boy's life. But that's a risk worth taking, according to a lot of people.
Others have been more blunt. If you make the mistake of reading the reactions on Twitter or in the comments section under articles about this incident, you'll find that a good number of folks think this should have been settled by "survival of the fittest." Let the preschooler and the quarter ton beast work it out between them. If that means a child is ripped apart, so be it.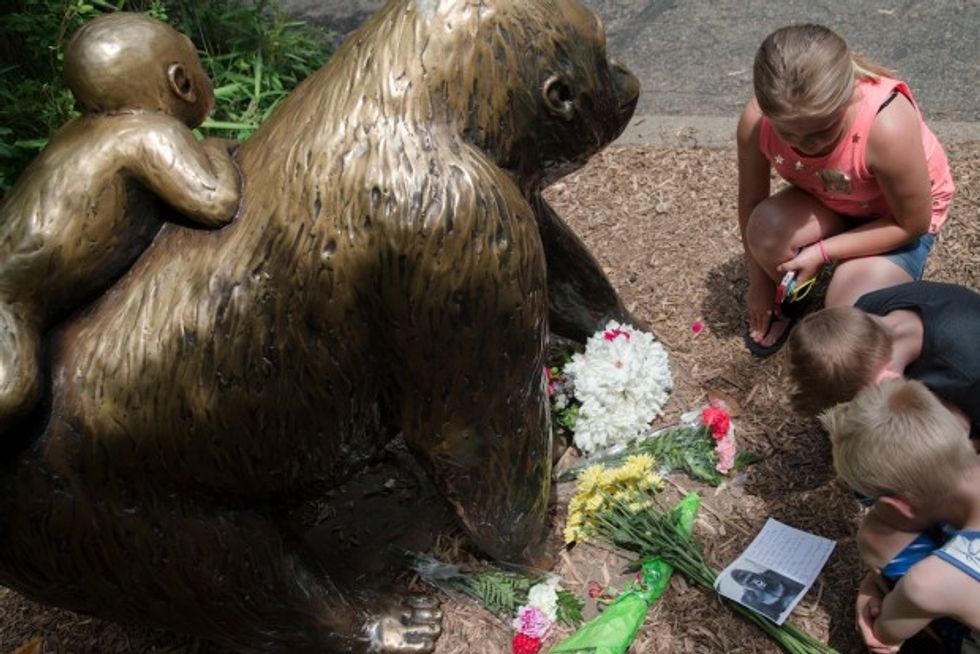 Children pause at the feet of a gorilla statue where flowers and a sympathy card have been placed, outside the Gorilla World exhibit at the Cincinnati Zoo & Botanical Garden, Sunday, May 29, 2016, in Cincinnati. On Saturday, a special zoo response team shot and killed Harambe, a 17-year-old gorilla, that grabbed and dragged a 4-year-old boy who fell into the gorilla exhibit moat. Authorities said the boy is expected to recover. He was taken to Cincinnati Children's Hospital Medical Center. (AP Photo/John Minchillo)
One particularly compassionate reader put it to me this way through email:
"You're f**king wrong on this gorilla thing. The gorilla was innocent. He wasn't hurting the kid. They should have taken BOTH lives into account. It's not fair to kill a gorilla because of the idiocy of people. The kid was in his habitat. If the kid ends up dead, that's not the gorilla's fault. Maybe they should feed the stupid f**king parents to the lions next. F**k people."
This is not the rambling of a fringe nutjob. Well, he is a nutjob, but he's not fringe. Many people feel the same way.
A guy on Twitter wished that humanity would become extinct so that gorillas and other creatures could finally reign in peace. His comment received almost 1,000 "likes" in the space of one hour. Some have blamed the child, saying he entered the gorilla's space "wrongfully," and perhaps should have been left to face the consequences. Another popular opinion is that the enormous beast was "only trying to protect the child," which is a conclusion invented out of thin air based on nothing but Disney movies. Fortunately, the zoo was not willing to risk the kid's life based on these childish fantasies.
Nearly everyone seems to agree that the child's mother is a worthless scumbag who should be locked in prison on ape-manslaughter (apeslaughter?) charges. It may be true that the mother acted negligently. As of right now, we don't know anything about her or what led to this situation. If she did in fact leave her child alone near the gorilla cage while she walked a half mile away to check out the ostrich exhibit, then she does deserve much of the blame. But any parent knows that kids can create enormous, life-endangering trouble for themselves in the blink of an eye. As opposed to naive, presumptuous childless people who've never been responsible for anything but their pet goldfish but still feel qualified to make sweeping judgments against parents when terrible things happen.
We have all looked away from our kids for a second and turned back just in time to stop them from doing something potentially fatal. Any parent who claims otherwise is a ridiculous liar. The fact that most of us did not pay the ultimate price for that extremely momentary lapse is only a matter of luck, not virtue or skill. All that to say, I am not ready to immediately convict this mother of criminal negligence. Not only that, but, call me crazy, I feel more compassion for her than anger. For God's sake, the woman watched her boy get accosted by a giant gorilla for ten minutes. The horror and pain she must have felt is likely punishment enough. Unlike some members of the Twitter jury, if I were there witnessing all of this, I would not have run up to the woman as she was finally reunited with her son and screamed, "IDIOT! I HOPE THEY FEED YOU TO THE LIONS!"
In any event, the mother's parenting ability is a separate question. The most troubling thing to come out of the incident is the reaction of people who think the gorilla should not have necessarily been sacrificed for the sake of the child. That itself is far, far more tragic than the death of the animal. And, to be clear, it is a wicked and indefensible position. Only a very sick, very troubled person would have difficulty deciding whose life should be prioritized when an ape and a human child clash. Only a person with contemptible, perverse values would, even for a moment, question the decision made by the police and the zoo. There is no real controversy here. It is very simple. And anyone who struggles with it is disturbed on a deep, spiritual level.
That's why we ought to be terrified that so many people would not only place the ape and the child on the same level, but even put the ape above the child. It's comforting to imagine that these people occupy a very small, isolated corner of our society, but that would be wishful thinking. There are, I'm afraid, a huge number of Americans who would watch that video of the gorilla dragging the boy and feel a greater dread for the gorilla's fate than the boy's. That is a fact that, although unsurprising, should fill any decent person with great sorrow and frustration.
And now it is necessary to point out that today, while the media obsesses over an ape and thousands of people cry that they will "miss" a zoo animal they didn't even know existed on Friday, there will be another 125,000 abortions. On a daily basis, a group of people larger than the population of Provo, Utah are systematically exterminated. None of them are given a name, and there will be no candlelight vigils for any of these victims.
While the ape was killed quickly and humanely, these children will not be given the same consideration. Depending on the trimester, the executions will be carried out in a variety of different ways. A common method, probably utilized hundreds of times each day, is called a Dilation and Evacuation (D&E). In this procedure, the abortionist pries open the mother's cervix with a metal instrument, inserts a suction tube to extract the amniotic fluid, and then uses a pair of sharpened forceps to methodically tear the baby apart limb by limb.
The legs are usually ripped off first. Then the arms. Then the abdomen, and so on.  Finally the skull is crushed into little pieces until the child's brain oozes out of the woman's vagina. At this point, the abortionist knows the act is complete. Soon the woman will be cleaned up, handed a bill for 400 dollars, and ushered quickly to the exit. This is a scene that plays out over and over again, every day, all across the country and the world.
There is outrage over these senseless acts of brutal violence, but only in certain circles. In fact, the outrage is so exclusive that we even have a name for the sorts of folks who don't think we should be dismembering 50 million kids each year. We call that very specific group of people "pro-lifers." Those who are not pro-life are either indifferent to the mountain of dead human bodies piled in medical waste dumpsters outside abortions clinics, or quite enthusiastic about the whole thing. The indifferent and the enthusiastic seem to outnumber the pro-lifers by wide margins.
But outrage over the death of a jungle beast is far more mainstream. And this was a beast directly threatening the life of a child. One can only imagine how most Americans would react if a demented zookeeper decided to kill a baby gorilla by dismembering it and crushing its skull. I expect angry mobs would burn down the zookeeper's house and stone him to death in the street. Then they'd build a golden icon of the unfortunate creature and every year, on the date of its death, they'd make pilgrimages to the holy shrine. In fact, they're pretty much already doing that with Harambe, and it's only been two days.
These are the consequences when a culture severs itself from reality and rejects values that are rooted in a love of God and a recognition of moral absolutes. It doesn't take long before this lost and detached cultures plunges into barbarism, paganism, and insanity.
Those of us who do not want to go along for the ride can only stand firm and continue reasserting the most basic and self-evident truths. In this case, the truth that human life is more valuable than animal life. All of the animals in the entire world are not worth one child. All of the beasts that have ever existed do not equal the life of even the most despicable person. There is no question that an ape should be killed to protect a child. Indeed, if it were necessary, I would personally kill a thousand apes to protect one child, and I would feel no remorse at all.
Beyond that, one abortion is a greater tragedy than the extinction of an entire species of animal. A million dead kittens or a hundred thousand butchered elephants do not even come close to matching the horror of one slaughtered baby. If you cannot see it that way, you are a confused and morally corrupt person. But all the same, I would choose your life over that gorilla's. I would choose it over every gorilla on Earth. Because no matter how unconcerned you may be about the lives of other people, you are still a human being. And that means something to me, even if it doesn't mean anything to you.
To request Matt for speaking engagement, contact Clint or Matt at Outreach Speakers. Email: events@outreach.com Phone: 866-400-2036. For all other comments and hate mail, email Contact@TheMattWalshBlog.com
–
TheBlaze contributor channel supports an open discourse on a range of views. The opinions expressed in this channel are solely those of each individual author.