If you want to understand why campuses explode, you need to comprehend what students are being taught, especially in the so called, social sciences.
The social sciences were once a harmless mishmash of common sense, jargon, and sanctification through statistics. Now, they have become a means to teach some students that they are victims and others that they are privileged oppressors.
This is a recipe to produce conflict, and it is not unintended conflict, but conflict that serves political purposes. It keeps an entire bureaucracy in place designed to respond to victims, and provides a means for some students to justify their lack of academic performance.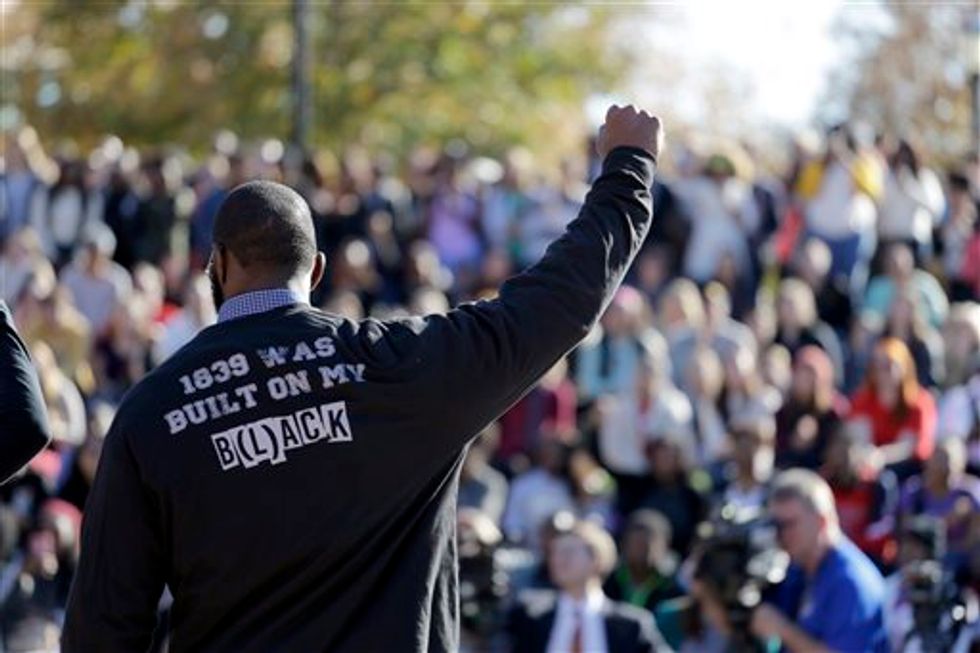 A member of the black student protest group Concerned Student 1950 gestures while addressing a crowd following the announcement that University of Missouri System President Tim Wolfe would resign Monday, Nov. 9, 2015, at the university in Columbia, Mo. Wolfe resigned Monday with the football team and others on campus in open revolt over his handling of racial tensions at the school. (AP Photo/Jeff Roberson)
This is a consequence, in no small measure, of the evolution of the social sciences, from campus sorcerers to the realm that bestows victimhood as some medieval monarchies once bestowed knighthood.
Decades ago, the British sociologist Stanislav Andreski published a scathing critique of the social sciences titled, "Social Science as Sorcery." Its theme was that much of lauded social science was little more than simple, commonsense ideas reshaped in circumlocutious language.
Andreski's colleagues said that he was simply upset that he was unable to do the kind of empirical work that was then the new direction for the social sciences.
Never one to shy away from a challenge, Andreski created a concept called NAch, which was a representation of need achievement.
Mixing acronyms, pretentious scientific language, and convoluted explanations into the sorcerer's cauldron, Andreski submitted a proposal for research support to one of the major foundations and received a sizeable grant. Andreski was on his way, tongue in check, to show empirically that people with high need achievement, or positive valences on his "scientific" NAch measure, would have positive achievement outcomes,
Simply put, highly motivated people are more likely to achieve than are poorly motivated people. Really, was there ever any doubt?
In real science and engineering, you can see the consequences of research in your daily life. In pseudo science, you see a series of fads, sometimes repeating themselves.
Having moved on from sorcery, social science recently has developed some ostensible new and profound concepts that have come into vogue as part of the recent campus demonstrations. At first blush, these appear to be mere slogans emanating from protest movements.
On closer inspection, they are concepts developed in social science disciplines and taught in classrooms with utmost seriousness.
A Yoga class at the University of Ottawa, for example, was terminated because the teaching of Yoga by people who are not from India is a sign of "cultural appropriation" Cultural appropriation is one of the new social science concepts. This phenomenon occurs when the oppressor culture appropriates the culture of the oppressed for advancement of the oppressor.
Taken to its illogical conclusion, you should not be eating at Taco Bell because it is not owned by Mexicans and the corporation that owns it is committing an act (or sin) of cultural appropriation. Yes, cultural appropriation even applies to food.
Having no way really to advance their disciplines, the social sciences have left the sorcery business and gotten into the victimization business. Such concepts as white privilege, micro-aggression, cultural appropriation, and trigger warnings are all considered products of "advanced" scholarly thinking.
In the era of victimization and oppression, concepts are really pejorative categories that victims--whinny teenagers from your favorite protected group--can use to hurl in judgment at their elders or fellow students.
A professor can be reported for not using inclusive language, using ideas that make students feel uncomfortable, and not giving appropriate trigger warnings when materials are used that would cause hurt feelings among protected groups.
What some social science classes do is produce victims and teach them how to behave as victims.
Meanwhile, others are taught to feel guilty because the color of their skin gives them privilege. The guilt makes them receptive to the new oppression of the victims.
After all, causing members of a protected class to lose a classroom argument is an act of micro-aggression. Their feelings just might be hurt and a safe space might not be close enough to where they might retreat and regain their self-esteem. And if you are a white student who caused that to happen, well, you forgot to check you privilege.
If the pictures of campus protest make you question what is going on in the universities, imagine what happens when this adult toddlers enter the workplace? They will be making demands on employers to use inclusive language, give trigger warnings, avoid micro aggression, and be sensitive to issues of cultural appropriation.
As these issues are the content of some fields in higher education, there is little else that the college graduate, in these fields, brings to the workplace. No substance, no skills, just a repertoire of slogans that will throw the workplace into disarray.
These problems are not germane to every field. As an engineering colleague of mine used to say, in my department PC means nothing more than personal computer.
Indeed, few if any protestors come from demanding fields. Real students do not have time for such self-indulgence.
Yet, it is the cultural warriors that represent the leftist ideology that dominates the campus. An entire politically-correct bureaucracy exists to inculcate a leftist view of reality and to mobilize student activists to enforce it.
The PC bureaucracy needs incidents and victims, and the pampered students need the same thing. Both need crises to perpetuate their power.
–
TheBlaze contributor channel supports an open discourse on a range of views. The opinions expressed in this channel are solely those of each individual author.