The recent #shoutyourabortion movement, which shamelessly coerces women to celebrate their abortion procedure, is a desperate and sickening ploy to regain some sort of respect and credibility for Planned Parenthood in the wake of effective reporting by the Center for Medical Progress on their illegal activities.
The movement may try desperately to praise its supporters for their decision to terminate human life, but it will fail.
There is a stigma rightfully associated with abortion because the very act is so self-serving. Knowingly deciding to end human life for your life's sake resonates poorly in the minds of humanity. No matter how passionate about the death of unborn babies this movement seems, it cannot change the core of humanity. Sitting behind a screen typing support of this movement won't change the emotional and mental consequences associated with the act of abortion.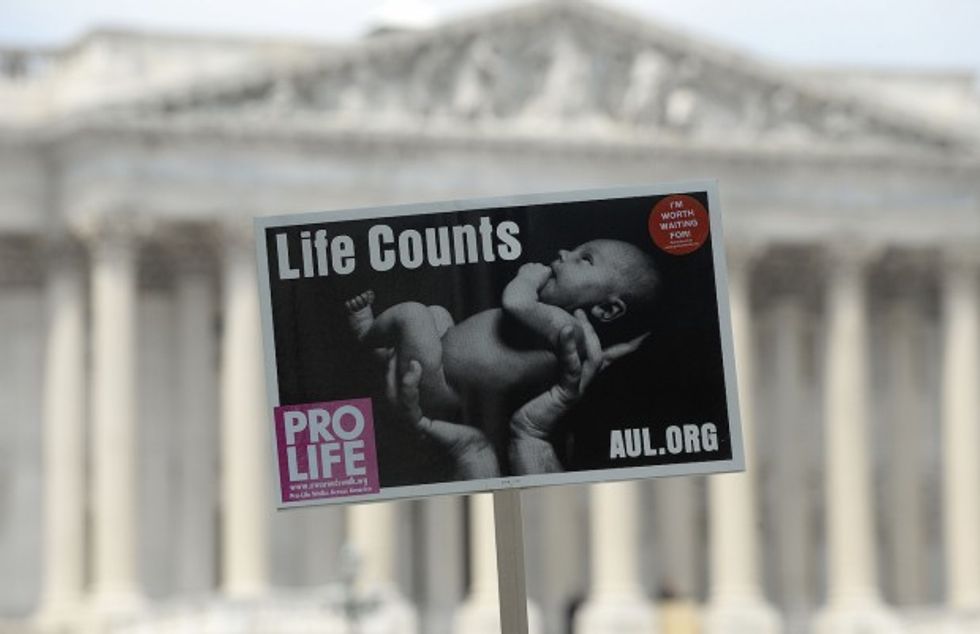 Anti-abortion activist sign is held aloft during a rally opposing federal funding for Planned Parenthood in front of the U.S. Capitol on July 28, 2015 in Washington, D.C. (Photo by Olivier Douliery/Getty Images)
Through my ministry to women across the nation, I have wept with precious women who made the choice to abort based on convenience. They would move heaven and earth to go back in time and choose differently. I have spoken with women who have hidden this secret for years because of the torment of reliving their own procedure.
These women have real hurt. The choice they made in a moment of desperation becomes a choice they desperately wish they could reverse. These precious women who regret their decision are the women who understand why there is a stigma associated with abortion. No amount of hashtags can change its emotional consequences.
Life will always win. Humankind is drawn to life. We celebrate life with baby showers, gender reveal parties, cute little blue and pink outfits, announcements on social media and push presents. When life happens, it draws people close together to celebrate it. Life will always trump death. Death isn't meant to be celebrated, but mourned. God who gives us life engrains in us a desire to see life prevail. The stigma associated with abortion isn't due to "judgmental" attitudes, rather our human nature is rebelling against the idea of ending innocent lives.
I sat in two hospital rooms with birth mothers who chose to selflessly offer their child to my family for adoption. Both women chose life when they could have chosen death. Both thought of the child first. They said with courage, "I had no other option but adoption because I couldn't kill my child."
Because they chose life, even when our society said death was an option, my family can #shoutouradoption. Life will win in the end.
–
TheBlaze contributor channel supports an open discourse on a range of views. The opinions expressed in this channel are solely those of each individual author.