The Bureau of Labor Statistics released the employment figures for January. One might wonder if the Democratic National Committee did the last debate purposefully before the numbers were released.
They knew that the mainstream media would focus their attention on their masters, especially with "good news" like a 4.9 percent unemployment rate.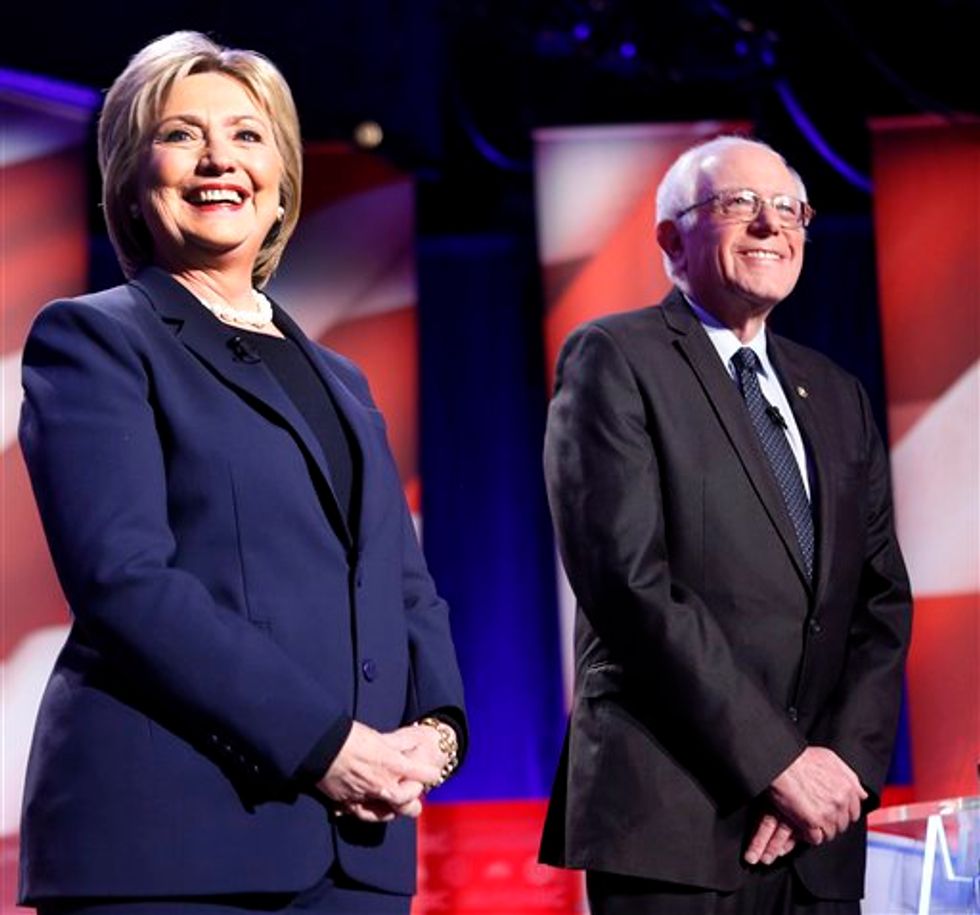 Democratic presidential candidates Hillary Clinton, left, and Sen. Bernie Sanders, I-Vt, pose for a photo before debating at the University of New Hampshire Thursday, Feb. 4, 2016, in Durham,NH (AP Photo/Jim Cole) 
But intelligent people know better than to look at this insignificant figure. Sure, it came with a somehow rejoicing figure: overall participation rate increased 0.1 percent to 62.7 percent. Nevertheless, it's still at 1978 levels and has never trended upwards during Barack Obama's presidency. In addition the employment ratio – population working v. the rest of the population – has never gone over 60 percent (it's at 59.6 percent).
Looking at participation rates for youth age 16-19 – people Democrats supposedly care about – isn't much better. Whites are still hovering at historically low rates at 37.4 percent – Obama took office with a rate of 43 percent in February 2008. African Americans are at 28.9 percent, a 0.6-percent decrease since December and still lower than February 2008 (31.3 percent). Finally, young Latinos' rates have not recovered since Obama 2008 either. They stand at 32.5 percent, a 1.2 percent increase since last month but still a 6.2 percent decrease since 2008.
These low participation rates are still reflected in the real unemployment rate – including discouraged unemployed workers. It is more than double the official rate, stable at 9.9 percent and still higher than in February 2008. And to add insult to injury, very long-term unemployment (27 weeks or more) increased 0.6 percent at 26.9 percent, 9 percent higher than in 2008.
What about the actual job figures? The BLS says that more than 151,000 new jobs were created. And, for Democrats these figures are something to rejoice about in January. Government employment is down over 100,000 and up nearly 150,000 for the self-employed. Overall nonagricultural industries increased the payroll by nearly 530,000 jobs.
However a breaking down of those jobs is a cause for worry. High-paying employment, like mining and logging, is down 7,000 jobs, and Obama's War on Coal will not make things any better. Manufacturing jobs were up 30,000 but are still 130,000 short of what they were in 2008.
The bulk of the jobs (118,000) were created in lower value-added tertiary sector. In fact most of the jobs (102,000) were created in retail sale and leisure and hospitality, where people usually earn minimum wage of less.
Let's hope Republicans will use these abysmal job figures and show the people of New Hampshire and beyond that they must end their eight-year nightmare. If Bernie Sanders or Hillary Clinton goes in the White House, be ready for more depressing job figures.
–
TheBlaze contributor channel supports an open discourse on a range of views. The opinions expressed in this channel are solely those of each individual author.