The late Margaret Thatcher once said, "One's life must matter."
She underscored the importance of her statement when she said it to her husband, Denis, who had just proposed marriage to her in the early 1950's.
Thatcher had made it very clear that the last thing she wanted to become was an arm ornament or a professional dish washer. It was as though she knew she was destined for something greater.
You could almost call it an inspired moment for Thatcher. It was an inner proclamation that would lead her to leave a significant legacy.
Sometimes inspired moments occur when we least expect them.
Late one night at Purdue University, freshman Alex Radelich of Indiana, was sitting silent in his dorm room watching the movie "Evan Almighty" on TV.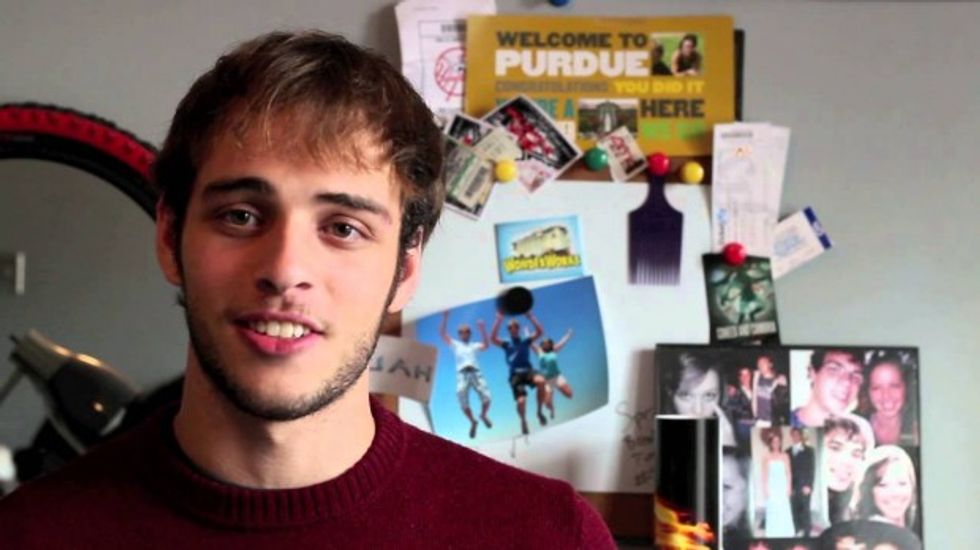 Alex Radelich as a student at Purdue University. ( Alex Radelich )
During the film, God, played by Morgan Freeman, says to Evan: "You want to know how to change the world, son? One act of random kindness at a time."
That single on-screen exchange stirred something deep within Radelich.
"I felt an explosion of energy," he told me. "I knew [that] is what I needed to be doing."
After some detailed self-reflection, Radelich, now 22, knew that if he was going to be effective in changing the world for the better he would have to commit himself to his newfound purpose full-time.
It was then that he took a leap of faith and dropped out of college.
Since that night, Radelich has tirelessly poured himself into developing his cause for good that would take on the name of ARK Project Now (ARK stands for Acts of Random Kindness).
Along with three of his childhood buddies, Radelich didn't waste any time, having executed thousands of acts of kindness in their community and neighboring cities during their first year of operation.
One time they surprised students at a university with flowers and candy as they roamed between classes. On a different occassion they took to the streets and provided meals to the homeless. But no matter what type of kindness they performed, the guys never left an encounter without first having presented their ARK card, encouraging those they've touched to pay it forward to others.
"We're trying to create a kindness epidemic," Radelich told me.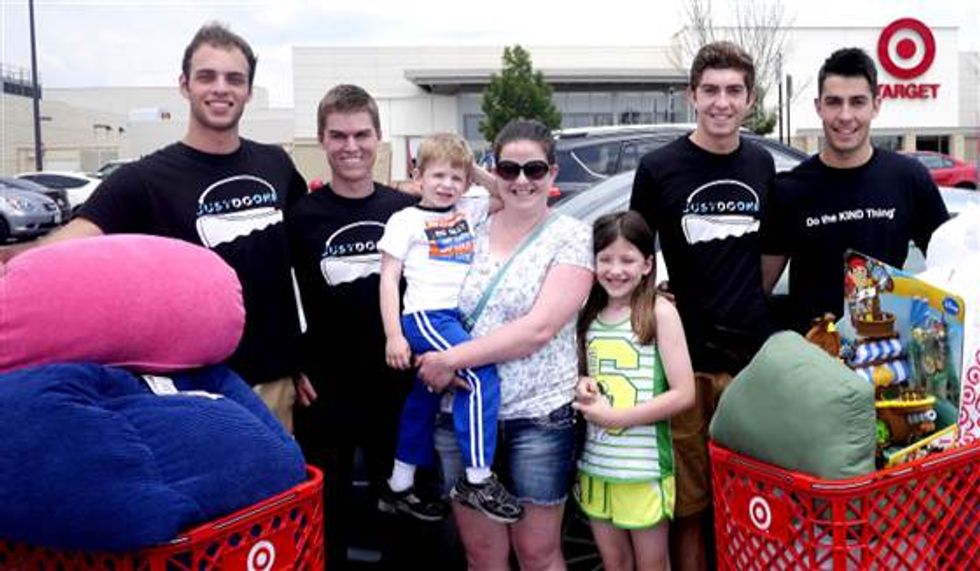 Childhood friends Alex Radelich, Dalton Lemert, Jacob and Teddy Thatcher perform an act of random kindness for a family by purchasing their back to school supplies as part of ARK Project Now. (Alex Radelich , ARK Project Now)
But ARK's mission really hit the gas when the team was gifted the keys to a brand new RV, courtesy of a community dealership in their home state of Indiana.
The new wheels allowed Radelich and his boys to take their show on the road where they would reach a broader audience. Along the way they receieved grants from companies like KIND Foods and generous donations from supporters which provided ARK the resources to have spent the last two summers crisscrossing the country.
While on tour in Florida the guys took an entire Boys and Girls Club, full of at-risk youths, to Walt Disney World.
"They'd never been and it allowed us all to be kids that day," Radelich fondly recalled.
Having arrived in Baltimore, Maryland just a few weeks after the highly publicized riots, ARK rented an ice cream truck and drove it to into the heart of the city. The team then invited local police to help pass out the free treats.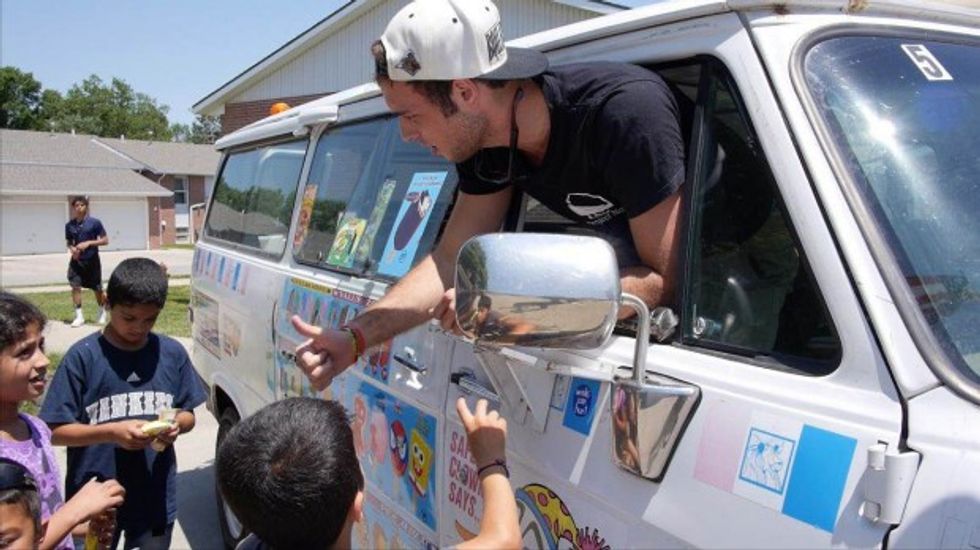 Free ice cream is passed out to children as an act of random kindness by ARK Project Now co-founder Alex Radelich. (Alex Radelich, ARK Project Now)
The ARK boys weren't the only ones who had performed kind acts during their journey. Radelich said at one point a man and his friends saw the ARK RV in a Target parking lot in Savannah, Georgia, and later reached out online and invited them to his house for a barbecue.
After having spent 10 weeks on the road and putting 10,000 miles behind them, the guys brought their 2015 road trip to an uplifting close in Louisville, Kentucky. It was there where they had joined forces with Yum! Foods and threw a senior citizen prom at a local community center.
The prom brought more than 50 seniors from around Louisville together to enjoy a party in their honor.
The extraordinary efforts of Radelich and his team have been recognized by dozens of national media outlets and personalities.
Most recently, the members of ARK Project Now have embarked on a college tour to share some of their illuminating experiences with the hope that students will join them in their acts of random kindness campaign to "just do one."
Asking whether Radelich regretted his decision of leaving college three years ago, he told me: "Absolutely not. This is what I am supposed to be doing. This is where I am supposed to be."
One's life must matter. Alex Radelich is a modern example of how to make it so.
You can learn more about ARK Project Now here.
–
TheBlaze contributor channel supports an open discourse on a range of views. The opinions expressed in this channel are solely those of each individual author.