I have been watching presidential elections for over 50 years and have never seen a race that could be won or lost with a single decision.
Hillary Clinton has that decision before her. She can win or lose the presidency without having to spend the first dime.
In a story that broke in the New York Times, Ms. Clinton has been using a private email arrangement to conduct government business as the nation's Secretary of State.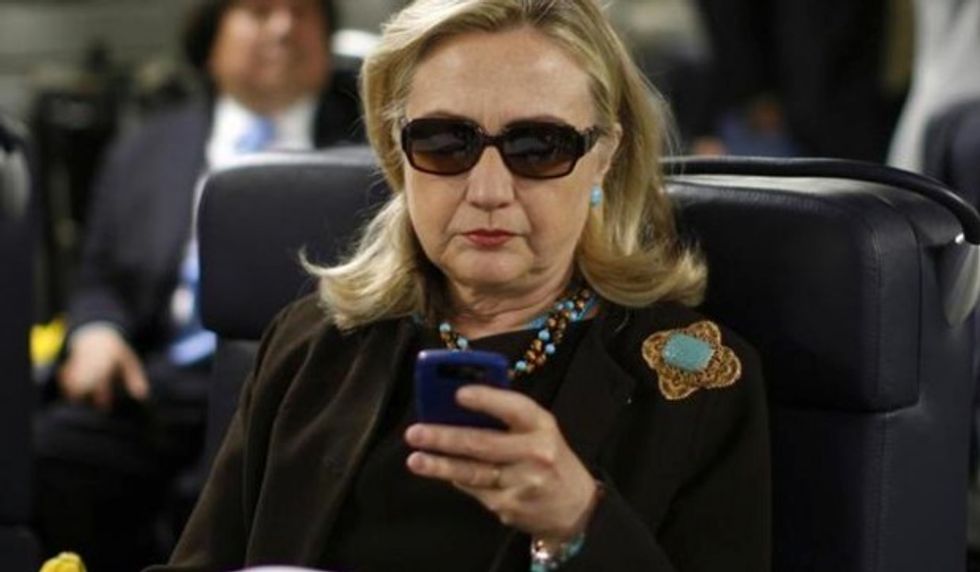 In this Oct. 18, 2011, file photo, then-Secretary of State Hillary Rodham Clinton checks her Blackberry from a desk inside a C-17 military plane upon her departure from Malta, in the Mediterranean Sea, bound for Tripoli, Libya. (AP Photo/Kevin Lamarque, Pool, File)
This falls on the heals of a story two weeks earlier that the Bill, Hillary and Chelsea Clinton Foundation received millions of dollars in contributions from foreign governments during her service as the nation's top foreign policy official. The foundation also received contributions from corporations during the time those corporate interests were in meetings at State.
She didn't have a private email address such as you or I have using an identity with an Internet service provider. She was her own Internet service provider. While your emails at Yahoo or Gmail or Apple are still available, hers may or may not be depending on whether she chose to keep them or destroy them.
Last weekend dependable Clinton loyalists informed us that she has turned the relevant emails over to the State Department. She has also, through a tweet, urged State to release them all.
This may be true, but who believes that? She could release only those that exonerated her of any wrongdoing while destroying any incriminating documents. Or she could have retained all communications.
It is debatable whether Ms. Clinton broke any laws. It is not debatable that she broke all of the written and unwritten rules of statecraft. Conducting sensitive matters of state on a home-built server is just plain stupid.
Explaining why she did it will be a hard sell. If it was for convenience – sorry. Rules are for everyone regardless of convenience. If there is a defendable reason let us hear it.
Hillary Clinton. (AP Photo/Molly Riley)
The obvious suspicion is that it was for control. She, and only she, will determine what becomes part of the public record as to her role in decision-making. She, and only she, will determine what may be available for an inspector general or court of law. She, and only she, will know what decisions may or may not have been to financially benefit her, her family or the family's foundation.
There is only one way to totally clear the air and it could elect her president. She must turn the private server over to an independent special counsel. There is no agency of this government that could be trusted to handle this examination without bias.
The two agencies that might have had a role have already proven themselves unable to be impartial. For six months State has withheld the fact that Ms. Clinton did not have any emails in their system even while they were negotiating with the Select Committee on Benghazi regarding those very emails.
The Department of Justice appointed a major contributor to President Barack Obama to lead the investigation into felonious activity at the IRS and nothing has been done for what is now approaching two years.
The special counsel must have the independence and budget to hire a forensic expert to inspect the hardware to ensure that no communications have been deleted. He or she must then have access to every communication sent or received during the four years of her position at State.
I trust that no American will have any interest in any personal matter irrespective of how embarrassing it may be to her. A dignified counsel will have the good sense to see that those are never seen.
Communications that touch on issues of national security will be turned over to the intelligence community for determining whether and how to disclose them. Everything else dealing with the business of government or the foundation must be made public.
If it turns out, as we have been assured, that there is nothing in those emails that implicates Ms. Clinton in any wrongdoing she will, deservedly, be exonerated in a very public fashion.
She will be able to make the case that she is an honorable public servant who has been maligned for years by her political opponents and the press.
The sympathy generated for her after proving that she was treated unfairly – again – will elect her president.
If she continues to bob and weave and avoid full disclosure she will only prove her doubters correct: This woman has something to hide and cannot be trusted to be president.
–
TheBlaze contributor channel supports an open discourse on a range of views. The opinions expressed in this channel are solely those of each individual author.