During the last Republican debate we found out the real reason Donald Trump decided to skip it.
Donald Trump was attempting to extort money from Fox News on behalf of the special interest organizations he represents.
According to Fox News, "Trump offered to appear at the debate upon the condition that Fox News contribute $5 million to his charities."
Sure, on the surface that may sound like a good deal. It may even make Trump sound charitable and like he is putting people before politics.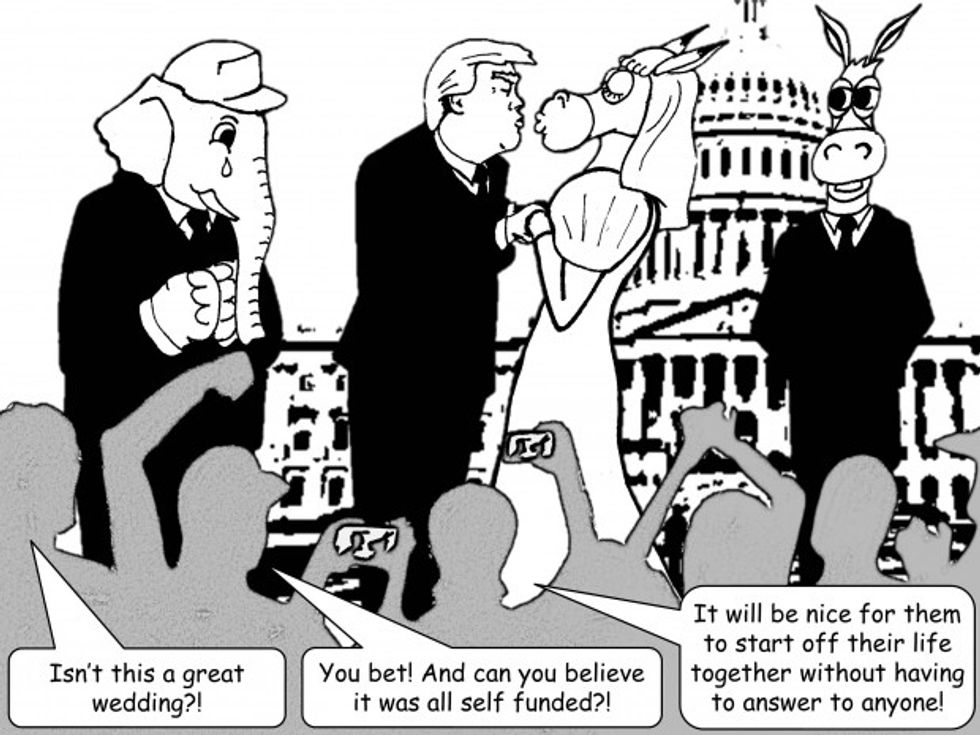 Enjoy the Honeymoon. (Karl Knighton)
Let's face the facts. Donald Trump was asking for money in exchange for special access - the very thing his supporters say he will not be susceptible to because he is "self funding" his campaign.
I am sure Trump supporters will just brush this off and explain it away like they do everything else. If you don't believe me you can just skip to the comments section of this or just about any article criticizing the candidate and you will be inundated with persuasive rebuttals like:
"Trump 2016!"
"Republicans created Trump!"
"Donald Trump can't be bought, he is self funding his campaign!"
Trump very well may be our 2016 Republican candidate and maybe even president. And certainly the establishment Republicans contributed to the environment that made people angry enough to support a tough talker like Trump, although I have to disagree he is the answer to that particular problem.
But one thing can now be stated with absolute certainty. Donald Trump can be bought.
He just demonstrated his willingness by his offer to Fox News. Add that in with his courting of establishment Republicans and his willingness to make deals with hardcore leftist Democrats and what do you get? A perfect marriage of the very things the Tea Party has advocated against for years.
Enjoy the honeymoon while it lasts because the marriage could be agonizing.
–
TheBlaze contributor channel supports an open discourse on a range of views. The opinions expressed in this channel are solely those of each individual author.