To listen to many in the media tell it, this election is all over but the shouting and/or the complaining.
According to CNN, the campaign of Republican presidential nominee Donald Trump is "in limbo," and is moreover "laying the groundwork for defeat." Veteran political analyst Stu Rothenberg declared last week that Trump's path to victory is "nonexistent," and Reuters announced over the weekend that Democratic nominee Hillary Clinton has an astonishing 95 percent chance of winning.
If there is one thing that hasn't been fundamentally altered by this bizarre election season, it is that the media (for the most part) remains overconfident in the success of liberalism, forgetful of recent history, and lazy. Donald Trump still has a very plausible path to victory, and you don't have to squint very hard to see it.
In the first place, there is an entire set of national polls — primarily of the daily tracking variety — that shows the national race is still a toss up.
These daily tracking polls — with the exception of the new ABC News daily tracking poll — paint a picture of the national race that is fundamentally different from the "snapshot" polls, which tend to show Clinton with a relatively comfortable lead. As of today, Rasmussen shows Trump leading Clinton by 2, the Los Angeles Times/USC poll shows Clinton leading by 1, and the Investor's Business Daily/TIPP poll shows the race tied.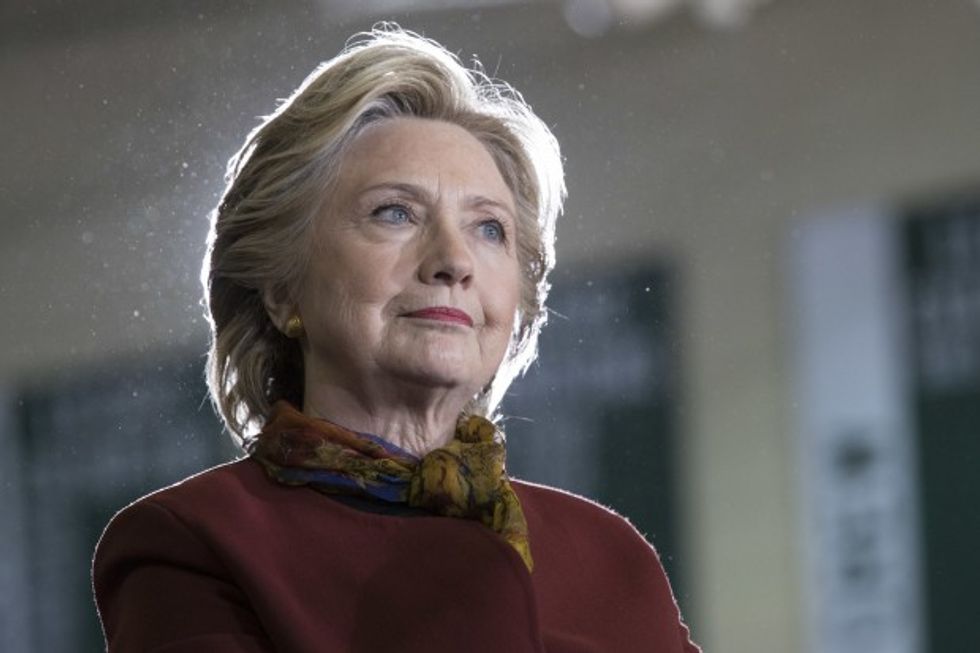 Democratic presidential candidate Hillary Clinton listens as vice presidential candidate Sen. Tim Kaine, D-Va. speaks during a campaign event at the Taylor Allderdice High School, Saturday, Oct. 22, 2016, in Pittsburgh, Pa. (AP Photo/Mary Altaffer)
Polling has pretensions of being a science, but the last two electoral cycles have shown that it's an art centered around the ability to make the correct assumptions about what the electorate will look like. There are reasons to question the assumptions being made by the daily tracking polls — and in 2012 the two biggest daily trackers (Gallup and Rasmussen) both erroneously predicted a Mitt Romney victory. But it's flatly erroneous to suggest that there aren't multiple data points that still, even today, suggest that this race is essentially tied.
It is definitely true that the vast majority of polling evidence would seem to suggest that Clinton holds a relatively comfortable lead. Other than Rasmussen and IBD/TIPP, every poll included in the RealClearPolitics average of polls shows Clinton holding a lead of at least 4 percent. The state-level polling is, if anything, much worse for Trump than the national polling. Not only is Trump seen as an overwhelming underdog in states like Virginia and Colorado, he is not especially competitive in states like Michigan, Wisconsin, or Pennsylvania - states he desperately needs to win to offset the demographic changes that have placed Virginia and Colorado out of reach. Worse still, a significant amount of polling data now shows him playing defense in deep red states like Utah, Arizona, and Texas.
With all that having been said, it doesn't take an especially strong memory to remember that polling — even on a statewide level — has been wrong this year. Frequently and disastrously wrong. Not just single polls, either, but multiple polls of the same state have ended up being just flat out wrong, even outside of generous margins of error.
A few examples are in order. Perhaps the most egregious polling disaster during this whole campaign season was the 2016 Michigan Democratic presidential primary. Three polls were taken the week of the March 8 primary, and all three showed Clinton winning the state in a landslide. Two of the polls incredibly showed her winning by more than 20 percent. Of course, Bernie Sanders stunned the entire world when he ended up winning the state by about 1.5 percent.
The Michigan Democratic primary was not the only disaster of this election season.
In fact, the primary season started off with a disaster in the Iowa Republican caucus.
The 12 polls taken closest to the caucus date all showed Trump with a lead — and most showed Trump with a relatively comfortable lead of 7 or 8 percent. Of course, Sen. Ted Cruz (R-Texas) won the Iowa caucuses by 3 percent and Trump almost fell to third behind Sen. Marco Rubio (R-Fla.).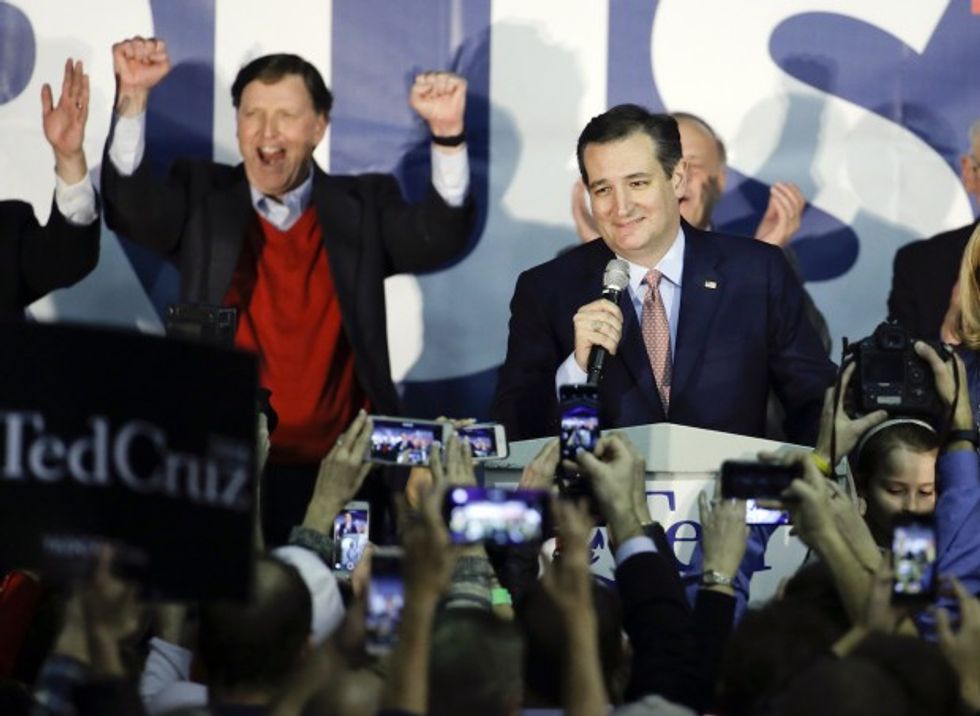 Republican presidential candidate, Sen. Ted Cruz, R-Texas, speaks during a caucus night rally, Monday, Feb. 1, 2016, in Des Moines, Iowa. Cruz sealed a victory in the Republican Iowa caucuses, winning on the strength of his relentless campaigning and support from his party's diehard conservatives.(AP Photo/Chris Carlson)
In Louisiana, all the polls predicted that Trump would win by double digits, but Cruz lost by only 3. In Ohio, the polls all showed a close race in the Republican primary, but Gov. John Kasich won in an 11-point landslide.
Oklahoma was polled three times in the week before that primary, and all three polls showed Trump winning by double digits. Of course, Cruz won Oklahoma by over 6 percent.
The polls likewise predicted a comfortable victory for Trump in Kansas - a state that Cruz won by almost 25 percent. The polls also missed by embarrassing margins in Idaho, North Carolina, and Wisconsin. This is to say nothing of the extent to which they completely botched the 2014 elections, vastly underestimating Republican support across the country.
I think it goes without saying that any candidate would rather be in Hillary Clinton's position than in Donald Trump's position at this point of the race. The amount of data tending to show that she has a lead is too great to casually dismiss, and even the Trump campaign admitted over the weekend that Trump is likely behind. An astute observer would also note that, in virtually every poll mentioned above, polls overstated Trump's support rather than understating it.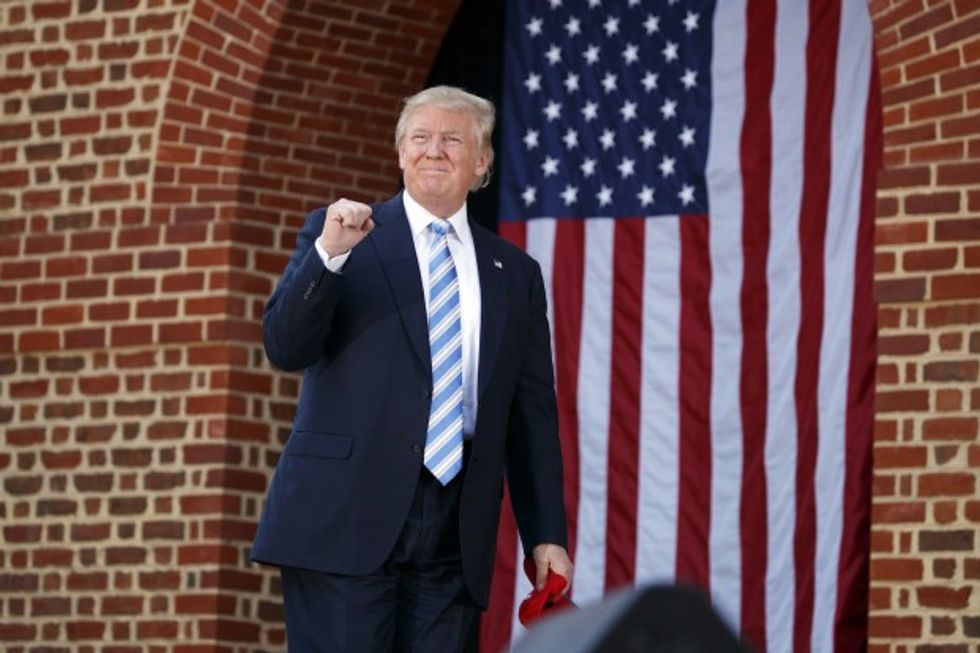 Republican presidential candidate Donald Trump arrives to speak at a campaign rally at Regent University, Saturday, Oct. 22, 2016, in Virginia Beach, Va. (AP Photo/ Evan Vucci)
Still, the media would do well to remember that yes, the polls have been wrong — and they have been wrong often, spectacularly, and recently. It isn't crazy or stupid to believe that they might just be wrong yet again, especially given that there are some polls still showing Trump either tied or in the lead.
Trump can still win this thing, which is why he should focus on encouraging his people to get out and vote instead of complaining that the election is "rigged." It's also why the media looks foolish pretending this campaign is over before the last ballot has been cast.
–
TheBlaze contributor channel supports an open discourse on a range of views. The opinions expressed in this channel are solely those of each individual author.