On Thursday's episode of "White House Brief," Jon Miller discussed Larry O'Donnell and Ken Dilanian who over the past week retracted stories found to be lies.
An MSNBC reporter, Larry O'Donnell, was forced to retract a story that claimed President Donald Trump used Russian oligarchs to co-sign for loans from Deutsche Bank.
Jon discussed a story reported by NBC reporter Ken Dilanian that claimed Trump planned to strip children born overseas to deployed troops of their citizenship.
Dilanian later corrected the story in a tweet after experts looked at new USCIS policy and determined only applied to service members on deployment who adopt children outside of the United States.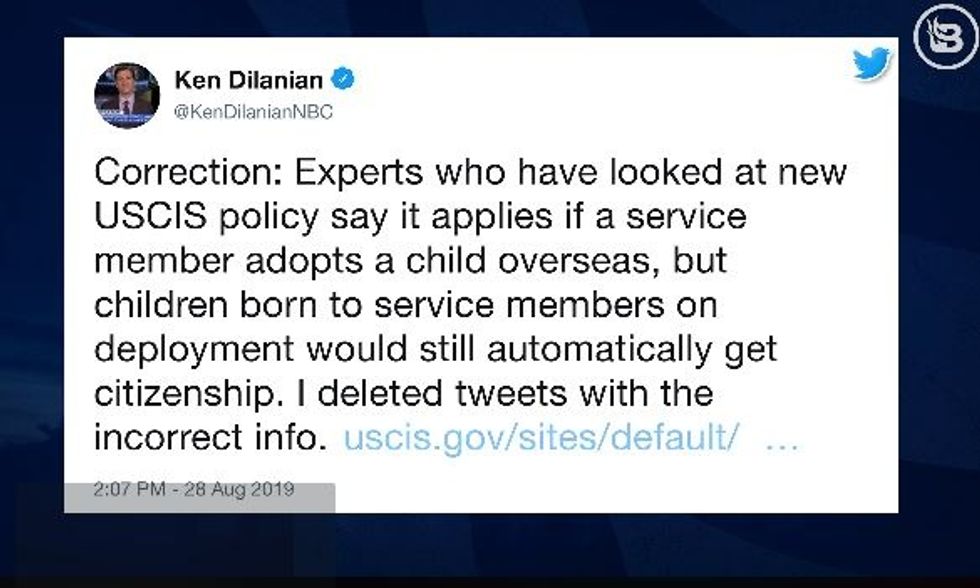 Image source: BlazeTV screenshot
Watch the video below for more,
Use code WHB to save $10 on 1-year of BlazeTV.
Want more from Jon Miller?
To enjoy more of Jon's take on what's happening at the White House that the mainstream media isn't telling you, subscribe to BlazeTV — the largest multi-platform network of voices who love America, defend the Constitution and live the American dream.