Hazing in high schools is looked down upon with good reason - it is usually an unsafe exercise in teenage sadism that results in people getting severely damaged, both psychologically and physically, and does practically nothing to enhance the character of any of the participants. Some forms of hazing are possibly defensible, but we are not interested in laying out which ones just now. Because the form of hazing that is alleged to have occurred in this story quite clearly is not one of them.
High school teacher Emmanuel Delarosa apparently had trouble controlling a classroom of unruly children. However, unlike most teachers, who would figure out a way to dim the viciousness of his charges, Delarosa may have embraced it as a means of enforcing order. The 27-year-old school teacher was arrested recently on charges of felony sexual penetration with a foreign object, as well as felony false imprisonment by violence. To put that in layman's terms, he was arrested for keeping students locked up and sodomizing them with such objects as broom handles and steel rebars. All for the sake of hazing of some kind, the purpose of which is unclear.
Not exactly "Thank you, sir, may I have another" material.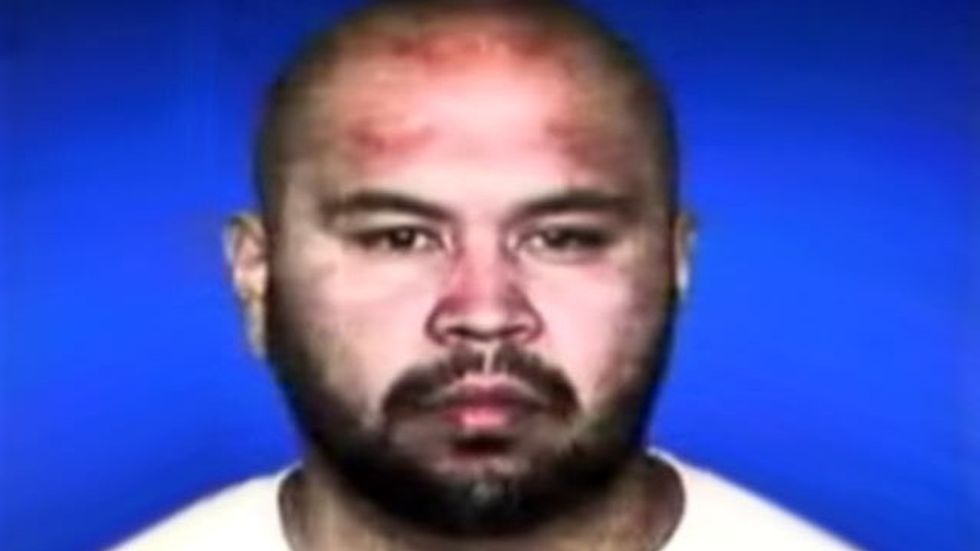 Adding to the hideousness of this story, Delarosa apparently didn't even have the courage to perpetrate this brutality himself. Rather, he appears to have enlisted his own students to do it for him, as four of his own students were arrested for engaging in this behavior as well. Indeed, some of his former students report that this was a common thing for them to participate in.
One of the students arrested is one Fernando Salgado, 18. Salgado was arraigned in court today and, to no one's surprise, pled not guilty to the charges that he had held students down and forced brooms and steel bars into them from behind. And indeed, perhaps he isn't guilty. But if he is, then his reaction to being told he would have to return to prison shows all too clearly that it's often the people who most enjoy dishing pain out who have the most trouble taking it when it's applied to them. This video from KTLA Los Angeles says it all:
The Los Angeles Times describes the case and scene:
Fernando Salgado pleaded not guilty to charges of attempted sexual penetration with a foreign object and false imprisonment and "erupted" when ordered to remain in jail until July 9, KTLA-TV reported.

"I want to go home so bad," a tearful Salgado said as courtroom onlookers began protesting the order.

When deputies went to escort the handcuffed teenager from the room, he began to struggle.

"Let go of me," he said.

Salgado and 27-year-old Emmanuel De La Rosa, a masonry teacher at A.B. Miller High School, were arrested along with three underage students Saturday amid allegations of a hazing incident during a summer school class taught by De La Rosa, Fontana police said.[...]

Citing a police affidavit, the Press-Enterprise said the alleged victim of the June 21 assault told police three students held him down and pulled down his pants while Salgado "attempted to penetrate him with a piece of steel rebar."

De La Rosa "was aware of multiple occurrences of similar behavior in his classroom," the newspaper said, but did not report the incidents to law enforcement and "often encouraged the behaviors."

The second victim came forward during the police investigation and reported a similar incident with Salgado and the three other students — only this time, the victim said Saldago tried to "force a wooden broom handle into his body," the newspaper said.
Salgado has since had his bail paid, and has returned home. So, too, has his teacher. If either of them set foot in jail again, it will be as much more permanent residents.
To be fair to Salgado, if he is guilty, there's no telling whether he actually enjoyed doing this, or just felt threatened by the much bigger bully - namely, his teacher. Moreover, if he's not guilty, this scene is a truly tragic instance of an innocent victim getting caught in the crossfire.
However, in the event that Salgado is proven guilty and willing in this act, then perhaps the only appropriate response would be to look on this with grim satisfaction as a bully finally getting his just desserts. In fact, we hope that whatever sadist is proven to be responsible for this crime demonstrates this sort of terror in the face of justice as well.