As if there wasn't already enough evidence that the Left has trouble with the idea of celebrating America's independence, this story from EagNews' Kyle Olson comes down the pike:
Bill Bigelow of the radical teacher organization Rethinking Schools, wrote that we need to "rethink" the 4th of July. This "progressive" teacher has declared war on fireworks.

The Fourth of July "…provides cover for people to blow off fireworks that terrify young children and animals, and that turn the air thick with smoke and errant projectiles. Last year, the fire department here [Portland, OR] reported 172 fires sparked by toy missiles, defective firecrackers, and other items of explosive revelry."

So Bigelow is concerned about public safety. Fair enough. But there's more:

"Apart from the noise pollution, air pollution, and flying debris pollution, there is something profoundly inappropriate about blowing off fireworks at a time when the United States is waging war with real fireworks around the world. To cite just one example, the Bureau of Investigative Journalism in London found recently that U.S. drone strikes in Pakistan alone have killed more than 200 people, including at least 60 children. And, of course, the U.S. war in Afghanistan drags on and on. The pretend war of celebratory fireworks thus becomes part of a propaganda campaign that inures us—especially the children among us—to the real wars half a world away."

Yes, to this ingenious teacher, fireworks promote war. In fact, he says fireworks are "pretend war!"
Yes, that's right, according to a progressive teacher, fireworks scare children, damage property and simulate war. There are so many things wrong with this idea we're not even sure where to start. First of all, we're not sure what children Mr. Bigelow is used to dealing with, but something tells us that the idea of fireworks being terrifying to your average child is a bit far-fetched.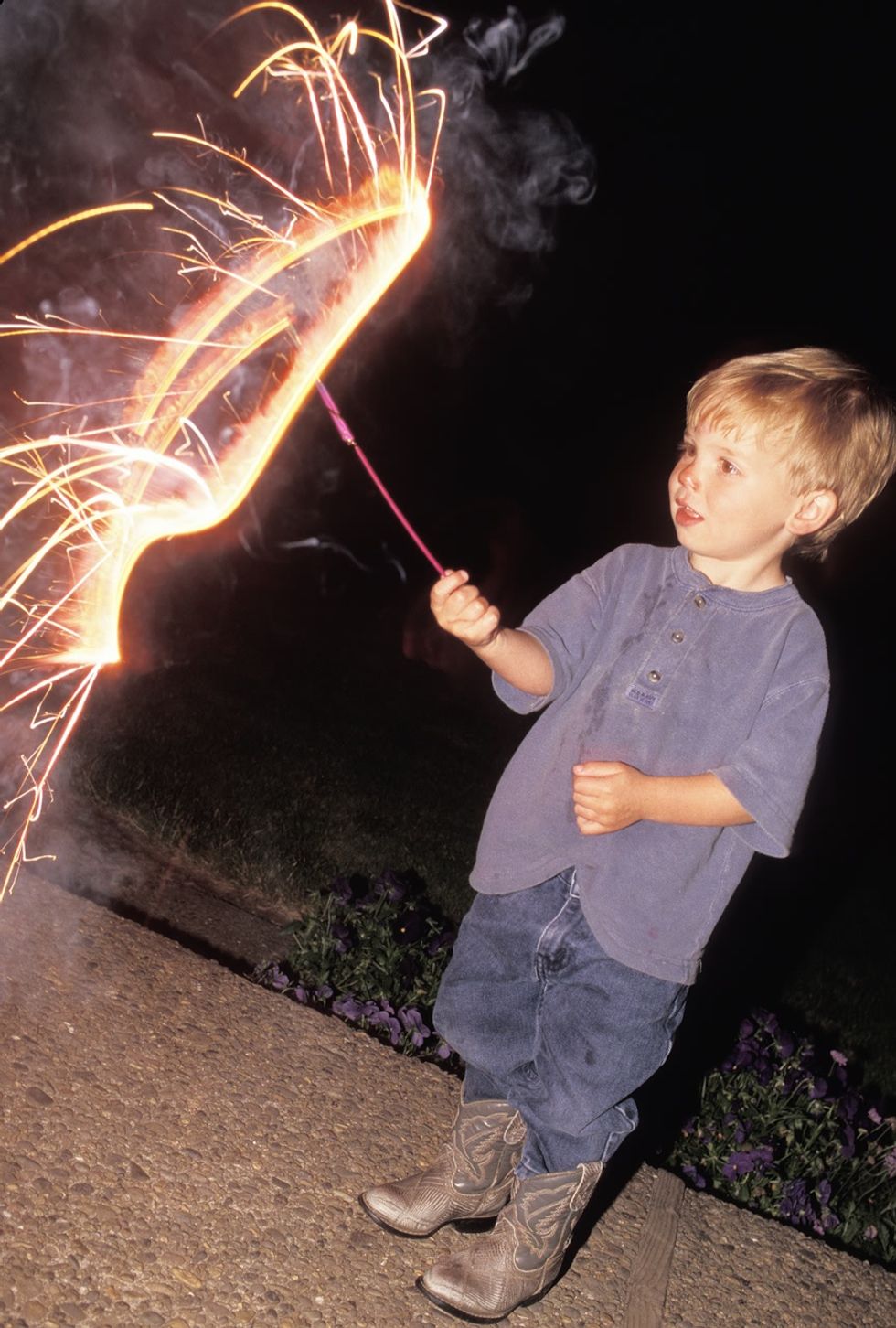 Moreover, sympathetic though we are to Mr. Bigelow's concerns over public safety, we do have to wonder where he gets off complaining about disorderly behavior that destroys property and simulates warfare, given the sorts of editorials his organization posts on their website. From an article entitled "Occupy Education":
In the education arena, teachers, parents, students, community members, and activists are finding imaginative ways to resist and to create alternatives. Here, occupation has taken many forms. Indeed, the education occupations preceded Occupy Wall Street. In the fall of 2009, California saw dozens of student occupations, sit-ins, and demonstrations to protest draconian budget cuts. Over the winter of 2011, students, teachers, public workers, and just about everyone else participated in the weeks-long occupation of the Wisconsin state capitol in Madison, protesting Gov. Scott Walker's reactionary legislation. In Tucson last April, students defending the embattled Mexican American Studies program occupied a school board meeting, chaining themselves to board members' chairs, chanting: "Our education is under attack! What do we do? Fight back!"

The Occupy movement itself spurred new momentum. In Trenton, N.J., demonstrators briefly occupied the state Department of Education, protesting Gov. Chris Christie's pro-charter school initiatives. In New York City, members of Occupy DOE (NYC Department of Education) have offered a spirited challenge to Mayor Bloomberg's undemocratic, handpicked Panel for Educational Policy (PEP). At one meeting, Occupy DOE mocked the PEP functionaries, yelling "puppet!" after each was introduced. As reported in Rethinking Schools, Social Equality Educators in Seattle led an occupation of the state capitol to protest school budget cuts and to stage a citizens' arrest of legislators for abandoning the state constitution, which proclaims the support of public education as the state's "paramount duty." Teachers' actions inspired hundreds of students at Seattle's Garfield High School, who walked out of classes and rallied at City Hall in solidarity. Blogs like Occupy Education created a forum for "messages that dare public schools to serve students' passions instead of politicians and vendors' coffers," and feature poignant student artwork displaying different "occupy" interpretations.

One of the most militant of the occupations occurred in Chicago, where more than 100 parents, youth, and community members staged a four-day sit-in at City Hall to protest Mayor Rahm Emanuel's "practice of maligning black and Latino neighborhoods by destabilizing their public schools and selling them off to the highest bidder." Organized by the Kenwood Oakland Community Organization (KOCO), and supported by the Chicago Teachers Union, UNITE HERE, and other community groups, demonstrators demanded that the mayor meet with the community to discuss its well-researched alternative to the Chicago elite's profit-driven school improvement plans.
We can't speak for people who fire off sparklers, but we're fairly sure they're less interested in destroying property and simulating war than people who try to violently shut down public facilities while announcing their intention to "fight back" against policies they don't like.
And finally, while the authors here at the Blaze are not accredited teachers, we do have eyes, and as such, would like to get one particular bit of confusion cleared up. Mr. Bigelow thinks fireworks make people desensitized to the horrors and sounds of warfare by showing them explosions in the night sky accompanied by loud noises. Very well. We would love to hear his explanation for why any American cannot distinguish between this: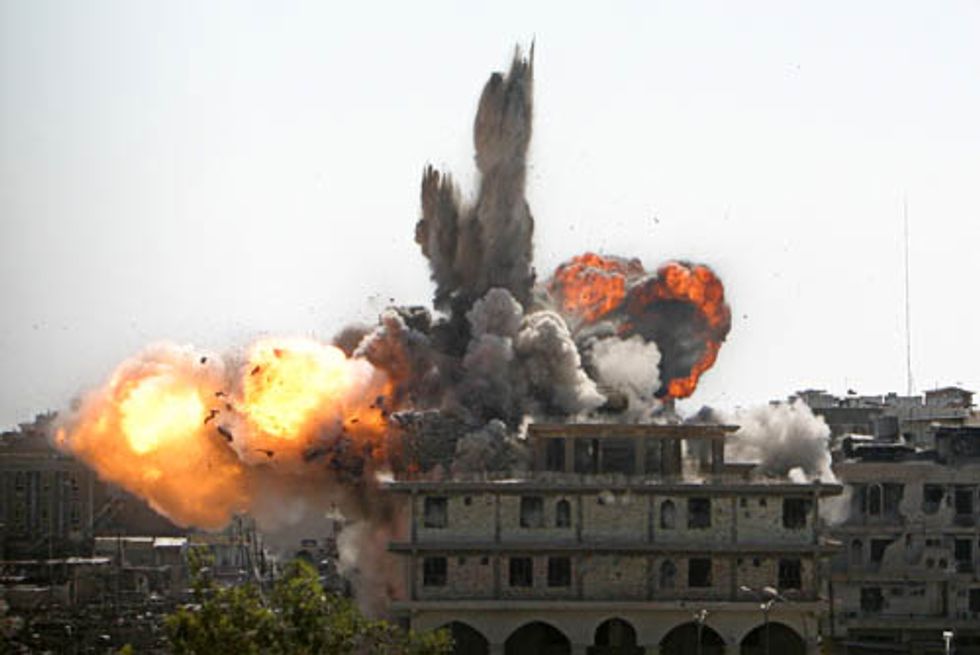 And this:
Aside from the fact that both look awesome in pictures, we know which one we'd be more likely to run from. Does Mr. Bigelow?