Daily Beast writer Andrew Sullivan's name has become something of a byword for liberalism in the media over the past few years. From his unseemly obsession with the parentage of Sarah Palin's son Trig, to his article asking "Why are Obama's critics so dumb" to any number of other embarrassments, Sullivan - or Sully, as he's sometimes called - has been a seemingly irrepressible cheerleader for the incumbent.
That is, until the first presidential debate, after which Sullivan penned a panicky article titled "Did Obama just throw the entire election away?" The article was featured on the front page of the Drudge Report, and became a favorite reference point for triumphal conservatives. Still, given Sullivan's exultant response to Vice President Joe Biden's performance in last week's debate, one might think he'd return to cheerleading afterward.
No such luck. Sullivan is still reading the data, and it still terrifies him. In a blog post from this evening, Sullivan posted the following graph and wrote: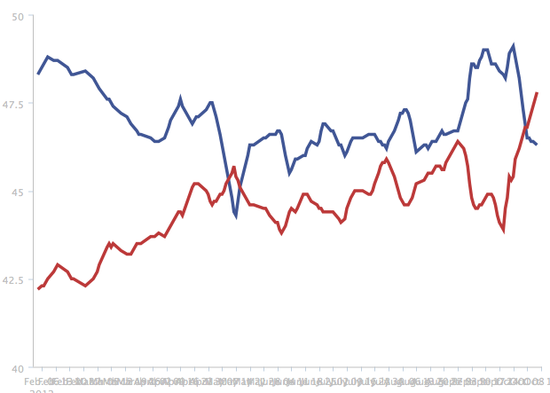 I've been pilloried for being excitable about that epic first debate. But just look at that graph above (with heightened sensitivity) of the campaign poll of polls since February and tell me I was wrong.

As an Obama supporter, I remain committed, if deeply demoralized. The reason for that new ambivalence is not that the reasons for re-electing him have changed - we desperately need to raise revenues to tackle the debt, we cannot launch a new Judeo-Christian war against Islam in the Middle East without igniting an even more ferocious global religious conflict; it's just wrong to cut off healthcare access for tens of millions, while ending homecare for countless seniors, while not even making a dent in the actual budget - because of give-aways to the extremely rich. And the way the Obama campaign had made those arguments clearly and consistently and built a brilliant campaign all the way to the first debate was quite something to behold. To be given a gift like the Romney 47 percent video is a rare event in national politics. To get it in the fall of an election should have made an Obama victory all but assured.

But Obama threw it all back in his supporters' faces, reacting to their enthusiasm and record donations with a performance so execrable, so lazy, so feckless, and so vain it was almost a dare not to vote for him. What he has to do now is so nail these next two debates, so obliterate Romney in both, that he can claw his way back to victory. But if he manages just evenly-matched debates, let alone another Romney win, he's a goner. Elections for president comes down to two individuals. You only get to see them up against each other in the flesh three times. The first time - always the most important - made Romney look like a president and Obama an ex-president. It will take a lot of intelligence, fire and argument to turn that around in the time remaining. And for the first time, after the sucker-punch of the first debate, I'm not entirely sure Obama has it in him.
In other words, Biden's performance might have energized Democratic partisans, but if Sullivan's article is any guide, those people aren't enough to move the polls back enough for Obama to survive. Romney's momentum might have been blunted, but not wrenched away, and Sullivan's article gives Obama supporters yet one more reason to fear for their candidate's future.
Of course, if Obama turns in a celebrated debate performance come Tuesday and Romney doesn't manage to repeat his star turn from two weeks ago, all this might change. But given the meticulous amount of preparation both candidates are putting in this time, that kind of lopsided result looks difficult to achieve.