Julian Pinto introduced soccer fans around the globe to a fascinating leap in engineering and gave renewed hope for paraplegics who wish to walk again one day.
The 29-year-old can't feel or move his legs, but while wearing an advanced robotic exoskeleton that receives direction from his brain activity, he was able to make the first kick of the 2014 World Cup.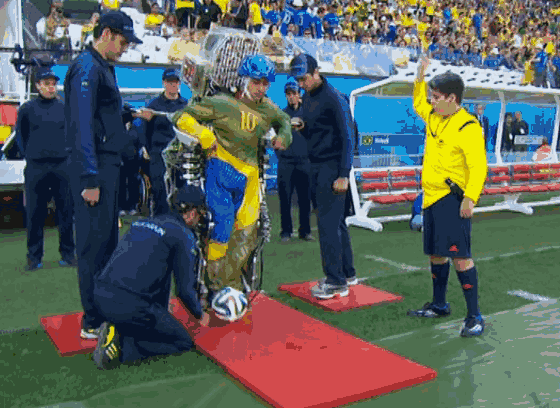 "We did it!!!!" Miguel Nicolelis, Duke University neuroscientist and the project's leader, tweeted.
We did it!!!!

— Miguel Nicolelis (@Miguel Nicolelis) 1402599862.0
Nicolelis spearheaded a team of more than 150 scientists to create the exoskeleton — an effort he says cost the Brazilian government $14 million over the past two years, according to NBC News.
Other Twitter supporters called the kick "amazing" and "inspirational."
But if you thought the World Cup opening kick was an incredible feat of technology, just wait until you one of the experiments that led up to that emotional moment.
Well before the exoskeleton was highlighted at the World Cup, the Walk Again research team conducted several experiments that made the emotional soccer kick in Sao Paulo possible. To see one of them, check out the video below; the researchers had a monkey don the brain scan headset, and were able to send the brain waves with the instructions to walk to a robot across the world in Japan.
And it worked.
Thousands of hours of research and tests led up to the kick in Sao Paulo on Thursday, which was a fleeting but satisfying moment for the project team members.
"The World Cup demonstration is ceremonial, as we have only a moment to show a kick," Sanjay Joshi, a roboticist from the University of California at Davis who was involved in the Walk Again Project, said. "But maybe that kick will inspire a child somewhere in the world to become a doctor, engineer or scientist."
To see the kick and the advanced technology that made it possible, watch here:
--
Follow Elizabeth Kreft (@elizabethakreft) on Twitter