Glenn Beck was at his wits end with politicians on Tuesday after his friend Rep. Chris Stewart of Utah (R) voted to re-elect John Boehner as speaker of the House. When Beck heard that Sen. Bob Corker of Tennessee, who is also a Republican, recently suggested raising the federal gas tax now that oil prices have fallen, he couldn't take it anymore.
"Prices dip. We get a breather at the pump," Beck began on his television program. "So what do the clowns in Washington do? What are they doing? They want to push for a federal gas tax! I've got to tell you -- I'm going to lose my mind."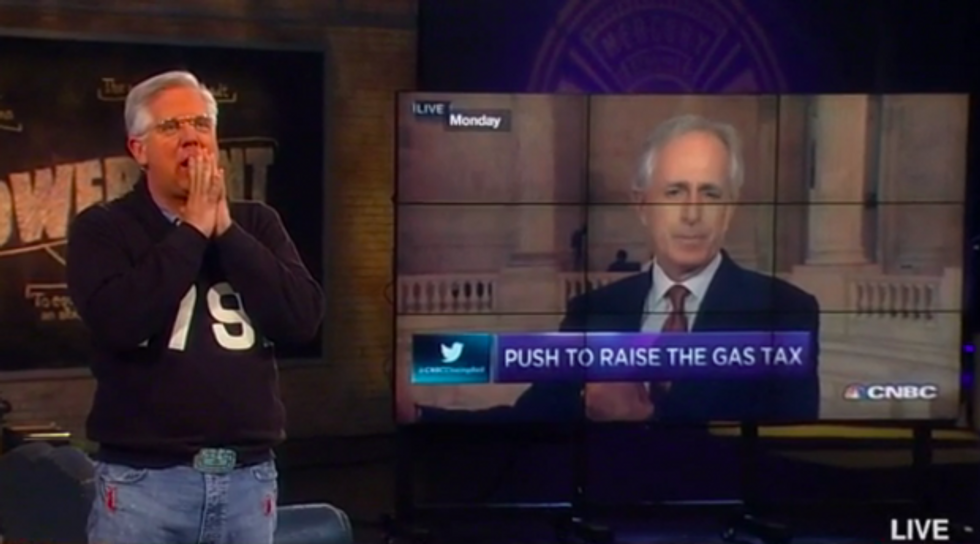 Glenn Beck speaks on his television program January 6, 2014. (Photo: TheBlaze TV)
Beck played the clip of Corker's comments, then adopted a British accent and played dramatic "sob story" music.
"All he needs is another 12 cents a gallon!" Beck said in his "Oliver Twist" voice. "Maybe, just maybe, you at home could help. Would you consider helping my little friend Bobby from Congress? He's got himself in a little bit of a pickle today. You see, he took billions of your dollars and he peed them all away. And now he's asking for even more."
"It's crackers, I know, but could you spare some loose change?" Beck continued. "Anything will do. A little bit of chocolate perhaps? Or maybe a chocolate tax? Come to think of it -- I don't know why we even ask, because no matter what we do, they'll go ahead and tax us up the wazoo."
"Anybody done?" Beck demanded, returning to his normal voice. "I'm done playing the game."
Beck said the Republican Party is "drunk on power," and created a t-shirt with the words, "Go home. You're drunk. The party's over" in an effort to "defund the GOP."
Watch the complete segment, below.
[mlbvideo content_id=37110119]
The full episode of The Glenn Beck Program, along with many other live-streaming shows and thousands of hours of on-demand content, is available on just about any digital device. Click here to watch every Glenn Beck episode from the past 30 days for just $1!
[instory-firewire]