Radical Muslim cleric Anjem Choudary never seems short of statements trumpeting Islamic extremism.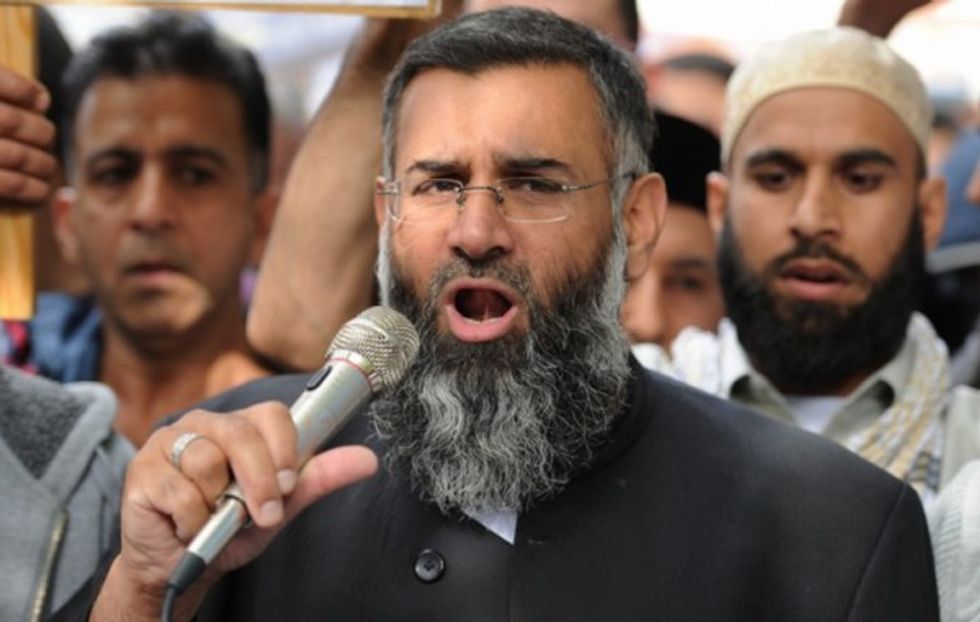 Radical Muslim cleric Anjem Choudary speaks to a group of demonstrators in 2012. (AFP/Getty Images)
In 2011, the London cleric declared that if Jesus were alive today he would be a Muslim and implement Shariah law; just two months ago he said if authorities would guarantee him safe passage to the territories controlled by the Islamic State, he would leave the United Kingdom.
And after Wednesday's fatal shooting of 12 people at the satirical French newspaper Charlie Hebdo — which the president of France called "a terrorist attack, without a doubt" — Choudary tweeted that freedom of expression doesn't apply to those who insult the Prophet Muhammad:
Freedom of expression does not extend to insulting the Prophets of Allah, whatever your views on the events in Paris today! #ParisShooting

— Anjem Choudary (@anjemchoudary) January 7, 2015
Well, author Brad Thor issued a brutally short message for Choudary that won't likely have him chuckling:
Hey @anjemchoudary! Up yours! https://t.co/pJObgXPNvG pic.twitter.com/b57MjiDG4x

— Brad Thor (@BradThor) January 7, 2015
Charlie Hebdo has been frequently threatened over its depictions of the Prophet Muhammad; the newspaper's offices were firebombed in 2011.
Here's more from Choudary:
Muslims love the Messenger Muhammad (saw) more than their parents, children and even themselves! Why don't people understand? #ParisShooting

— Anjem Choudary (@anjemchoudary) January 7, 2015
We must see what the honour of the Prophet means to Muslims after Salman Rushdie, Hirsi Ali, Theo Can Gogh & Terrance McNally #ParisShooting

— Anjem Choudary (@anjemchoudary) January 7, 2015
There is a conflict in the world between those who believe sovereignty belongs to man & those who believe it belongs to God! #ParisShooting

— Anjem Choudary (@anjemchoudary) January 7, 2015
If freedom of expression can be sacrificed for criminalising incitement & hatred, Why not for insulting the Prophet of Allah? #ParisShooting

— Anjem Choudary (@anjemchoudary) January 7, 2015
Thor, as you might expect, remained unmoved:
Contrary to this moronic Tweet by @anjemchoudary - freedom of expression DOES include the right to offend people. https://t.co/pJObgXPNvG

— Brad Thor (@BradThor) January 7, 2015
(H/T: Twitchy)