Financial Times' Europe editor Tony Barber said the French satirical newspaper Charlie Hebdo was "actually just being stupid" for publishing mocking cartoons of the Prophet Muhammad, hours after masked gunmen tore through its offices and killed 12 people.
"Charlie Hebdo has a long record of mocking, baiting and needling French Muslims. If the magazine stops just short of outright insults, it is nevertheless not the most convincing champion of the principle of freedom of speech. France is the land of Voltaire, but too often editorial foolishness has prevailed at Charlie Hebdo," Barber wrote in an editorial.
While Barber said he was not condoning the violent acts committed in Paris Wednesday morning, he distinguished the controversial cartoons Charlie Hebdo has published from just practicing free speech.
"It is merely to say that some common sense would be useful at publications such as Charlie Hebdo, and Denmark's Jyllands-Posten, which purport to strike a blow for freedom when they provoke Muslims, but are actually just being stupid," he wrote.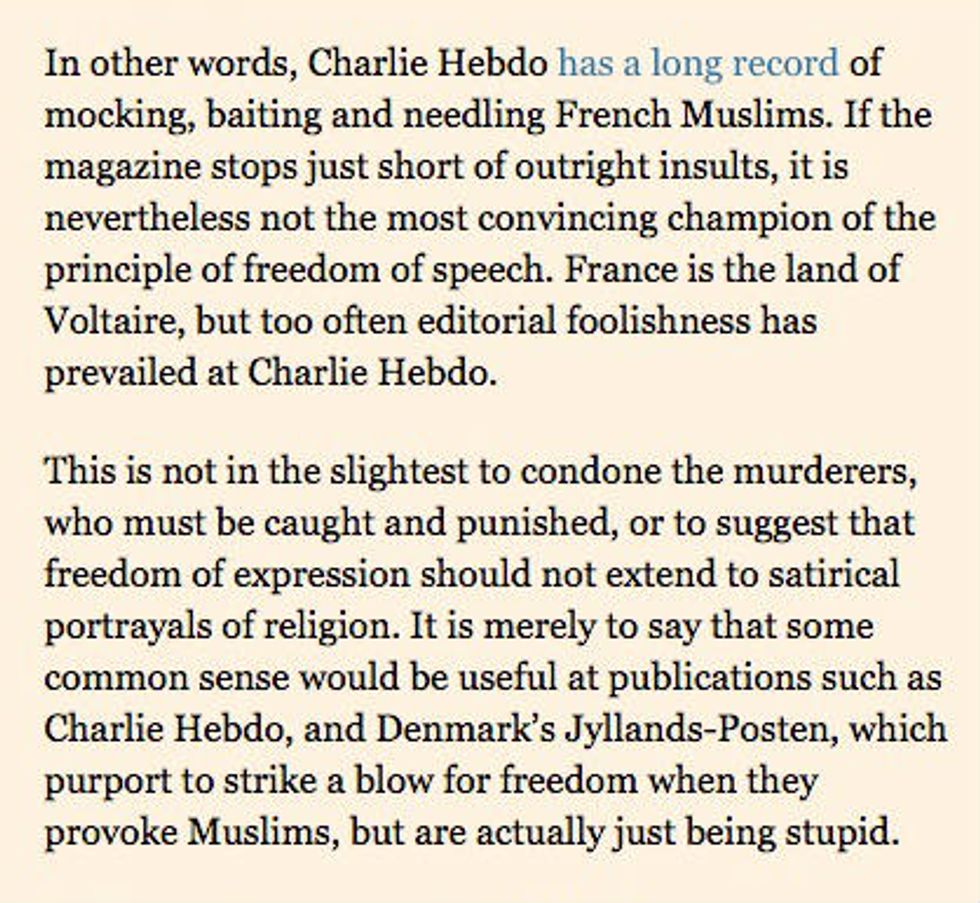 Image source: Financial Times
Here is a roundup of some of the cartoons Charlie Hebdo has published, depicting Muhammad and a range of other topics: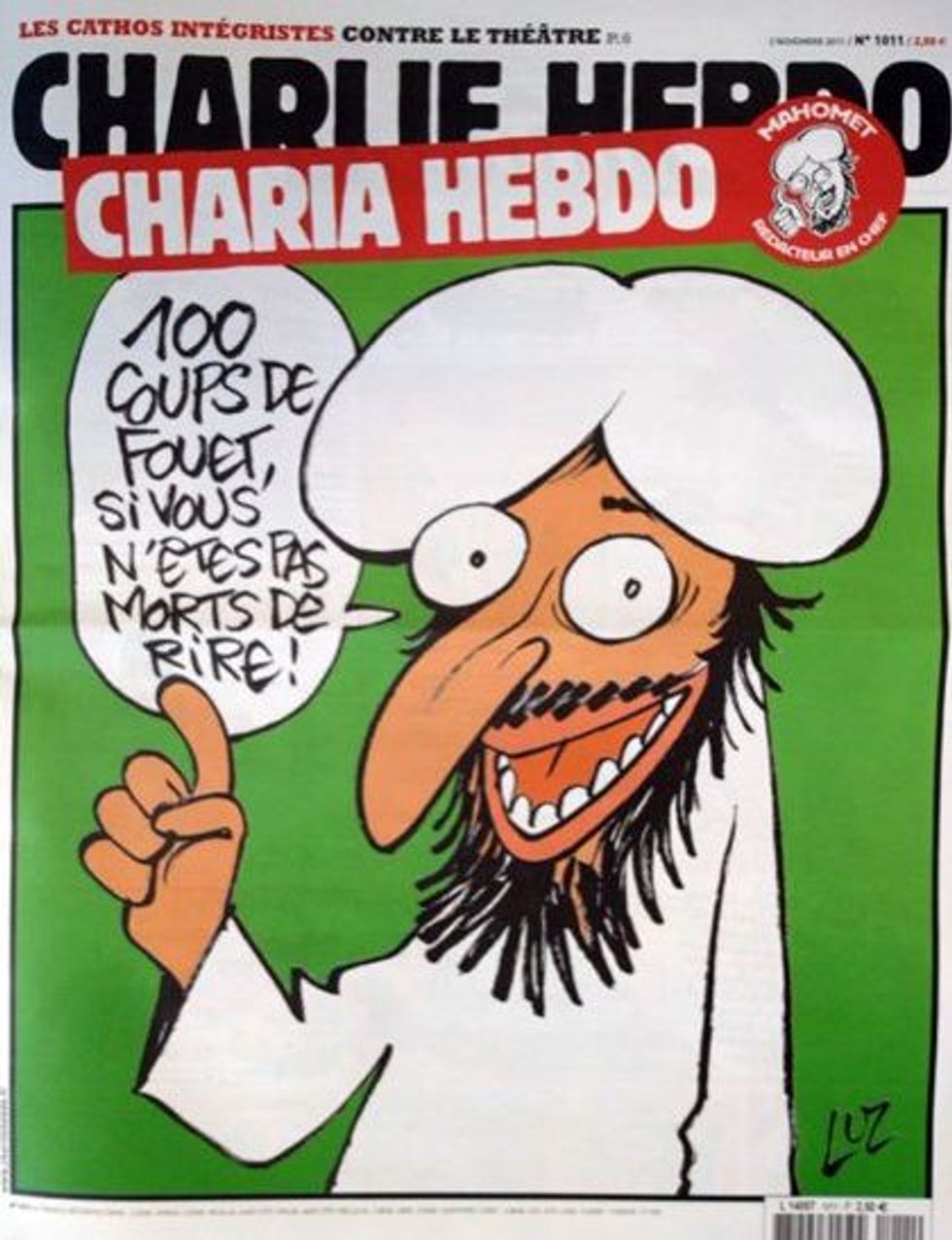 Charlie Hebdo via the Daily Beast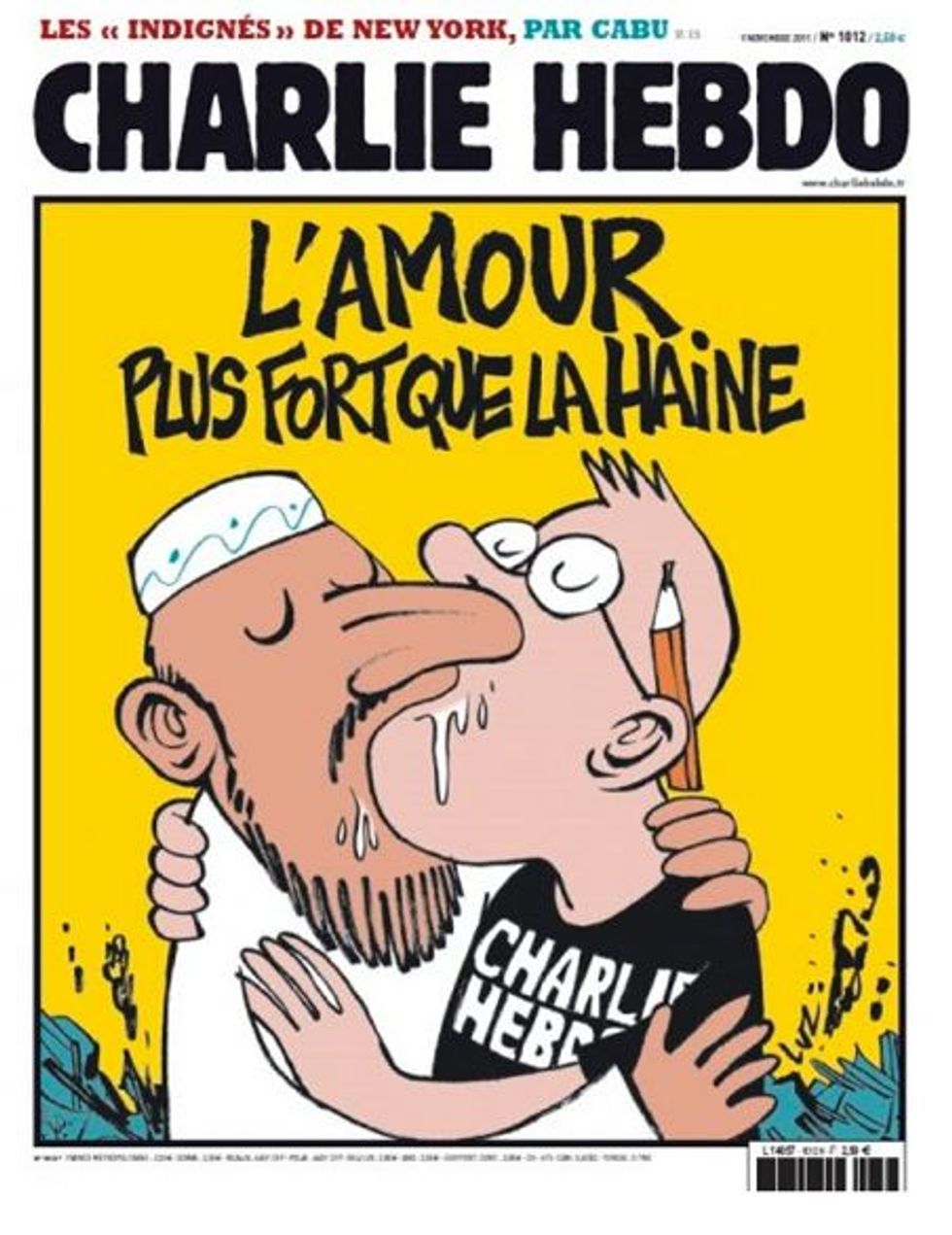 Charlie Hebdo via the Daily Beast
Que se passerait-il si Mahomet revenait? La réponse est à la une de Charlie demain! pic.twitter.com/9Z1nVt8Kcs

— Charlie Hebdo (@Charlie_Hebdo_) September 30, 2014
@empechemoii Tiens, ma chérie, c'est parce que je t'aime. pic.twitter.com/Z5Q0XWZWzf

— Charlie Hebdo (@Charlie_Hebdo_) August 5, 2014
Nous avons les honneurs de la @KarimAchouiLDJM qui a porté plainte. http://t.co/4QJn6bSFwm La une qui les fâche: pic.twitter.com/2j4atH5Nbd

— Charlie Hebdo (@Charlie_Hebdo_) September 19, 2013
@empechemoii Et ça parce que tu le vaux bien. pic.twitter.com/OzuTYRlI1J

— Charlie Hebdo (@Charlie_Hebdo_) August 5, 2014
À la une demain : Ces chefs français qui réussissent à l'étranger! pic.twitter.com/LRUs8dcpBv

— Charlie Hebdo (@Charlie_Hebdo_) November 18, 2014
November 28, 2014
Charlie est en danger. Si vous le pouvez, merci de nous aider! http://t.co/5LrRdeZLoc pic.twitter.com/FnQmu4EPJX

— Charlie Hebdo (@Charlie_Hebdo_) November 4, 2014
Et voici la une de Charlie demain! pic.twitter.com/l67Cwgyoyx

— Charlie Hebdo (@Charlie_Hebdo_) October 21, 2014
des nouvelles de Gaza... pic.twitter.com/HgXh10NlKx

— Charlie Hebdo (@Charlie_Hebdo_) July 18, 2014
–
Follow Jon Street (@JonStreet) on Twitter