After the attack on the offices of Charlie Hebdo in Paris, comedian Bill Maher laid into liberals who avoid criticizing Islam.
"We have to not avoid who did this. Who did this, Jimmy?" Maher said on ABC's "Jimmy Kimmel Live" Wednesday.
"Well, we presume —" Kimmel began.
"No, it's not a presume! No, no. It's Muslim terrorists," Maher said.
"Yes, Muslim terrorists," Kimmel said.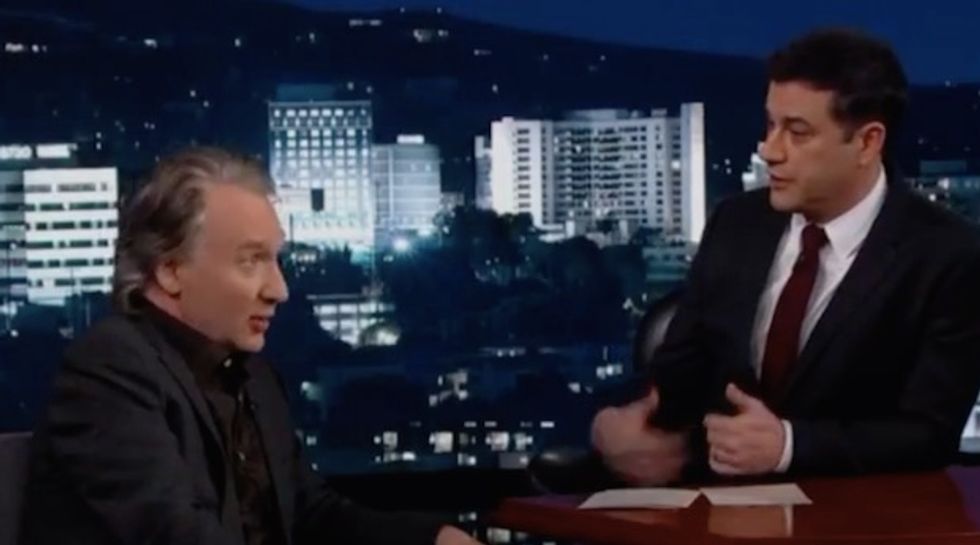 Image source: ABC via YouTube
"This happens way too frequently," Maher said. "It's like Groundhog Day, except if the groundhog kept getting his head cut off."
Taking aim at his political compatriots, Maher said, "This has to stop and unfortunately a lot of the liberals — who are my tribe, I am a proud liberal —"
The audience applauded, prompting Kimmel to warn, "He's about to turn on you."
"I'm not turning on them, I'm asking them to turn toward the truth as I have been for quite a while," Maher continued. "To be a liberal, you have to stand up for liberal principles. It's not my fault that the part of the world that is most against liberal principles is the Muslim part of the world."
Rattling off statistics about the treatment of women and gays in the Muslim world, Maher said: "In 10 Muslim countries you can get the death penalty just for being gay. They chop heads off in the square in Mecca. Well, Mecca is their Vatican City. If they were chopping the heads off of Catholic gay people, wouldn't there be a bigger outcry among liberals?"
Comparing the efforts of radical Islamists' efforts to silence those who mock their prophet to North Korean attempts to shut down "The Interview," Maher said: "We should be able to insult whatever we want, that is what free speech is like."
"I know most Muslim people would not have carried out an attack like this. But here's the important point: Hundreds of millions of them support an attack like this. They applaud an attack like this. What they say is, 'We don't approve of violence, but you know what, when you make fun of the prophet, all bets are off."
Kimmel expressed doubt about "hundreds of millions," but Maher went on.
"Absolutely," he said. "That is mainstream in the Muslim world. When you make fun of the prophet, all bets are off. You get what's coming to you. It's also mainstream that if you leave the religion, you get what's coming to you, which is death. Not in every Muslim country … but this is a problem in the world that we have to stand up to. And again, I'm the liberal in this debate."
—
Follow Mike Opelka (@Stuntbrain) on Twitter