Fox News host Bill O'Reilly invited a pair of individuals representing Muslim organizations onto his program Thursday night to discuss terrorism in the wake of the Paris attack against a satirical newspaper — and a shoutfest ultimately ensued.
Leading into the segment, O'Reilly delivered a monologue arguing that it's time to stop making excuses for Muslim nations that don't seriously fight Islamic jihad.
WATCH: O'Reilly's 'Talking Points Memo': Stop Making Excuses for Muslim Nations That Don't Fight Jihad:
He then asked CAIR's Hussam Ayloush and the Muslim Public Affars Council's Harris Tarin for reaction to his talking points memo.
"It's not just that there are Muslims in Pakistan doing nothing — there are Muslims on the front lines in Iraq, in Syria, in Afghanistan, in Pakistan who are dying," Train said.
"No, no, no, Mr. Tarin," O'Reilly immediately interjected.
"Let me answer, let me answer," Tarin countered.
WATCH: O'Reilly Invites Guests Onto His Program to Discuss How to Deal With Terrorism:
"That's bull," O'Reilly replied. "No, Mr. Tarin. Here's the deal on the 'No Spin Zone.' When you say something that's ridiculous, I'm going to interrupt you!"
[sharequote align="center"]"Here's the deal on the 'No Spin Zone.' When you say something that's ridiculous, I'm going to interrupt you!"[/sharequote]
O'Reilly then expressed outrage that Pakistan harbored Osama Bin Laden for years without facing any punishment.
"I agree with you, allow me to finish," Tarin responded.
"So we haven't done anything to Pakistan for doing that!" O'Reilly shouted.
Tarin said that there have been 50,000 Muslim policemen and soldiers who have died fighting terrorism and contended that Muslims are the "primary victims of terrorism" on the front lines.
"That makes it even worse that the governments won't move against the jihadists," O'Reilly said, before then asking Ayloush about what the U.S. and Muslim nations are doing to prevent Iran from obtaining a nuclear weapon.
"Until we are serous in committing and supporting democracy in that region, we are not going to see change," the CAIR executive answered.
"What does that mean?" O'Reilly asked. "You want to invade the country?"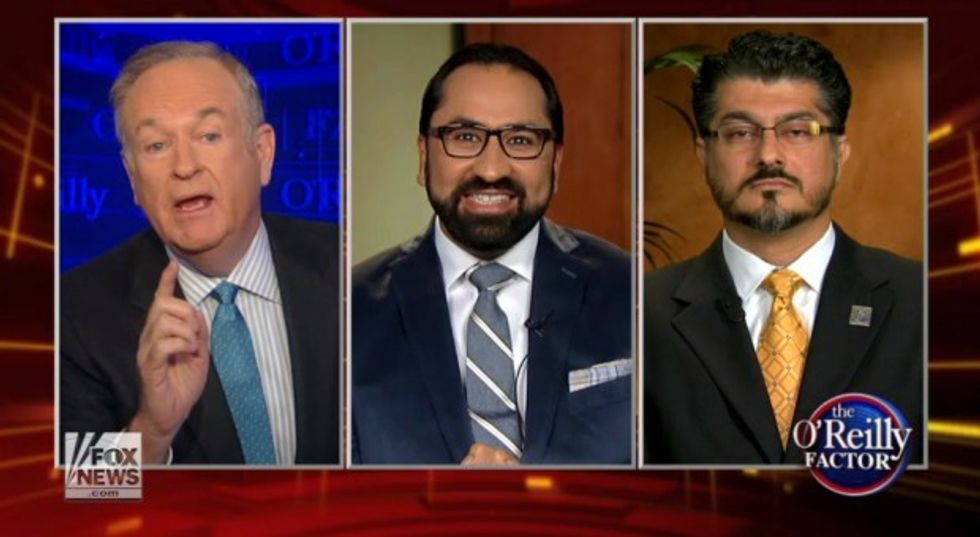 Image source: Screen grab via Fox News
"No, not invade the country. You know, for the past many years, people in that region have struggled against the dictatorships. Against the repressive regimes in that area. They've paid with their own blood to fight extremism," Ayloush said.
O'Reilly countered contending that if the people in Iran really wanted democracy, they should rise up and "kill the mullahs."
"Well, I'll give you another example, Bill," Ayloush said. "People in Egypt tried to have a democracy and what did we do? We supported a coup."
"We supported a coup against the Muslim Brotherhood who were massacring Christians!" O'Reilly interjected.
"We supported a coup against democracy," Ayloush insisted.
At that point, O'Reilly grew visibly frustrated.
"You had a Muslim Brotherhood massacring, massacring Christians!" he shouted. "Don't you get the Muslim Brotherhood? Do you get them at all? Do you get them? Do you get the Muslim Brotherhood? Do you get them? They murder people!"
Shortly thereafter, the segment ended without O'Reilly finding agreement with his guests.
—
Follow Oliver Darcy (@oliverdarcy) on Twitter