When an Israeli woman said Jews "are the target now" during a TV interview at Sunday's anti-terror rally in Paris, a BBC News reporter interjected that Israel's critics "would say that the Palestinians have suffered hugely at Jewish hands as well."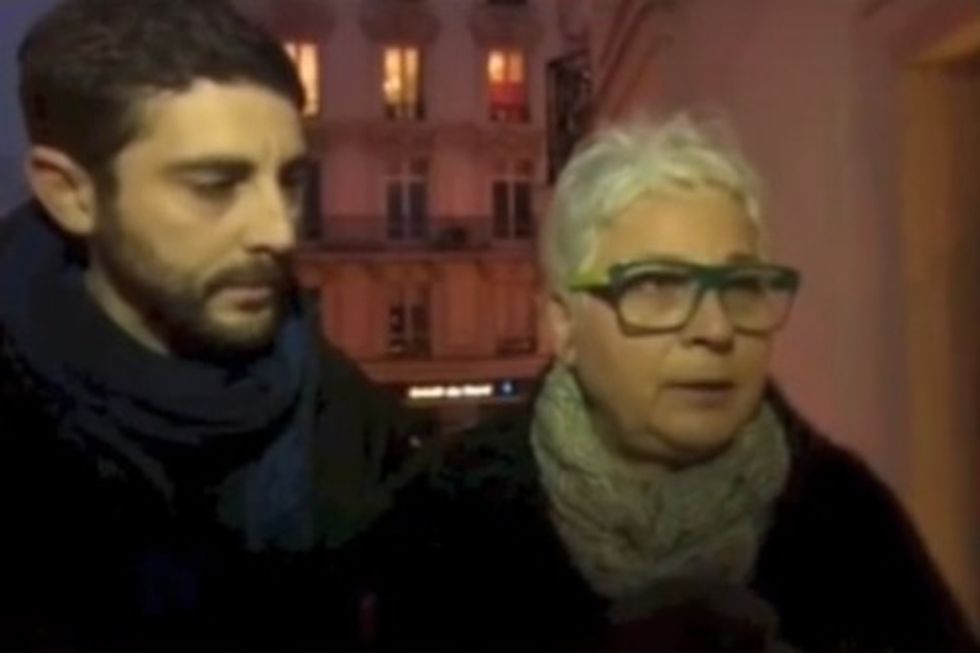 Hava (right) and Aziz (left). (Image source: YouTube)
Tim Willcox was interviewing two friends: Hava, who said she's from Israel and been in France for 20 years, and Aziz, who said he's French and of Algerian descent with a Muslim background. They met among a group that had been learning Arabic and Hebrew.
Among the 17 people killed by Islamic terrorists in the last several days were four who were fatally shot inside a kosher market on Friday. The Jewish community in Paris endured numerous incidents characterized as anti-Semitic last year.
When Willcox asked Hava if she feels "threatened or frightened by the Muslim community here," she replied that she "didn't feel that fear 'til the last days" and that she feels "not secure." Hava also compared the chilling effect of the terrorist attacks by radical Islamists to the sociopolitical climate in 1930s Europe.
But when Willcox asked her if things could be "rescued" by the "right approach" with a "more inclusive society," he apparently didn't get the answer he was looking for.
"We have to not...be afraid to say that the Jews...are the target now," Hava replied. "It's not only the..."
Willcox jumped on her answer: "But many critics of Israel's policy would say that the Palestinians have suffered hugely at Jewish hands as well."
Here's an edited clip of the exchange:
Seemingly taken aback, Hava said "we cannot do an amalgam between..."
Again Willcox interjected: "But you understand everything is seen from different perspectives."
It's worth watching the entire clip for context, particularly for Willcox's apparent personal position, as he questioned the tolerance of French society and even offered Aziz — who's from a Muslim background — a cultural pointer: "Do you understand, though," Wilcox asked him, "the offense that some Muslims feel about the caricature of Muhammad?"
Aziz reacted with a startled laugh, as you might expect, but indicated to Willcox that things are a little different in France. Here's the full clip:
Israel National News reported that this wasn't Willcox's first offensive statement, noting:
The Campaign Against Antisemitism, a grassroots initiative formed several months ago to combat rising anti-Semitism in the UK, has called on British Jews and BBC viewers in general to lodge an official complaint on the BBC's website against Wilcox's "disgraceful" comments.

"Tim Willcox's latest statement to offend Jewish viewers is that the Palestinians 'suffer hugely at Jewish Hands'... only weeks after he suggested that 'prominent Jewish faces will be very much against the mansion tax,'" noted Jonathan Sacerdoti, Director of Communications at the Campaign Against Antisemitism.
—
UPDATE 5:10 p.m. EST Monday: Willcox issued an apology on the heels of his interview:
Really sorry for any offence caused by a poorly phrased question in a live interview in Paris yesterday - it was entirely unintentional

— Tim Willcox (@BBCTimWillcox) January 12, 2015
The Independent added a statement from the BBC:
"Tim Willcox has apologised for what he accepts was a poorly phrased question during an in-depth live interview with two friends, one Jewish and of Israeli birth, the other of Algerian Muslim heritage, where they discussed a wide range of issues affecting both the Muslim and Jewish communities in France.

"He had no intention of causing offence."
(H/T: Buzzfeed)