More than thirty Senate Democrats on Monday voted against the idea of starting work on a bill to approve the Keystone oil pipeline, even though no Democrats at all objected when a similar vote came up in November, when considering the bill was seen as a way to keep Sen. Mary Landrieu (D-La.) in the Senate.
The Senate voted 63-32 in favor of a motion to take up the bill, and every "no" vote came from a Democrat or an Independent.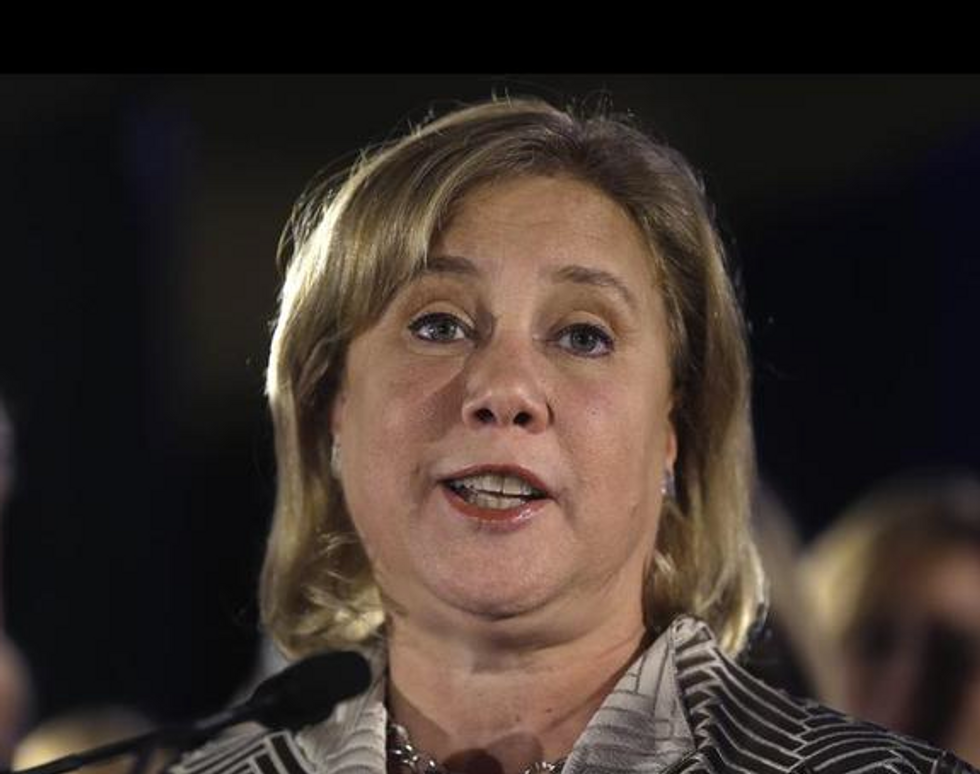 Former Sen. Mary Landrieu (D-La.) wasn't around this week, which let dozens of Democrats oppose the Keystone pipeline in a procedural vote.
Image: AP Photo/Gerald Herbert, File
With that vote, the Senate confirmed what everyone already knew — that back in November, Democrats didn't object to the bill due to the purely political reason of trying to help a fellow Democrat who ended up losing her election anyway.
In November, Landrieu had just failed to win a majority to keep her Senate seat, and was forced into a runoff election against two Republicans. Landrieu immediately pushed for a Senate vote on Keystone as a way to show leadership on energy policy, and to show she was not beholden to Senate Democratic leaders.
It was a slightly awkward couple of weeks for Democrats, but they let her try her plan. When the the Senate had to vote on whether to proceed to the bill, a vote wasn't even needed — Democrats agreed unanimously to take it up.
It didn't matter much for Landrieu. In the final vote, Democrats required that 60 votes would be needed to pass it, and it failed 59-41. It was, however, an example of how politics can trump policy.
Today, with no floundering Democrat to save, Democrats were able to vote on the issue cleanly, and dozens voted it down.
Clearing this procedural hurdle means the bill is likely to pass the Senate at some point in the coming weeks. Unlike their Democratic predecessors, Republican leaders have said they would allow several amendments to the bill, and the final vote will only need 51 votes to pass.
But the 63 votes seen Monday is four short of the 67 needed to override President Barack Obama's veto threat.
Below are the Democratic senators who changed their mind on the procedural vote, and apparently only voted against the bill today because there was no political reason for supporting it (all but Peters were in the Senate last year):
Tammy Baldwin (Wis.)
Richard Blumenthal (Conn.)
Cory Booker (N.J.)
Barbara Boxer (Calif.)
Sherrod Brown (Ohio)
Maria Cantwell (Wash.)
Ben Cardin (Md.)
Chris Coons (Del.)
Dick Durbin (Ill.)
Diane Feinstein (Calif.)
Al Franken (Minn.)
Kirsten Gillibrand (N.Y.)
Martin Heinrich (N.M.)
Mazie Hirono (Hawaii)
Tim Kaine (Va.)
Amy Klobuchar (Minn.)
Pat Leahy (Vt.)
Ed Markey (Mass.)
Bob Menendez (N.J.)
Jeff Merkley (Ore.)
Barbara Mikulski (Md.)
Chris Murphy (Conn.)
Patty Murray (Wash.)
Bill Nelson (Fla.)
Gary Peters (Mich.)
Jack Reed (R.I.)
Bernie Sanders (I-Vt.)
Brian Schatz (Hawaii)
Chuck Schumer (N.Y.)
Jeanne Shaheen (N.H.)
Debbie Stabenow (Mich.)
Sheldon Whitehouse (R.I.)