The Afghan man who saved Navy SEAL Marcus Luttrell and provided him refuge from the Taliban is now in need of help from the U.S.
Immediately after Mohammed Gulab aided Luttrell in 2005, his life was put in jeopardy by members of the Taliban who sought to kill him and his family for revenge.
"They attacked him. They shot him. They've put RPG's through his household," New York immigration attorney Michael Wildes told CBS News.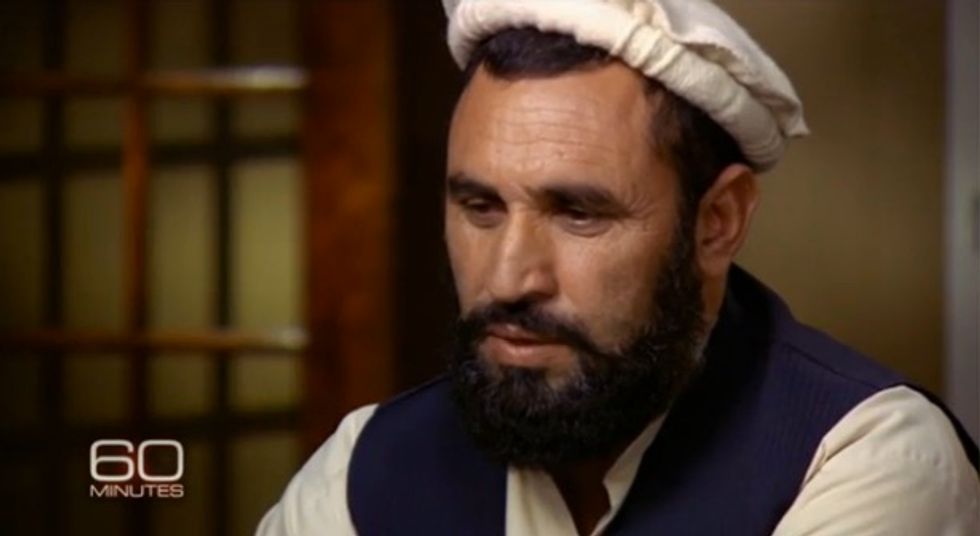 Mohammed Gulab, the Afghan who saved the life of Marcus Luttrell, is seeking refuge in the U.S. He was transferred Saturday to an undisclosed location as his case continues pending. (Image source: Screen grab via CBS News)
"He's been living and hiding, and never in the same place in the same evening," the lawyer added.
[sharequote align="center"]"He's been living and hiding, and never in the same place in the same evening."[/sharequote]
Things changed, however, last week.
According to Wildes, who has been working pro bono to bring the Afghan to the U.S. since last summer, Gulab and some members of his family were safely extracted to an undisclosed country on Saturday.
Retired petty officer 1st class Marcus Luttrell arrives at the 2013 AFI FEST premiere of "Lone Survivor" at the TCL Chinese Theatre on Tuesday, Nov. 12, 2013 in Los Angeles. (Photo by Jordan Strauss/Invision/AP)
However, now they must wait as Wildes works to navigate bureaucratic waters in an effort to earn Gulab asylum. Speaking to CBS News, the immigration attorney described it as a complex process.
"That means the U.N. That means Homeland Security. That means a lot of officials have to sign off on this," Wildes said.
The attorney said that ultimately Gulab's case will be decided by the Department of Homeland Security, however, it's still up in the air at the moment.
"I'm prayerful that they will (approve his asylum)," Wildes told CBS News.
He added to the New York Daily News, "We need to herald this guy, and give him a red carpet to America."
The DHS did not return CBS News' request for comment.
—
Follow Oliver Darcy (@oliverdarcy) on Twitter