MSNBC's Al Sharpton found support in an unusual place last night -- a Fox News personality.
During a segment on one of the news channel's biggest shows, "The O'Reilly Factor," host Bill O'Reilly and colleague Geraldo Rivera were on opposite sides of the topic of Al Sharpton's popularity, likability and credibility.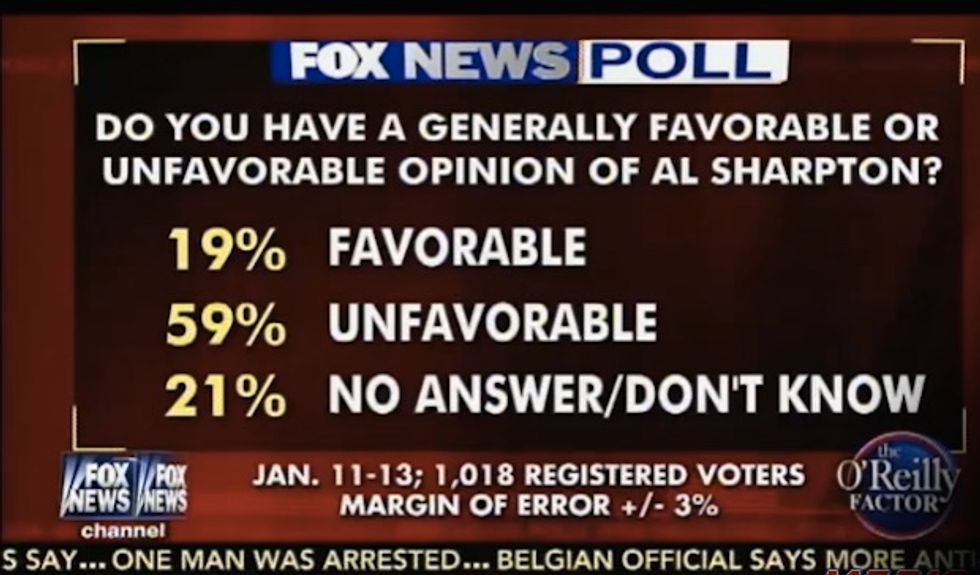 Image: Grabien
According to a recent Fox News poll of registered voters, only 19% of Americans gave Sharpton a positive rating. However, when just black voters were asked the same question, 56% found Sharpton to be "favorable."
Despite the survey showing Sharpton to be unlikeable to a majority of all voters, Geraldo attempted to make O'Reilly understand that Sharpton's target demographic was really all that mattered.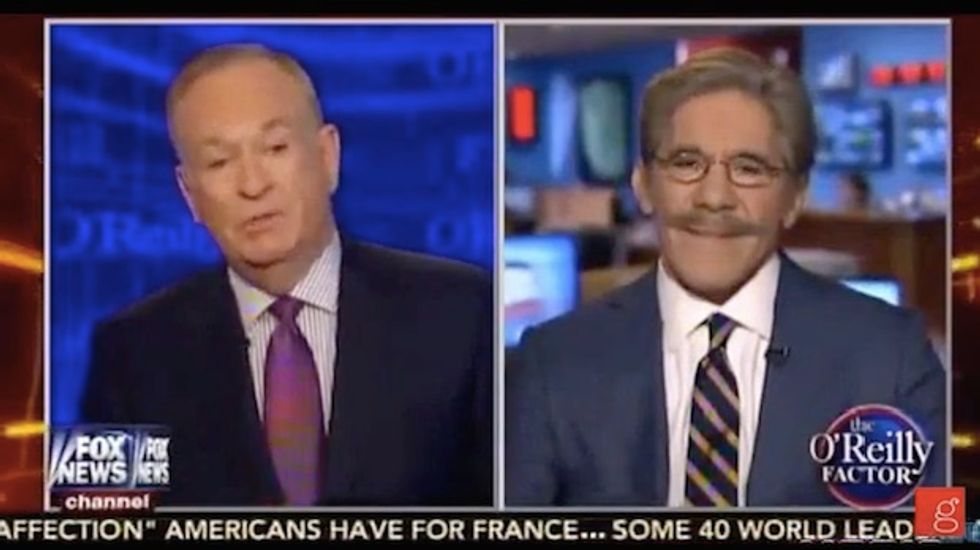 Image: Grabien
"My point is this, Al Sharpton's constituency really likes him a lot," said Rivera, continuing, "He is the man for the black civil rights movement right now."
Geraldo added that he believes Sharpton is, "the most prominent civil rights activist in our country today."
O'Reilly's reaction, "That's sad."
Geraldo didn't care about O'Reilly's opinion and continued, "The fact that you don't like him, is irrelevant."
O'Reilly referred to Sharpton as "a shakedown artist" and a "charlatan." To which Rivera replied, "He's the only person that can get 50,000 people to protest on 5th avenue at the click of his fingers on a perceived wrong."
After O'Reilly lamented that there was no modern civil rights leader like Dr. Martin Luther King, Jr., Geraldo compared Sharpton to King in terms of how the "contemporary press" looked at MLK, punctuating his thoughts with, "The fact of the matter is; black people admire Al Sharpton."
Watch the part of the exchange between O'Reilly and Geraldo:
Watch the entire exchange on Mediate.
__
Follow Mike Opelka (@Stuntbrain) on Twitter.