UPDATE: The "teenage Bonnie and Clyde," Dalton Hayes and Cheyenne Phillips, were captured early Sunday morning in Panama City, Florida, when they were found asleep in a stolen truck.
BREAKING: Police: 2 teenage sweethearts who blazed trail of crime across South have been captured in Florida

— The Associated Press (@AP) January 18, 2015
MORE: Dalton Hayes, 18, and Cheyenne Phillips, 13, were arrested without incident in Panama City Beach, Fla.: http://t.co/uFhLK7l54d

— The Associated Press (@AP) January 18, 2015
—
LEITCHFIELD, Ky. (TheBlaze/AP) — Authorities are following up on tips related to the search for two young sweethearts from Kentucky accused of blazing a trail of crime across the South, a sheriff said.
Grayson County Sheriff Norman Chaffins said there's no confirmation on the specific location of an 18-year-old and his 13-year-old girlfriend, adding to the Washington Post that they're becoming "increasingly brazen" and are now potentially dangerous.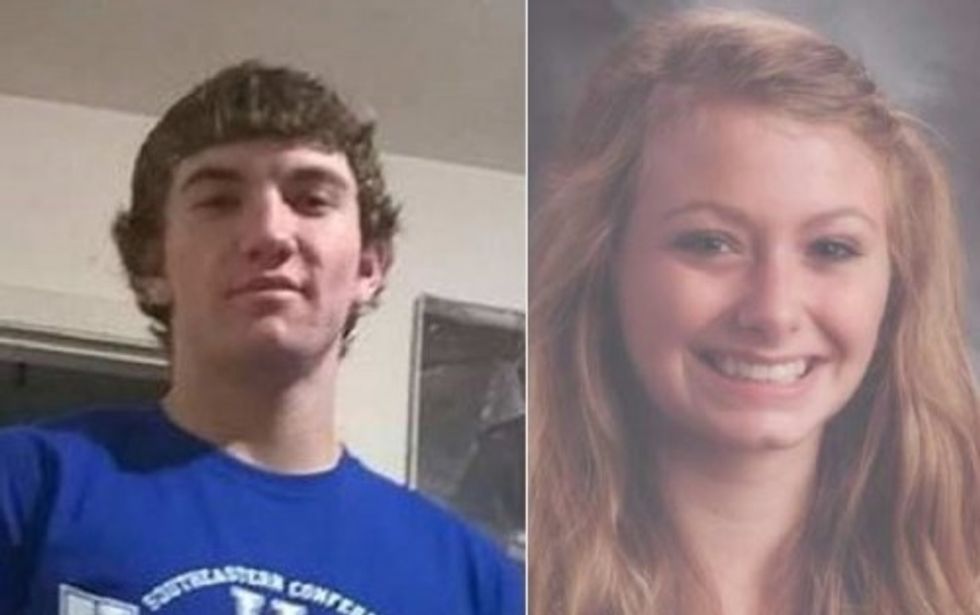 Image source: Grayson County Sheriff
Dalton Hayes and Cheyenne Phillips have left behind stolen vehicles and pilfered checks since they vanished Jan. 3 from their western Kentucky hometown, authorities said. They've managed to elude capture and were last believed to be driving a stolen truck with two guns.
They were last spotted somewhere in Florida on Friday, the Post reported; Chaffins said he didn't want to tip them off by disclosing the specific town.
Chaffins has said that unless they surrender, the "outcome is not going to be good" for the young couple. Hayes' mother has urged them to surrender and "face the consequences."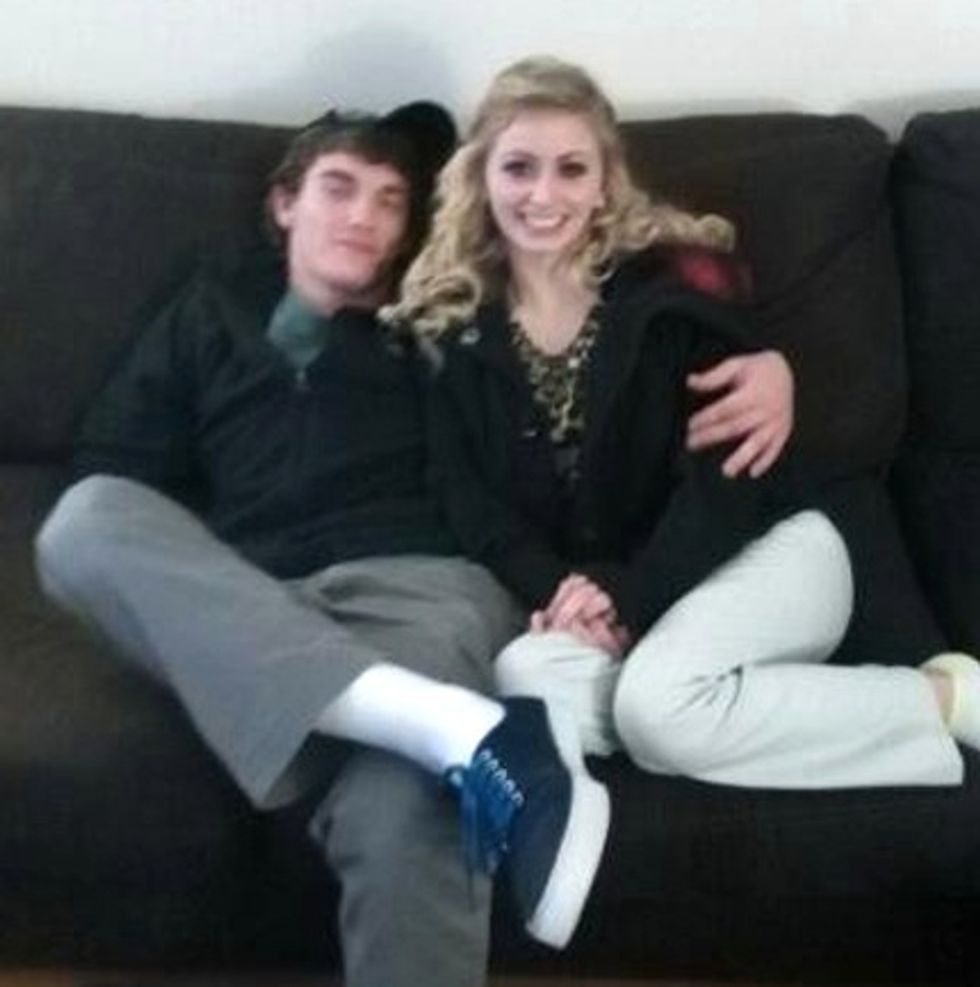 In this December 2014 photo provided by Tammy Martin, her son Dalton Hayes poses with his girlfriend Cheyenne Phillips at his family's home in Leitchfield, Ky. (Image source: AP/Tammy Martin)
The couple hasn't been dating long, according to the Post:
Cheyenne's father, who reported her missing, said that when his daughter left the house on Jan. 3, it seemed that nothing was amiss. That night, she stayed at Hayes's home, his mother, Tammy Martin, 

told ABC affiliate WHAS.

Martin said the two had been dating for three months and that she was close to Cheyenne, who she believed was 19, according to WHAS. It is unclear whether Cheyenne's parents knew that Hayes was 18 years old.

Martin returned home the following day, Jan. 4, after hearing Cheyenne had been reported missing, but they were already gone.

Two days later, Hayes texted his mother: "It says 'Mommy, don't worry. I'm fine, okay — plenty of money and food. Love you, good night, sweet dreams,'" she told reporters.
Police told the Post the couple likely stayed with friends and family initially, as well as abandoned homes and trailers in Kentucky — then on Jan. 11, they apparently raised the ante.
Jim and Kathy McGrew said they were returning to their rural Kentucky home after church and heard a loud bang, the Post reported.
"It sounded like a bomb went off, but it was the door hitting the building," Jim McGrew told WAVE. Apparently Hayes and Martin had just stolen a tan Toyota Tundra from his garage, McGrew told the station.
Then things got really crazy, the Post explained:
The couple led police and McGrew – a trained pilot who tried to follow them in his airplane – on a wild chase to a nearby farm and through the woods, where they abandoned the stolen truck and took off.

Later that day, the two teens stole another vehicle, this time a red Toyota Tacoma that they would use to cross state lines, police said. That vehicle had an unloaded long gun in the back, which police were later able to recover.

On Monday, police spotted them driving into the parking lot of a Wal-Mart in South Carolina in the stolen Toyota. They allegedly bought some mints and used two stolen checks for $20 each to get cash back.

By Thursday, they were in Georgia, where they ditched the Toyota and allegedly stole another: a silver Toyota Tundra with a certified firefighter license plate.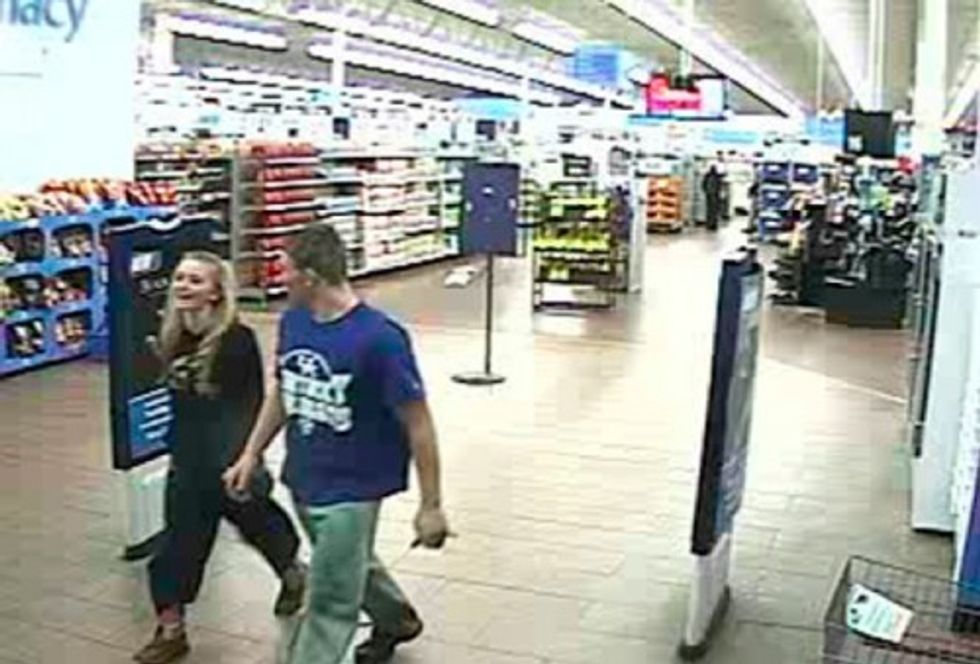 In this January 2015 photo made from surveillance video and released by the Grayson County Sheriff's Office, in Kentucky, 18-year-old Dalton Hayes and 13-year-old Cheyenne Phillips leave a South Carolina Wal-Mart. (Image source: AP/Wal-Mart Inc. via The Grayson County (Ky.) Sheriff's Office)
Hayes was out on bond on a felony burglary charge and was a suspect in a second burglary, Chaffins told the Post.
"I think he's run off because he didn't want to face the charges in Kentucky," Chaffins told the paper. "I think she's with him because she's infatuated with an 18-year old."
—
Follow Dave Urbanski (@DaveVUrbanski) on Twitter