Sen. Marco Rubio (R-Fla.) said Monday he would bring a Cuban activist as a guest to the State of the Union speech on Tuesday, a move meant to signal his opposition to President Barack Obama's proposed easing of the U.S. embargo against Cuba.
Rubio said his guest would be Rosa María Payá, the daughter of activist Oswaldo Payá, who was killed in an auto accident in Cuba in 2012. The driver said Payá was targeted by the Cuban government, but the government hasn't investigated his death.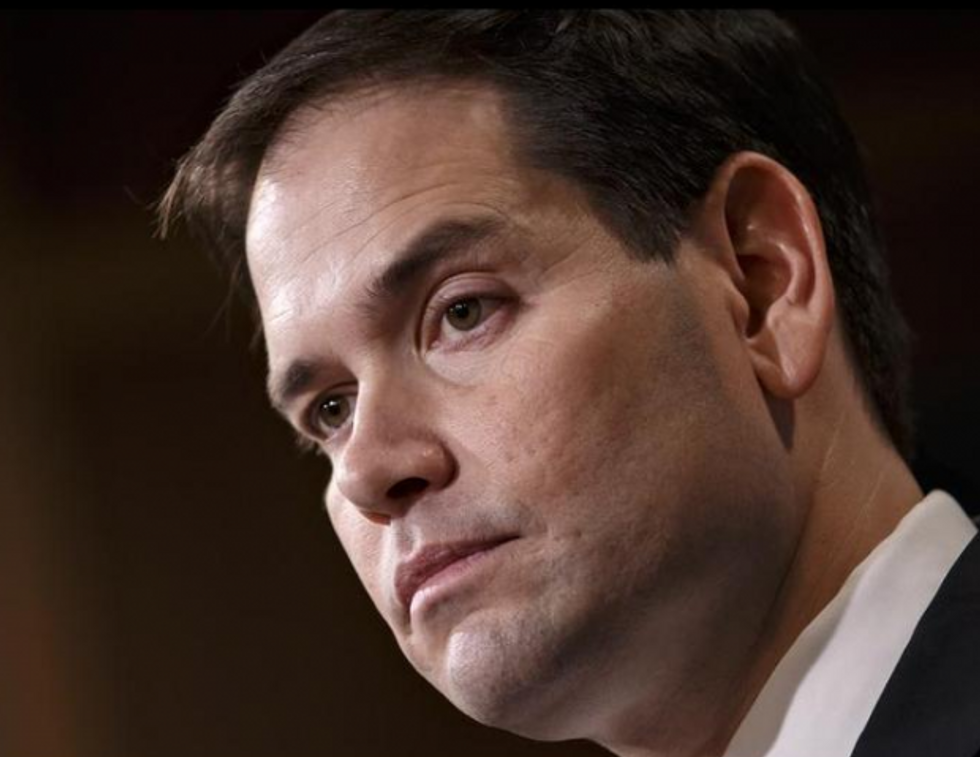 Sen. Marco Rubio (R-Fla.) will protest President Barack Obama's Cuba policy changes by bringing a Cuban activist to Obama's State of the Union speech.
Image: AP Photo/J. Scott Applewhite
Rubio said Payá was murdered, and said the Obama administration shouldn't be trying to legitimize the Cuban government by talking about how to normalize relations.
"In his remarks, I expect the president will bring up his new Cuba policy, especially since his administration is heading to Havana this week to discuss giving the regime legitimacy and greater access to American dollars it will use to fund its machine of repression – the very machine that harassed Oswaldo Payá for years, eventually murdered him and pays hush money to potential key witnesses," Rubio said.
"While I disagree with the president's new Cuba policy, I hope Rosa María Payá's presence on Tuesday night will at least remind him that her father's murderers have not been brought to justice, and that the U.S. is now, in fact, sitting at the table with them," he added. "I hope the administration takes the opportunity to demand reforms and changes in Cuban behavior before relations are normalized."
The Wall Street Journal reported Monday evening that House Speaker John Boehner (R-Ohio) will bring Jorge Luis Garcia Perez, a Cuban resistance leader, as a guest.
Rep. Ileana Ros-Lehtinen (R-Fla.) is bringing her own guest: Marlene Alejandre Triana, the daughter of one of the four people who died when Cuba shot down two U.S.-origin planes in 1996 that were flown by members of Brothers to the Rescue.
Obama himself will be using his speech to highlight his proposed changes to Cuba policy. Alan Gross, who was freed as part of the Obama administration's agreement to swap spies last month, will be a guest of First Lady Michelle Obama on Tuesday.
Gross is a humanitarian aid worker, and his safe return was praised when it was announced. But critics of the overall deal said it was a mistake to agree to a deal that essentially swapped an aid worker for Cuban spies, since that could inspire other countries to take other aid workers hostage.