The U.S. Supreme Court sided on Tuesday with a Muslim inmate who has argued for years that he should be permitted to maintain a short beard for religious purposes while residing inside the Arkansas state prison system.
The justices were unanimous in Holt, Aka Muhammad v. Hobbs, Director Arkansas Department of Corrections, ruling that prisoner Gregory Holt's half-inch beard, which he maintains in observance of the Islamic faith, doesn't pose a security risk, the Associated Press reported.
While past religious liberty cases have most certainly divided the Supreme Court, interest groups, religious cohorts and the public at large, Holt vs. Hobbs has actually brought together some unlikely allies, including the Obama administration and many atheist and religious groups who have sided with the inmate.
As TheBlaze previously reported, Holt, who also goes by the name Abdul Maalik Muhammada, is serving a life sentence for stabbing his ex-girlfriend and for burglary. His legal battle began after he tried to grow his short beard in prison, but was told by officials that the facial hair was barred under prison code.
Prison staff initially cited security concerns in defending their reasoning, claiming that inmates like Holt could use facial hair to conceal weapons, among other security issues, the New York Times reported last year.
While the majority of state prison systems in the United States allow short beards, Arkansas is among the seven states that have much stricter regulations. As the Times reported, mustaches are allowed, though they must be trimmed, and only those with dermatologic issues can have short beards. But Holt didn't fit this category and was, thus, denied.
But that didn't stop his quest to maintain a short beard.
"On June 28, 2011, Mr. Muhammad, representing himself, filed a lawsuit seeking the ability to wear a half-inch beard in accordance with his faith," the Becket Fund for Religious Liberty, the conservative legal firm representing him, announced last year. "Mr. Muhammad lost in federal trial court and in the Eighth Circuit Court of Appeals in St. Louis."
With the Becket Fund and Douglas Laycock of the University of Virginia representing him, Holt has successfully won his case before the Supreme Court, with Justice Samuel A. Alito Jr. writing that the Arkansas prison system violated federal law.
Alito argued that "so many other prisons allow inmates to grow beards while ensuring prison safety and security," leading the court to believe that security can be assured in some other way, the AP reported.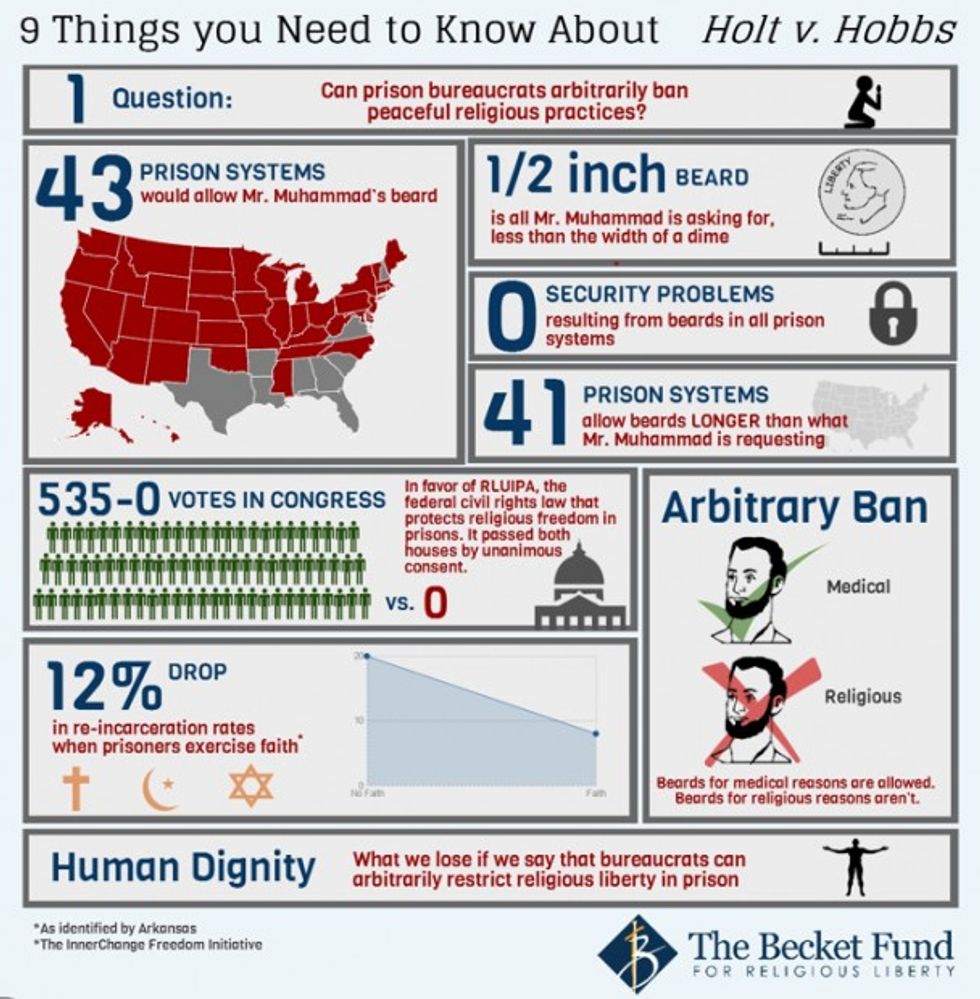 A graphic the Becket Fund for Religious Liberty has used to illustrate its case (Becket Fund)
Following the ruling on Tuesday, the Becket Fund released a statement claiming that the court's decision means that prison staff "cannot arbitrarily ban peaceful religious practices," calling the win "a landmark victory for religious freedom for all faiths."
"This is not just a win for one prisoner in Arkansas, but a win for all Americans who value religious liberty," Eric Rassbach, deputy general counsel for the Becket Fund, said in a statement following the ruling.
Americans United for Separation of Church and State — a watchdog not known for siding very often with the Becket Fund — released a similar statement praising the 9-0 decision, calling the prison system's rules against racial hair "irrational and arbitrary."
The Rev. Barry Lynn, executive director of the organization, said the court "struck the proper balance" in making its decision.