The Air Force dismissed a recent audit asserting excess drones were leading to waste, calling the drones a "success story" and expressing plans to "make more."
A 2013 Air Force plan to increase the number of drones risks adding 46 more drones than are needed at a cost to taxpayers of $8.8 billion, according to a Defense Department Inspector General report, the Air Force Times reported.
The publication obtained the information through the Freedom of Information Act.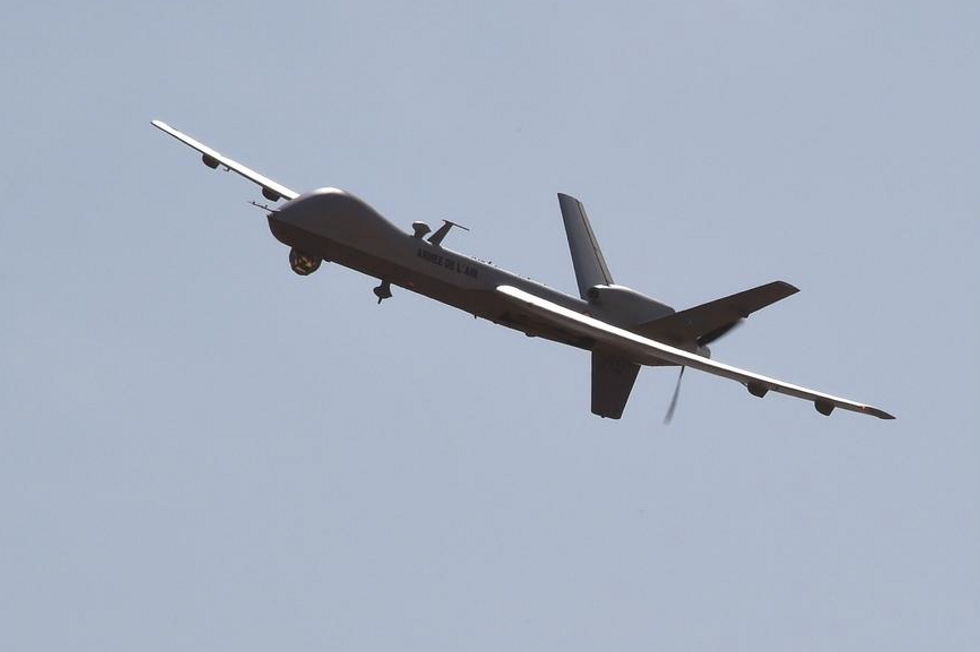 A Reaper drone of the aerial detachment of the Operation Barkhane flies over the Nigerian military airport Diori Hamani in Niamey on January 2, 2015. Operation Barkhane is an anti-Islamist operation in Africa's Sahel region beginning in July 2014 which consists of a 3,000-strong French force. (AFP PHOTO / DOMINIQUE FAGET)
"The data in the report is a year old. The Air Force is only buying 346 aircraft, 55 fewer than the 401 figure contained in the report and we've only received about half that number," Air Force spokeswoman Vicki Stein told TheBlaze. "The projected total Reaper fleet of 346 is far less the service had originally estimated prior to sequestration."
Though just recently made public, the report was completed in September 2014.
The Inspector General says the Air Force did not follow procurement protocol in acquiring the 401 MQ-9 Reaper drones. These drones are used for training, testing and operations for the Air National Guard. These drones are also set to replace the fleet of MQ-1B Predator drones.
The report specifically says the Air Force failed to adhere to the Joint Capabilities Integration Development System requirement to obtain required Joint Requirements Oversight Council approval for an increase in the number of drones to be purchased, according to the Air Force Times.
"As a result, the Air Force risks spending approximately $8.8 billion to purchase, operate and maintain 46 MQ-9 aircraft it may not need," said the DOD Inspector General report to the Air Force.
The IG suggested the Air Force conduct an analysis of how many Reaper drones are needed and submit the proper justification to the oversight council for approval.
Stein explained that from the view of the Air Force and other branches, the Reaper drone program has not been a problem.
"The MQ-9 Reaper is a success story," Stein said. "The soldiers and Marines love it. Combatant Commanders want more of it. We're working hard to make more, as directed by the Secretary of Defense."
"The MQ-9 has made tremendous contributions in combat operations, which has saved countless American and coalition lives," Stein added. "Over its lifetime, the Reaper has flown nearly 700,000 hours, most of those in combat operations, and continues to prove its worth daily in operations over Iraq, Afghanistan, and the Horn of Africa."
—