BEIRUT (AP) -- Jubilant Kurdish fighters ousted Islamic State militants from the key Syrian border town of Kobani on Monday after a four-month battle - a significant victory for both the Kurds and the U.S.-led coalition.
The Kurds raised their flag on a hill that once flew the Islamic State group's black banner. On Kobani's war-ravaged streets, gunmen fired in the air in celebration, male and female fighters embraced, and troops danced in their baggy uniforms.
The failure to capture Kobani was a major blow to the extremists whose hopes for an easy victory dissolved into a costly siege under withering airstrikes by coalition forces and an assault by the Kurdish militia.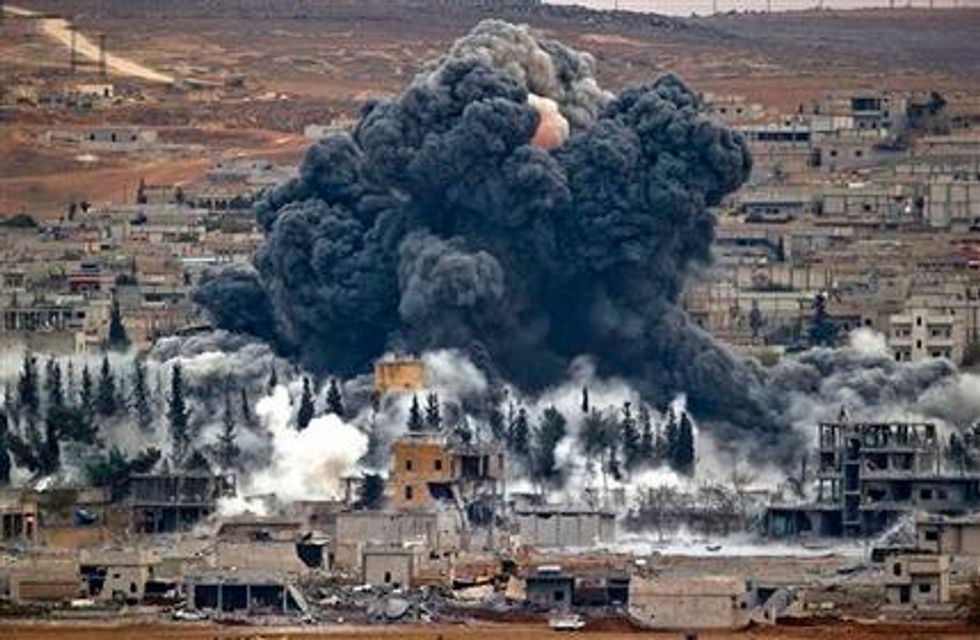 FILE - In this Monday, Nov. 17, 2014 file photo, smoke rises from the Syrian city of Kobani, following an airstrike by the U.S.-led coalition, seen from a hilltop outside Suruc, on the Turkey-Syria border. Syrian activists and Kurdish officials say the extremist Islamic State group has been nearly pushed out of the Syrian border town of Kobani. (AP Photo/Vadim Ghirda, File)
For the U.S. and its partners, Kobani became a strategic prize, especially after they increased the number of airstrikes against IS fighters there in October.
"Daesh gambled on Kobani and lost," said senior Kurdish official Idriss Nassan, using the Arabic acronym for the Islamic State group.
"Their defenses have collapsed and its fighters have fled," he told The Associated Press from Turkey, adding that he would return to Kobani on Tuesday.
Kobani-based journalis Farshad Shami said the few civilians who remained had joined in the celebration. Most of the town of about 60,000 people had fled to Turkey to escape the fighting.
Several U.S. officials said they couldn't confirm that Kurdish fighters have gained full control of Kobani, but added that they have no reason to disbelieve the claims.
A senior U.S. official said the Kurds controlled most of the town and have consolidated control particularly in the central and southern areas. The official said Islamic State militants still have a considerable presence in outlying areas around Kobani and are still putting up stiff resistance to the Kurds in those pockets outside it.
Kurdish officials and activists said Kobani was entirely in Kurdish hands, with only sporadic fighting on the eastern outer edges where the militants retained some footholds.
The Britain-based Syrian Observatory for Human Rights said fighters of the main Kurdish militia known as the People's Protection Units, or YPG, where searching houses in the eastern suburbs of the town and dismantling and detonating bombs and booby-traps left behind.
Capturing Kobani would have given the IS militants control of a border crossing with Turkey and open direct lines for their positions along the frontier. Now, it is a grave psychological loss for the extremist group, which has been dealt a series of military setbacks in both Syria and Iraq, particularly at the hands of the Kurds.
Last month, Kurdish fighters in Iraq retook the strategic town of Sinjar that had been home to many of Iraq's minority Yazidis.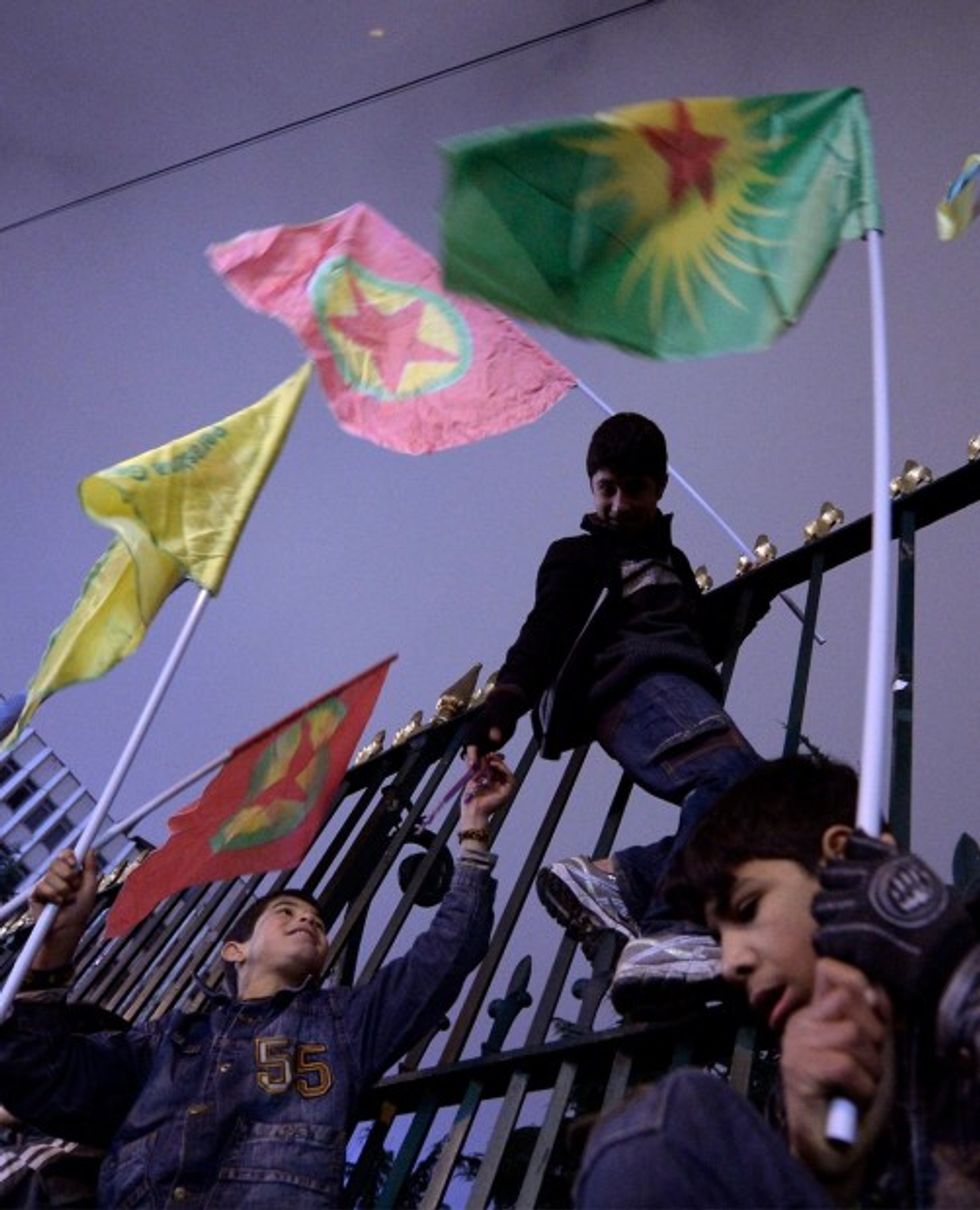 Kurds wave the flags of outlawed rebel group of the PKK to celebrate in Istanbul, Turkey, Monday, Jan. 26, 2015, hours after Kurdish fighters backed by intense U.S.-led airstrikes pushed the Islamic State group entirely out of a key Syrian town on Monday, marking a major defeat for the extremists whose hopes for an easy victory when they pushed into Kobani last year dissolved into a bloody, costly and months-long siege.(AP Photo)
The focus is now expected to shift to several hundred villages around Kobani still held by the militants. Kurdish activists said they expected the fight for those to be easier than for the town itself.
In September, Islamic State fighters began capturing about 300 Kurdish villages near Kobani and thrust into the town itself, occupying nearly half of it and sending tens of thousands of residents fleeing into Turkey.
But the once-nondescript town with few resources quickly became a centerpiece of the international campaign against the Islamic State group. TV crews flocked to the Turkish side of the border and trained their cameras on the besieged town, plumes of smoke rising from explosions. U.S. Secretary of State John Kerry declared it would be "morally very difficult" not to help Kobani.
The U.S.-led air assault began Sept. 23, with Kobani the target of about a half-dozen daily airstrikes on average. More than 80 percent of all coalition airstrikes in Syria have been in or around the town.
At one point in October, the U.S. air dropped bundles of weapons and medical supplies for Kurdish fighters - a first in the Syrian conflict. Dozens of Iraqi Kurdish peshmerga forces joined their brethren in Kobani, bringing in heavy weapons that neutralized the Islamic State group's artillery advantage.
By early January, more than 1,000 Islamic State fighters had been killed and much of its heavy weaponry destroyed. The group continued to invest in resources, bringing in hundreds of reinforcements. Activists said these included many teenagers and even children, signaling a shortage in its forces.
The group made a last stand in the past few weeks, unleashing more than 35 suicide attacks in recent weeks, activists said. But the advancing Kurdish fighters could not be stopped.
Nassan said coalition airstrikes intensified in recent days, helping the Kurds in their final push toward IS positions on the southern and eastern edges of Kobani.
The U.S. Central Command said Monday it had carried out 17 airstrikes near Kobani in the last 24 hours that struck IS infrastructure and fighting positions.
Shami, the Kurdish journalist, said the remaining IS militants in eastern Kobani vacated quickly, leaving behind fresh food and heavy weapons.
"Their morale collapsed," he said by telephone as celebratory gunfire echoed in the background.
Gharib Hassou, a representative of Syria's powerful Kurdish Democratic Union Party, or PYD, based in Southern Kurdistan, said most of the militants fled to the IS-controlled town of Tal Abyad to the east.
"There are a lot of dead bodies ... and they left some of the weapons," he said.
Rami Abdurrahman, director of the Observatory, also confirmed Kobani was entirely in Kurdish hands. He said the Kurdish force was led by Mohammed Barkhadan, the Kobani commander of the main Kurdish militia known as the People's Protection Units, or YPG.
Barkhadan, a well-known militia commander, led an offensive in 2013 that ousted Islamic militants from the northern Syrian town of Ras Ayn, Aburrahman said.
Retired Marine Gen. John Allen, the U.S. envoy for the international coalition fighting the IS group, had predicted in November that Kobani would be a defeat for the extremists.
BEIRUT (@AP) - Kurdish officials, Syrian activists: Islamic State group militants nearly pushed out of Kobani.

— TheBlazeNOW (@TheBlazeNOW) January 26, 2015
The militant group "has, in so many ways, impaled itself on Kobani," he said in an interview in Ankara with the Turkish daily Milliyet.
There also was joy across the border in Turkey, where Kurds set off fireworks and performed a traditional folk dance to mark the victory by their brethren in predominantly Kurdish Kobani. In Istanbul, police used tear gas and pressurized water to break up pro-Kurdish demonstrations in the city.
Shami said it was a triumph for the "entire world" that had come to Kobani's rescue.
"It is a historic victory, when a small town like Kobani defeats a formidable criminal force like Daesh," he said.