The House of Representatives canceled a series of formal votes planned for Monday due to a brewing snowstorm that forced the cancelation of thousands of flights in the Northeast region of the United States.
The House was scheduled to be in and working at 2 p.m. on several non-controversial bills aimed at fighting human trafficking. But shortly after noon, Republican leaders canceled all scheduled votes.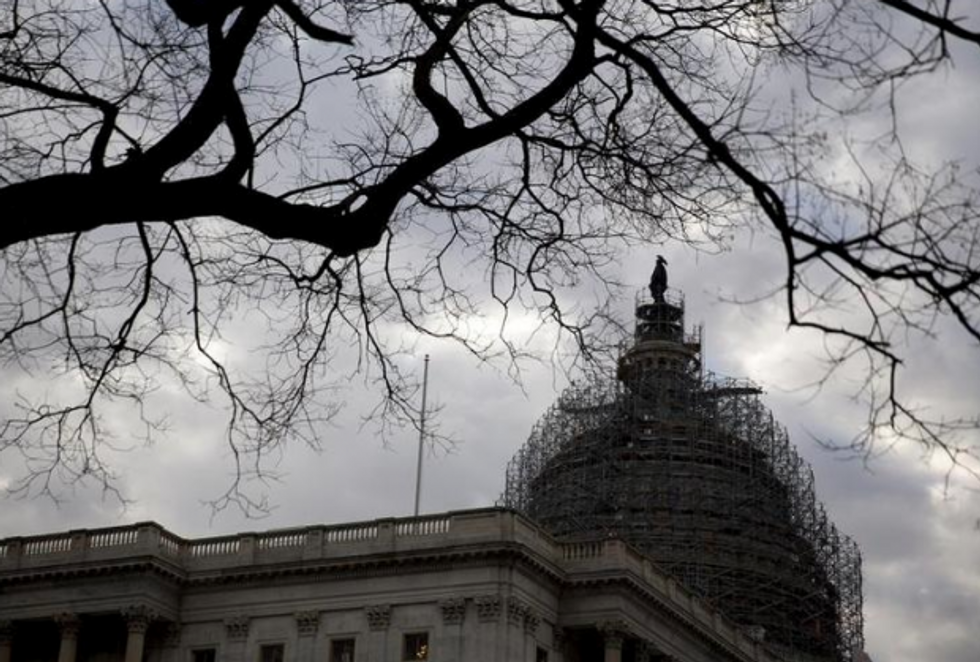 The House canceled most work Monday afternoon due to a snowstorm that had stopped thousands of flights in and around the Northeast. Image: Bloomberg/Bloomberg via Getty Images
By late Monday afternoon, a few House members had taken to the floor to consider the human trafficking bills, and were approving some by voice vote. But any roll call votes that might be needed to pass these bills will be postponed.
The House was tentatively planning to open up again Tuesday afternoon, but that may also depend on the severity of the storm. New York City was expected to see a foot of snow or even more, which could have the effect of backing up flights up and down the Northeast corridor.
Monday's wave of canceled flights appeared to be a major obstacle to getting members back to the Capitol, even though Washington, D.C., was on the outskirts of the storm, and was only seeing flurries through the afternoon.
Aside from votes on human trafficking, the storm is expected to cancel plans by the House Rules Committee to work on a controversial bill aimed at boosting border enforcement.
While that bill contains border enforcement measures that many Republicans support, some GOP members say it doesn't go as far as fighting the Obama administration's so-called "catch-and-release" program for illegal immigrants. These members also fear it will allow Congress to say it's done something on immigration without tackling those bigger issues.
Major bills like the border enforcement measure have to go through the Rules Committee before they get to the House floor, so the storm will push back that effort until next week at least. House Democrats hold their retreat from Wednesday to Friday, so the House won't be in session for those days, which was already cutting the week short.
As of early Monday afternoon, the Senate was still planning to be in session, to keep working on a bill to approve the Keystone pipeline.
Last week, Senate Republicans angered Democrats by quickly rejecting five of their amendments to that bill, while delaying work on other GOP amendments until this week.