An Iranian news site linked to Iran's Revolutionary Guard suggested targeting Israeli Prime Minister Benjamin Netanyahu's sons in order to get revenge for the killing of an Iranian general in an attack last week attributed to Israel.
Jerusalem Online reported that Iran's Mashregh News ran an opinion piece and photos depicting Yair and Avner Netanyahu in a sniper's crosshairs. It ran similar images of the sons of past prime ministers Ehud Olmert and Ariel Sharon.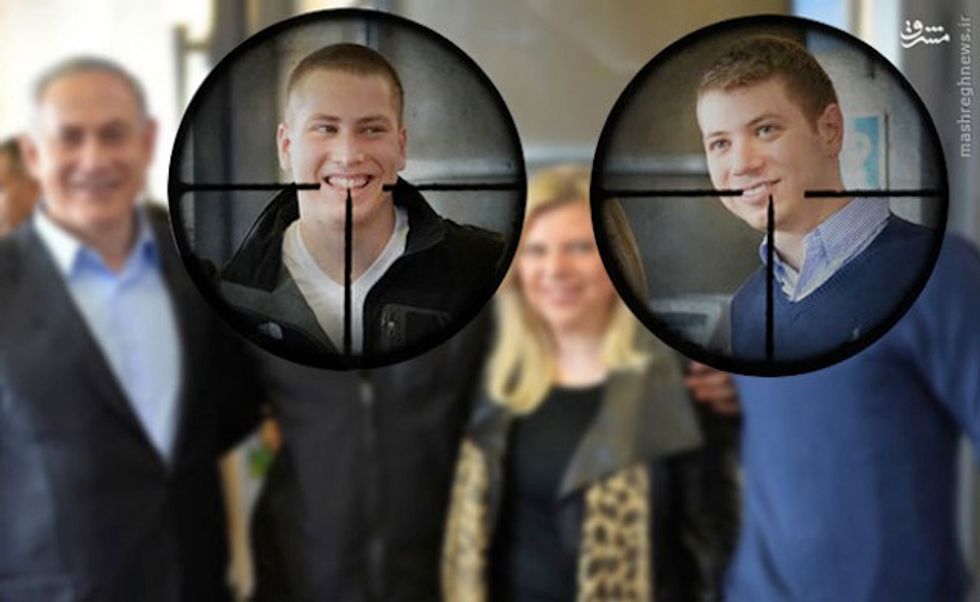 Mashregh News, a website linked with Iran's Revolutionary Guard, ran this photo depicting Prime Minister Benjamin Netanyahu's sons Yair and Avner in a sniper's crosshairs. (Image source: Mashregh News)
The article included "a detailed text of intelligence plan" about the Netanyahu sons' recent activities, but Jerusalem Online pointed out that it appeared to have been information lifted from Wikipedia.
Last week's airstrike on the Syrian side of the Golan Heights killed 12 Hezbollah and Iranian military officials, including Iranian Revolutionary Guard Gen. Mohammed Allahdadi and senior Hezbollah commander Jihad Mughniyeh.
It is unclear if Israel knew the Iranian general was in the convoy that was struck in advance of the attack.
Israel's Channel 10 reported that Israel sent a message to Iran through Russia indicating it was not interested in a wider escalation. Israel viewed the airstrike as self-defense, because Hezbollah was reportedly expanding its military infrastructure to the Golan to use one day against Israeli communities over the border.
The Times of Israel quoted a report in Israel's Channel 2 which said Hezbollah was setting up a "substantial" new terrorism infrastructure in the Golan that could be used for kidnappings and rocket attacks against Israelis. Until now, Hezbollah has launched its attacks on Israeli territory from Lebanon.