The Department of Antiquities of Egypt and the Near East of the Vatican Museums established the Vatican Mummy Project in 2007 with the hope of restoring its collection of nine ancient mummies. But what experts have discovered is that their task of preserving these "ancient" mummies might not be so difficult after all.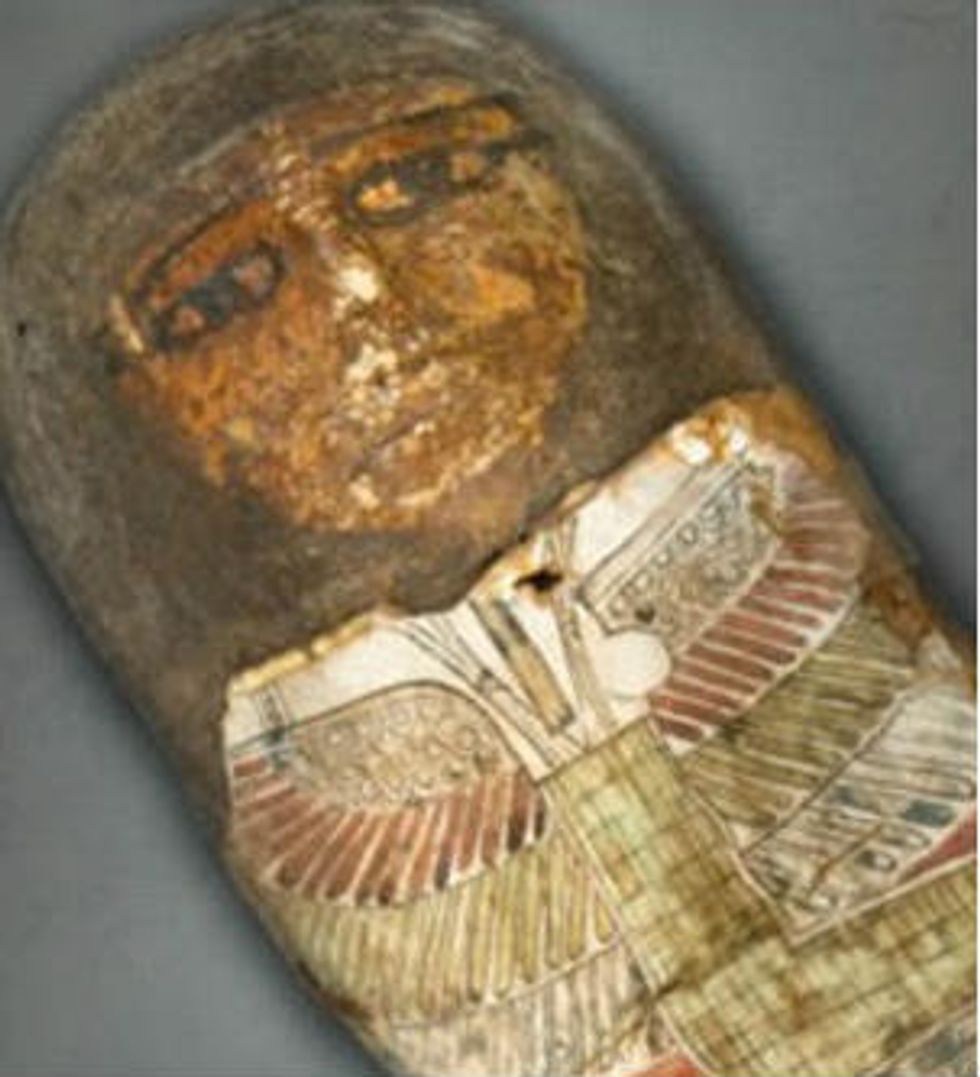 A substance found on one of the mummies during examination dates to the mid-19th century. (Image source: Vatican Museum via the Daily Mail)
During the course of the preservation, experts discovered that at least two of the "ancient" mummies aren't actually ancient: at least one of them dated back to only the mid-19th century, the Daily Mail reported.
Using CT scans, X-rays and carbon dating to determine the age of each of the mummies, their examinations revealed that a second mummy was made up of a mixture of male and female bones along with a "modern nail." What's more, experts found hints of zinc and tin in the paints, elements they say would not have been used during the embalming of ancient mummies.

Adult male and female body parts are shown mixed in an "ancient" mummy exhibit. An adult's tibia and fibula are shown to the right while foot bones and a vertebrae are seen to the left. (Image source: Vatican Museum via the Daily Mail)
"These mummies are important evidence of the phenomenon of falsification that managed to regularly fool collectors and sometimes scholars," Alessia Amenta, curator for the Vatican Museum's Department for the Antiquities of Egypt and the Near East, told the U.K.'s Telegraph.
And a phenomenon it was, so it would seem – back in 16th and 17th century Europe.
While scientists admit they don't know why anyone would have falsified these mummies, they suspect – although they are not sure – it could have something to do with when Napoleon Bonaparte set off on an expedition to Egypt, which resulted in a newfound fascination among the people of Europe. The unwrapping of mummies become a popular spectacle, leading some people to pay large sums of money to see what was tucked away inside, according to the Vatican museum's website.
The experts, led by Alessia Amenta, are set to reveal their latest discoveries at the museum on Thursday.
(H/T: Daily Mail)
–
Follow Jon Street (@JonStreet) on Twitter