Rep. Trey Gowdy (R-S.C.) on Wednesday threatened to issue subpoenas to compel State Department officials to testify before his Select Committee on Benghazi.
Gowdy made that threat in a statement that said he would continue to run his committee according to rules already agreed to by the House, after he offered to work with Democrats to improve those rules. Among other things, Democrats this week argued it's unfair that only Republicans can issue subpoenas.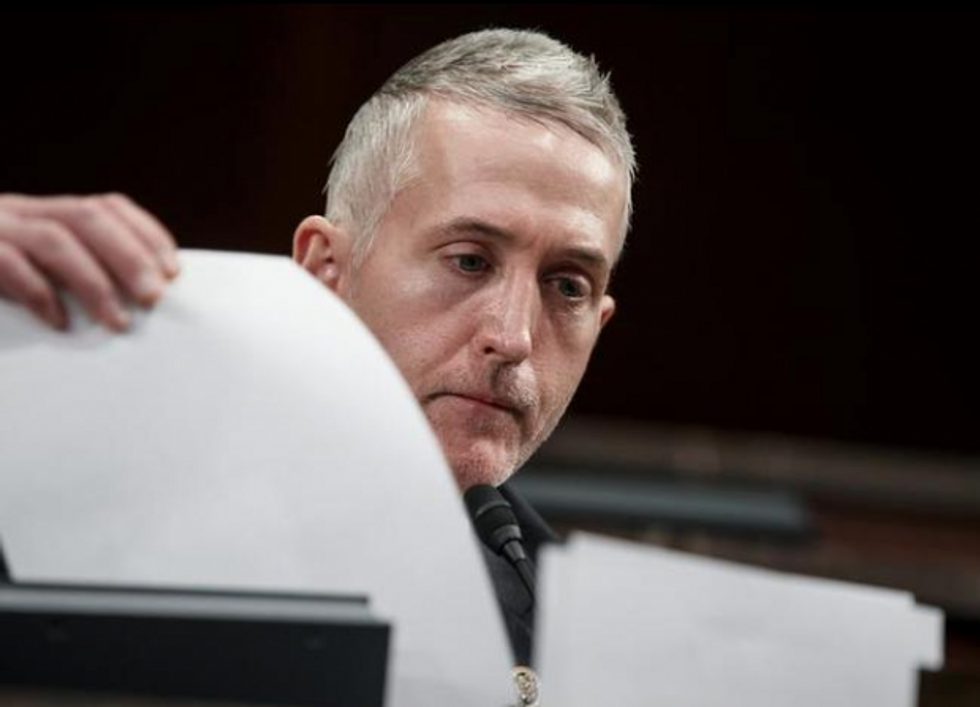 Rep. Trey Gowdy (R-S.C.) on Wednesday threatened to subpoena several State Department officials to testify on Benghazi, prompting Democrats to protest. Image: AP Photo/J. Scott Applewhite
Gowdy responded by saying Democrats don't seem interested in the investigation at all, have prejudged it to the extent they do care, and have shown no interest in forcing anyone to testify. But he said he won't be as bashful about subpoenas if they're needed.
"I am unwilling to let the minority party veto subpoenas when it is clear they have prejudged the outcome of the investigation," said Gowdy. "The minority has repeatedly indicated it is unwilling to issue any subpoenas. If subpoenas are necessary for the committee to talk to relevant witnesses or access relevant documents, they will be issued."
Republicans met with the State Department Wednesday, and said after the meeting that State has agreed to give the committee access to the officials it's seeking. A spokesman for the committee said as a result of that meeting, no subpoenas have been issued so far.
Nonetheless, Democrats responded by asking Gowdy to convene a special meeting to vote on whether any subpoenas should go out the door. In a letter, they said Gowdy had informed Democrats that he would soon issue the subpoenas, and warned that doing so without any input from Democrats would create a partisan investigation.
Democrats also noted that the State Department sent a letter early Wednesday morning saying they are willing to meet at any time to schedule testimony.
"We request that you do not issue these subpoenas, but instead work with the State Department on scheduling the interviews," the Democrats wrote. "If you choose to reject our request, we seek a full Committee vote on each and every one of these subpoenas."
Staffers for Gowdy accused Democrats of jumping the gun, and accusing him of issuing subpoenas before any had been issued at all. "Today, Democrats' attempt to politicize a Select Committee meeting with the State Department misfired," a spokesman said.
Gowdy spent much of Tuesday defending his efforts to get State Department officials to testify, and arguing that his committee is operating just as other committees have operated.
In a hearing, Gowdy pressed State's top liaison to Congress to quickly make officials available to testify, and said State is the only department that has held up the process. In particular, the official hinted that testimony could be withheld if it's seen as conflicting with an ongoing investigation.
"We're going to pick up the pace," Gowdy told State's Joel Rubin. "I have no interest in prolonging this, none. So you're going to have to pick up the pace with us, OK?"
Read the Democratic letter to Gowdy here: