The Obama administration has sought aid from major companies and interest groups in an effort to help people file their taxes this year, a process that has become more complicated for anyone who has signed up for an Obamacare health plan.
Support staff includes major tax prepares like H&R Block, which will offer free tax advice on Obamacare, and groups like AARP, which has trained a whopping 35,000 people to help people with their tax forms with the IRS.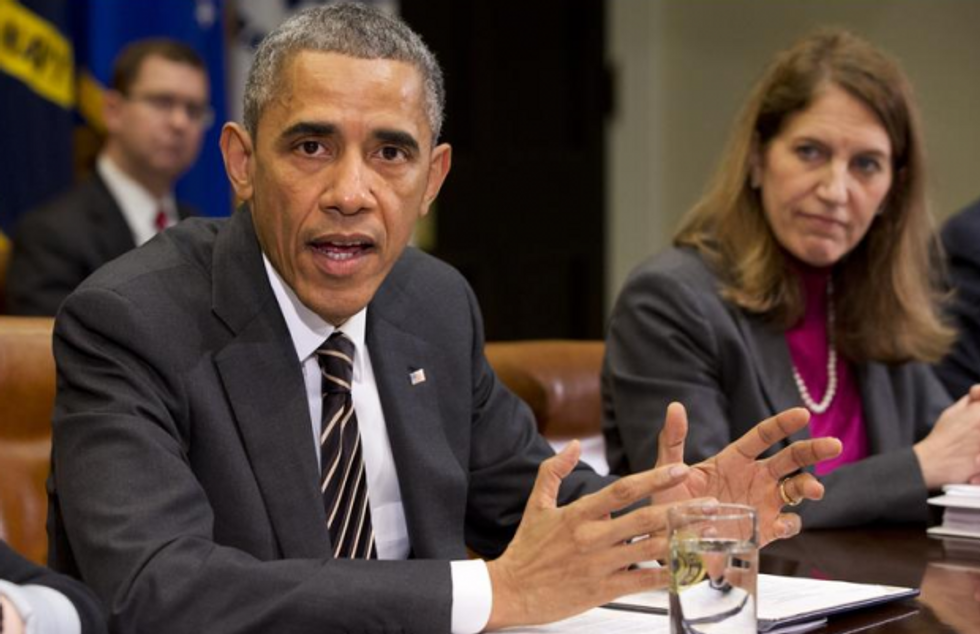 HHS Secretary Sylvia Burwell, pictured here with President Barack Obama, announced Wednesday that thousands of volunteers and free services will be available to help people figure out their Obamacare taxes. Image: AP Photo/Jacquelyn Martin
The administration said this week that 9.5 million people are now enrolled in Obamacare, and has said some of them will have more trouble filing their taxes.
Specifically, the law will require many people to figure out exactly what tax credits they're eligible to receive for health insurance, and whether they have been received too many tax credits and need to pay the government back. Some will also need to figure out what tax penalty they must pay for not having enough health insurance coverage.
Earlier this month, the administration released several forms people may need to figure out these questions.
On Wednesday, the Department of Health and Human Services said it would go a step further by getting help from outside groups. HHS Secretary Sylvia Burwell said most will only have to check a box saying they have a qualifying health plan, but said others will need assistance.
"A smaller number of people, including those who purchased coverage through the Health Insurance Marketplaces or those who were uninsured for some or all of the year, will need to take additional steps when filing their taxes," she said. "We are working to provide taxpayers with the tools and information they need to file their returns and answer their questions."
HHS said it thinks up to 5 percent of taxpayers will need to take steps to reconcile their tax credits on their tax forms. Another 10 to 20 percent that were uninsured in 2014 will need to claim an exemption from Obamacare. And, about 2 to 4 percent will need to pay a fee because they don't have insurance and aren't exempt from the law.
HHS described 11 groups that will help people file navigate their tax forms, including major tax preparers and service providers like H&R Block, Jackson Hewitt, Liberty Tax Service, TaxACT and TurboTax. HHS said these preparers have trained staff, and many will offer free assessments of how Obamacare will affect their clients' tax returns.
Other groups like the Community Action Partnership and the National Women's Law Center will have staff on hand to help people fill out the forms. AARP, the huge association for retired people, will also contribute thousands of volunteers to the effort.
"Over 35,000 volunteers have been trained to help taxpayers understand and comply with their tax responsibilities, receive proper credits and deductions, and file their federal, state and local tax returns," HHS said. "AARP Foundation tax-aide volunteers are trained each year to ensure their knowledge of revisions to the U.S. tax code."