After Muslim mobs attacked and torched scores of Christian churches in Niger earlier this month out of anger over cartoons of the Prophet Muhammad that were published by French satirical outlet Charlie Hebdo, Christian missionaries found a charred Bible in the smoldering ashes — a discovery that they said led to an "emotional moment."
Neal and Danette Childs, who have been missionaries in the West African country since 1998, saw protesters destroy two of the churches associated with their Reaching Unreached Nations ministry, as violence raged and at least 10 people were killed between January 16-18, according to conservative commentator Todd Starnes.
"Our immediate response — there is that little bit of panic," Neal Childs told Starnes, noting that he and his wife began packing up their belongings as well as important documents in case they were attacked. "We were ready. We were on guard."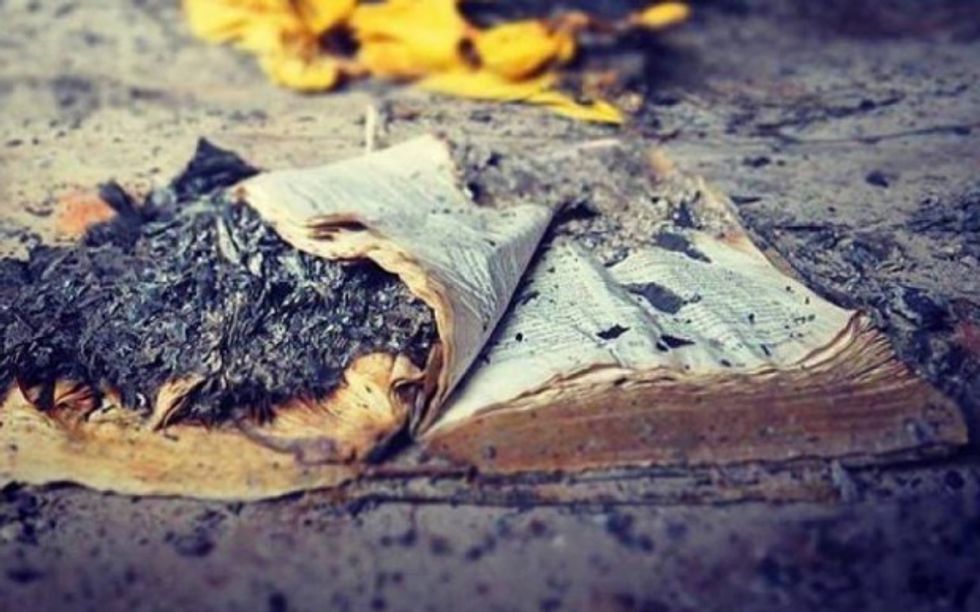 Danette Childs/Todd Starnes
In addition to the churches, the parsonages where two ministers and their families were living were also destroyed and looted, leaving at least one of those preachers with practically nothing left over.
"While the mob was burning the front of the house, [some of] his [Muslim] neighbors came in through the back and they hauled out clothes and everything they could get through the back window," Childs told Starnes. "They helped to save the pastor's property while the crazy mob was burning everything."
Overall, a total of 70 churches and institutions were attacked, according to a Reaching Unreached Nations blog post.
The scenario was obviously quite painful for everyone involved, considering the horrific impact that the violence has had on Christian churches and ministries in Niger, but as Childs and his wife began surveying the damage to one of the church homes, they discovered the Bible in the rubble.
"It was still smoking and warm with ashes. As we were looking through the rubble my wife came across the Bible," he said. "It was an emotional moment as you see your church in ashes."
The Bible wasn't destroyed – and neither was their faith.
Childs told Starnes that the mobs could return, but that he and others aren't worried. In fact, Christian leaders there have already publicly forgiven the mob for its actions — and they're not backing away from publicly worshipping.
"The church is recognizing this is something to be joyful over — the church and their faith have been proven. Jesus said rejoice and be exceedingly glad when men persecute you, for great is your reward in heaven," he said. "We are preaching the Gospel and living as an example before the people. It was demonstrated in our response. It is not our nature to be aggressive or violent. We forgive those that attack." 
In a blog post published this week, Danette Childs showed powerful images of residents continuing to worship following unimaginable terror. While she called it "an unprecedented attack that the enemy meant to use to destroy," the missionary said that it has actually had the opposite effect.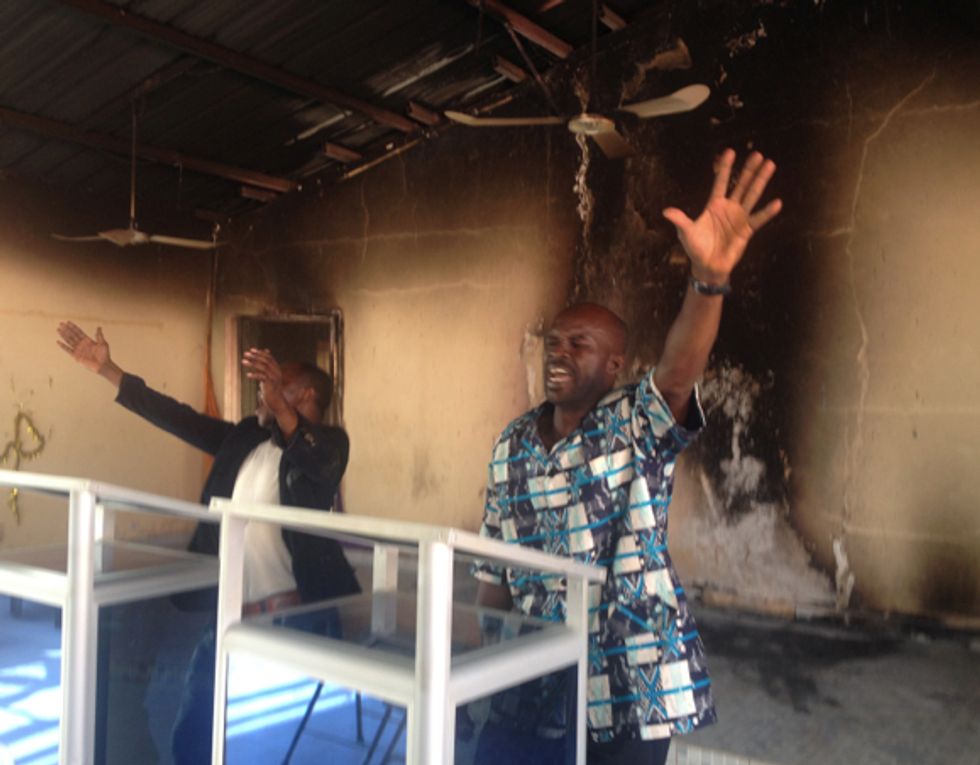 Pastor Nelson Nwene (Danette Childs)
In addition to sharing that the churches are invigorated to continue ministry, Childs described the messages being preached by some of the pastors whose churches and homes were destroyed.
"The message brought by Pastor Nelson Nwene? After sustaining 10′s of thousands of dollars in damage? We need to forgive. In fact, we need to ask God to forgive those who did this, so judgement doesn't fall on them," she wrote. "Then we need to go after them. Not to retaliate, but to reach them with the power of the Gospel. We have an opportunity like we've never had before."
Believers were also undeterred at the Vie Abondante-Harobanda Church, where they preached and worshipped using flash lights after the attacks left them with no electricity in the building.
"We worshipped while stones were being thrown on the roof – I was just hoping they wouldn't be whizzed through all the broken out windows. I believe people were surprised we were back," Childs wrote. "They have no idea! Pastor Zabeyrou Abdou, by flashlight, shared an encouraging word of faith and not being discouraged – and he's the one who's entire home was lost!"
Read more about the stunning response here.
(H/T: Fox News/Todd Starnes)