The Senate next week will finally start what could become a protracted fight over a Department of Homeland Security spending bill that also defunds President Barack Obama's executive action on immigration.
Senate Majority Leader Mitch McConnell (R-Ky.) on Friday set up a Tuesday procedural vote on the DHS spending bill. Sixty senators will be needed to advance the bill, which means at least six Democrats will be needed.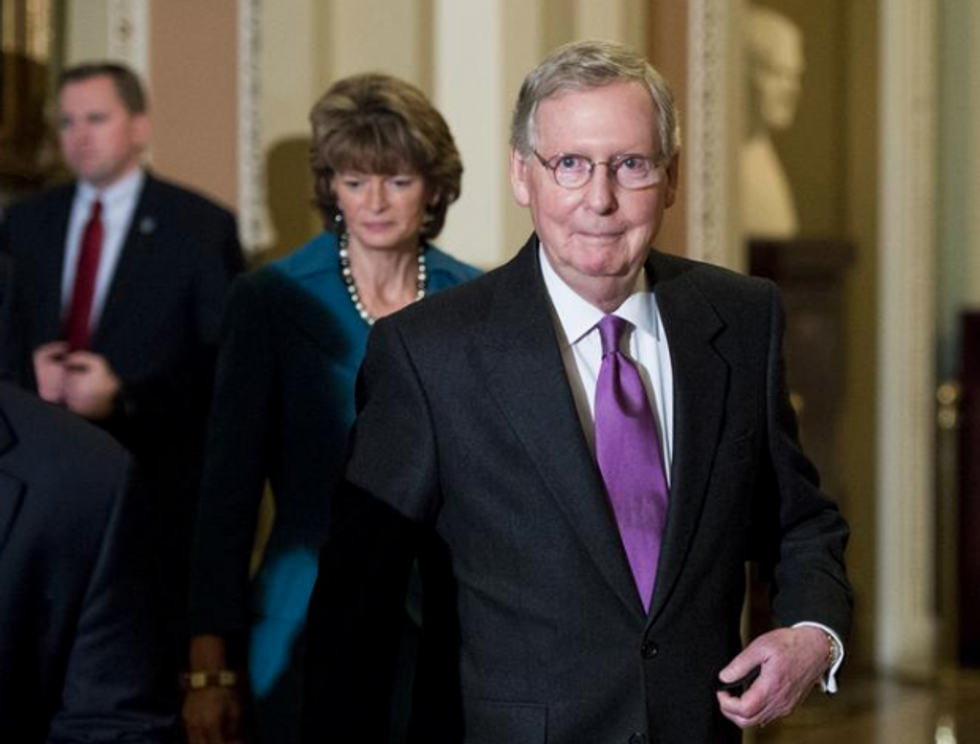 Senate Majority Leader Mitch McConnell (R-Ky.) has set up the first procedural vote on a bill to defund Obama's immigration action: Image: Bill Clark/CQ-Roll Call,Inc.
Obama has threatened to veto the bill because of the defunding language, and if Democrats stick with Obama, as expected, it will force Republicans to consider other ways to get around that opposition.
As of Friday, McConnell had yet to indicate how Republicans might respond if the bill can't advance, and instead called on Democrats to support the bill. He said the bill poses a tough question for Democrats.
"Do they think presidents of either party should have the power to ignore laws that they don't like?" he asked.
McConnell said the bill fully funds DHS, and reins in Obama's executive overreach, goals that shouldn't be objectionable to Democrats. "That's it, it's simple, and there's no reason for Democrats to block it," he said.
But realistically, McConnell will probably watch Democrats stall the bill in the Senate Tuesday, which will give Republicans a few new options to consider.
One of those options would be to push for some form of negotiation with Senate Democrats, and possibly Obama, on how the bill might be tailored so it can pass. That could involve finding ways to limit Obama's executive action short of fully defunding it, but there's been little public discussion on this might be done.
If Republicans are keen on pushing the point but can't get very far, they could also consider a bill to extend short-term funding for DHS, in a bid to keep the pressure on Democrats. Current funding expires at the end of February.
Democrats would clearly oppose a short extension, and say short-term bills interfere with the ability of the government to do long-term planning. But some could be convinced to support an extension if the alternative is to shut down parts of DHS.
A partial shutdown of DHS is also possible, if Republicans feel like Democrats and Obama are simply refusing to negotiate. Members of both parties have already started the process of blaming the other side for a shutdown.
Many Republicans believe the 2013 shutdown didn't hurt the GOP at all, and helped to deliver the new Senate majority, even as Democrats said it showed Republican's can't govern. That could embolden some Republicans to force a partial DHS shutdown as a way to force a negotiation.
Finally, Republicans at some point could decide to simply give Democrats what they want — a clean DHS spending bill that does nothing to limit Obama's action. Many have speculated that Republicans will ultimately have to cave in, since many GOP members aren't interested in threatening the national security functions of DHS.
That decision could involve giving the Senate a separate vote on whether to defund Obama's actions. Sen. Jon Thune (R-S.D.) seemed to hint at this option earlier this month, when he said GOP leaders "want to give our members an opportunity to vote, to express their opposition."
That could be a sign that Republicans might split the defunding language into another bill, one that would not have to pass because it would not longer be tied to the "must-pass" DHS spending bill.